Cool Birthday Quotes
---
Calling cool birthday quotes cool, as a rule, only makes them "uncool" to the purveyors of cooldom. With the sayings on this page, this rule does not apply — all are famously cool birthday messages by any standard.
That's not all! These well-known quotes are made even cooler with the personal birthday wishes that come with them (written for you by me, Message Guy).
And these are not just any cool quotes. These are cool quotes with messages of hope, inspiration, faith, you name it (whatever expresses what you want to say to the birthday boy or girl). That's because the coolest quotes aren't supposed to be cold.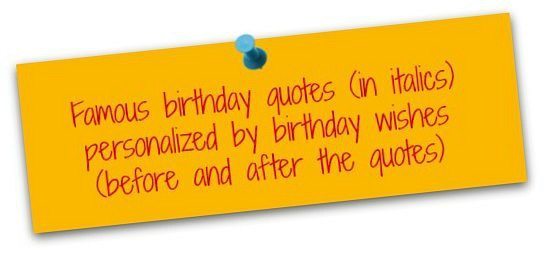 Age has a certain redeeming quality...

"Age has been the perfect fire extinguisher for flaming youth."


~ Navjot Singh Sidhu


As you get older, you may not burn as bright, but the fire in your belly keeps you warmer. Happy birthday!


Don't waste your days!

"Middle age went by while I was mourning for my lost youth."


 ~ Mason Cooley


Happy birthday! Every day counts, no matter how old you are.


You can be as young at heart as you want.

"Youth has no age."


~ Pablo Picasso


Happy birthday! There's nothing holding you back from feeling like a 20 year old. Let's party!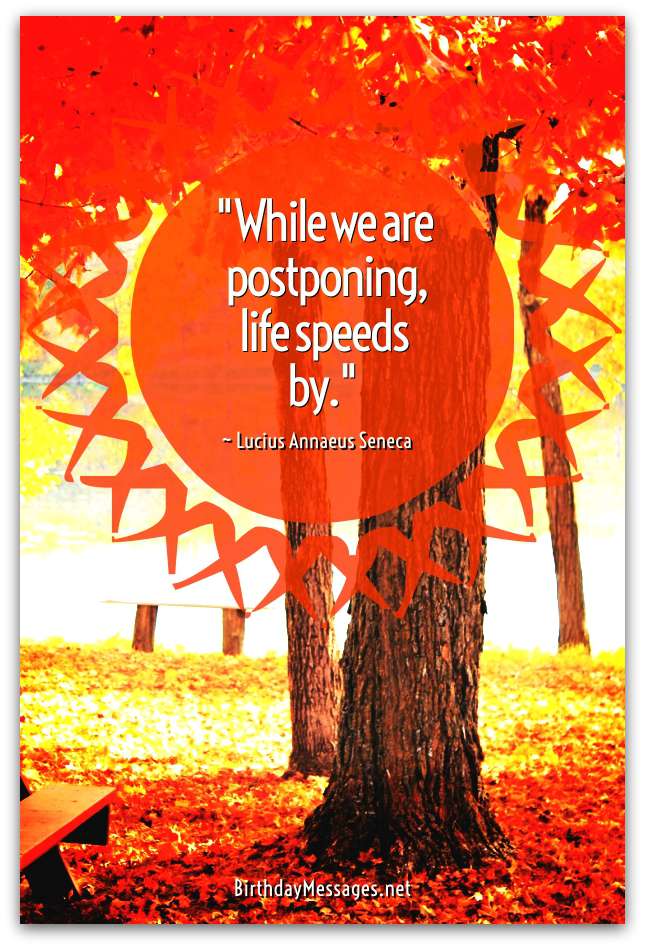 The best kind of love is self-love.

"To love one's self is the beginning of a life-long romance."

~ Oscar Wilde

This just proves that all you really need is self-love. Happy birthday!

Alas, it is true — we should life to the fullest every chance we get…

"While we are postponing, life speeds by."


~ Lucius Annaeus Seneca


On your special day, I wish you the strength to "just do it" and, in the great words of one singer, "do it until you're satisfied." Happy birthday!


Alas, it's truly the journey that matters, not the destination.

"Things won are done. Joy's soul lies in the doing."

~ William Shakespeare

Happy birthday! Enjoy the journey.

Never quit on me, on anyone.

"Age wrinkles the body. Quitting wrinkles the soul."


~ Douglas MacArthur


Happy birthday! May you have only smooth days ahead!


I know you have the will to move forward every day.

"Take the first step in faith. You don't have to see the whole staircase, just take the first step."


~ Martin Luther King, Jr.


Happy birthday! The stairway awaits you.


This quote expresses how I feel about you and your inner beauty.

"A woman has the age she deserves."


~ Coco Chanel


Happy birthday! By this standard, you will always be beautiful to me.

You have such a positive attitude about life, about everything...

"He who is of calm and happy nature will hardly feel the pressure of age, but to him who is of an opposite disposition youth and age are equally a burden."


~ Plato


Happy birthday! May you always be happy and calm!


You go, girl!

"I think women should start to embrace their age. What's the alternative to getting older? You die. I can't change the day I was born. But I can take care of my skin, my body, my mind, and try to live my life and be happy."


~ Olivia Munn


Happy birthday! Stay young. You are our fountain of youth!


Rules to live by...

"Have regular hours for work and play; make each day both useful and pleasant, and prove that you understand the worth of time by employing it well. Then youth will be delightful, old age will bring few regrets, and life will become a beautiful success."


~ Louisa May Alcott


Happy birthday. Wishing you only beautiful successes!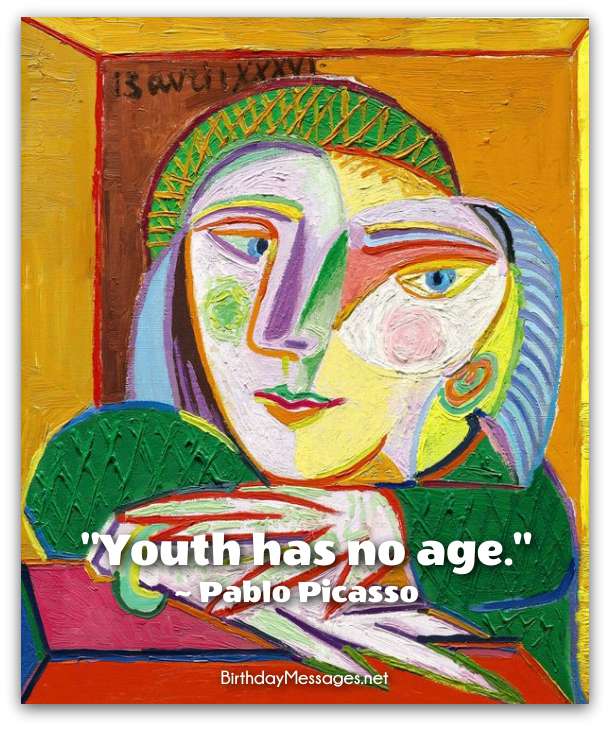 Message Guy Tip #44:
The best time to use cool birthday quotes
When's the best time to use cool birthday quotes in a card, eCard or text? You can find the answer to this question (plus plenty of tips on picking the right cool birthday quotes) here.

You are blessed...

"Blessed are the hearts that can bend. They shall never be broken."


~ Albert Camus


Happy birthday! May all your days be blessed with a heart full of love to give and receive the best life has to offer.


The best is yet to come...

"The golden age is before us, not behind us."


~ William Shakespeare


Happy birthday. Wishing you live only for the future. It's so bright.


With age comes wisdom...

"Age is getting to know all the ways the world turns, so that if you cannot turn the world the way you want, you can at least get out of the way so you won't get run over."


~ Miriam Makeba


Happy birthday! May you live long and get wiser and wiser.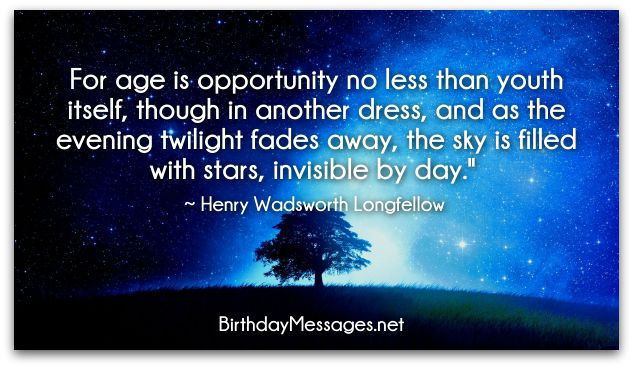 Top of Cool Birthday Quotes
So true, so true!

"In youth we learn; in age we understand."


~ Marie von Ebner-Eschenbach


Happy birthday! May you understand all the ways this world can bring you, happiness, peace of mind and love.


Forget how old you are...

"Age shouldn't affect you. It's just like the size of your shoes - they don't determine how you live your life! You're either marvelous or you're boring, regardless of your age."


~ Steven Morrissey


You're simply marvelous! Happy birthday!


Old or young, you have a chance to live life to the fullest.

"For age is opportunity no less than youth itself, though in another dress, and as the evening twilight fades away, the sky is filled with stars, invisible by day."

~ Henry Wadsworth Longfellow


Happy birthday! May the sky always be filled with stars that guide you to everlasting joy and wonder.

---
Message Guy
Creator of this site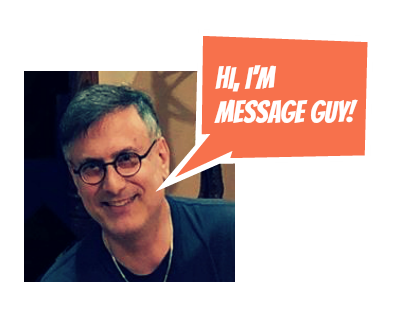 Kevin, the "Message Guy" who writes the birthday wishes, quotes, poems, toasts and speeches for this site, has been a professional writer, editor and translator for more than 25 years. He decided to create BirthdayMessages.net in 2012 to share his passion for famous quotes on the best day of the year — your birthday.

CLICK HERE TO LEARN MORE ABOUT KEVIN (AKA MESSAGE GUY) 
Can't Find
What You Need?
By Kevin (aka "Message Guy")
Copyright © 2013-2020
BirthdayMessages.net.
All rights reserved.
All trademarks and service marks
are the property of their
respective owners.
The copyrights of all birthday
messages on this website
belong to the individual authors.
Site 
Powered By
Solo Build It (SBI)