Cool Birthday Quotes
---
Cool birthday quotes by famous people can make the birthdays of the people in your life feel famously cool. That's what the birthday messages on this page do…famously.
Of course, making the birthday girl or boy feel "cool" means making him or her feel incredible on their special day. Coolness on its own is, well, cold. You need to pick a quote with just the right message.
Since every quote below comes with a different message (from ability to zeal), you need to choose one that expresses what you want to share with your loved one celebrating a birthday.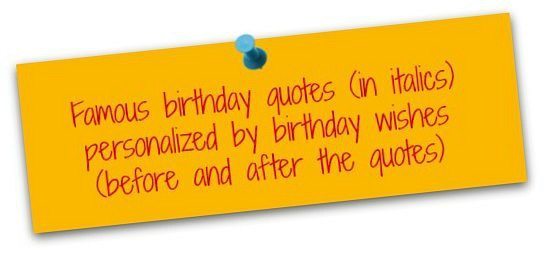 Happy birthday! May you have the strength to move on.

"Moving on is a simple thing — what it leaves behind is hard."


~ Dave Mustaine


Take my hand and we'll move on together.


Happy birthday! Isn't life wonderful?! 

"Every age, after all, must have its own aisling and dream of a better, kinder, happier, shared world."


~ Michael D. Higgins


May you enjoy every day of this age.


Happy birthday! 

Wishing you forward momentum all the days of your life!

"Man maintains his balance, poise and sense of security only as he is moving forward."


~ Maxwell Maltz


Keep moving forward! 

Growth is good for the soul.

"Be not afraid of growing slowly, be afraid only of standing still."

~ Chinese Proverb

Keep moving ahead! Happy birthday!


Happy birthday to a person who redefines what strength is all about.

"That which does not kill us makes us stronger."


~ Friedrich Nietzsche


You're the strongest person I know. 


Keep opening doors...

"When one door closes, another opens; but we often look so long and so regretfully upon the closed door that we do not see the one which has opened for us."

~ Alexander Graham Bell


Happy birthday! May your special day bring you to another open door.
Happy birthday! Thank you for all your love and kindness.

"Only the weak are cruel. Gentleness can only be expected from the strong."


~ Leo Buscaglia


You are strength personified!


Happy birthday to someone who know how to look at life.

"The question isn't at what age I want to retire, it's at what income."


~ George Foreman


You're as young as you can earn.


Now this is something we should all aspire to.

"While I had often said that I wanted to die in bed, what I really meant was that in my old age I wanted to be stepped on by an elephant while making love."


~ Roger Zelazny


Happy birthday! May you never encounter an elephant in the dark.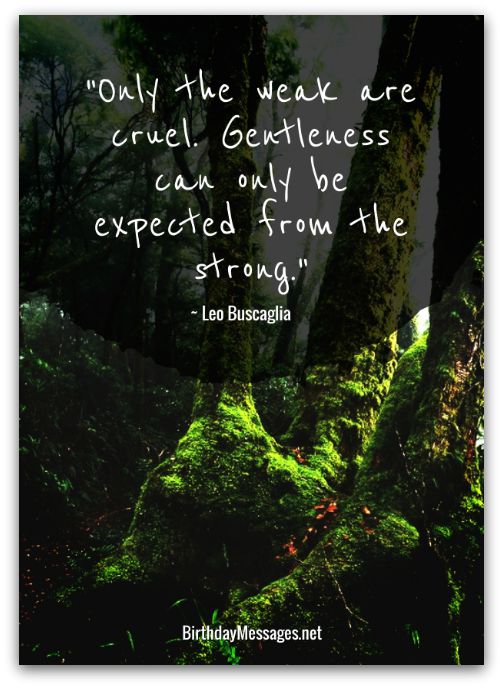 This is what age means..

"Age is something only in your head or a stereotype. Age means nothing when you are passionate about something."


~ Carolina Herrera


Happy birthday to the most passionate person I know!


We are what we wear...

"...It's not about age...I believe women of all ages can wear anything."


~ Ralph Lauren


Everything looks good on you. Happy birthday beautiful!


Happy birthday! You're in the "wise woman" age.

"I'm at the wise woman age, where it's not about learning, but utilizing the information that I have in a way that serves other people."


~ Iyanla Vanzant


That sounds just like you.

Top of Cool Birthday Quotes
You can apply this philosophy to anything, even age...

"Stand up to your obstacles and do something about them. You will find that they haven't half the strength you think they have."


~ Norman Vincent Peale 


Happy birthday! Even age should not get you down. Rise up to every challenge, every day!


Happy birthday to someone who still has it!

"You get to a certain age and you just want to prove that you can still rock - that you've still got it."


~ Jarvis Cocker


You can still rock big time!


Happy birthday! Let's celebrate every wrinkle we have.

"Denying the lines on our faces makes a comment about age and wisdom I don't care to make."

~ Debra Winger

Let's celebrate our age-old beauty!
Selecting just the right cool birthday quotes 
After reading these great tips, picking cool birthday quotes will be so much easier.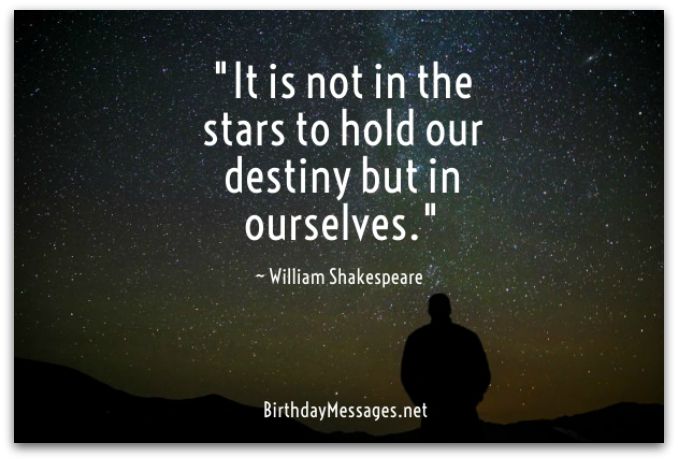 Happy birthday, son!

"People who don't take risks generally make about two big mistakes a year. People who do take risks generally make about two big mistakes a year."


~ Peter Drucker


Take chances and live life to the fullest!


Happy birthday! Who know what the future holds? I don't. But...

"It is not in the stars to hold our destiny but in ourselves."


~ William Shakespeare


With you, the future cannot be anything but beautiful and happy.


Happy birthday! May you choose to be happy today!

"Destiny is no matter of chance. It is a matter of choice. It is not a thing to be waited for, it is a thing to be achieved."


~ William Jennings Bryan


Achieve away!

---
<<Previous     1    2    3    4    5
Message Guy
Creator of this site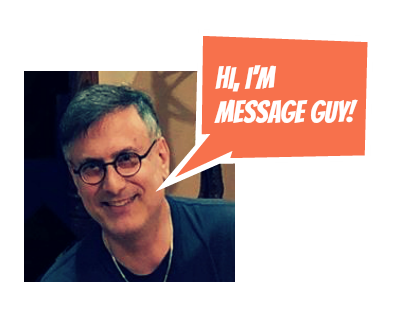 Kevin, the "Message Guy" who writes the birthday wishes, quotes, poems, toasts and speeches for this site, has been a professional writer, editor and translator for more than 25 years. He decided to create BirthdayMessages.net in 2012 to share his passion for famous quotes on the best day of the year — your birthday.

CLICK HERE TO LEARN MORE ABOUT KEVIN (AKA MESSAGE GUY) 
Can't Find
What You Need?
By Kevin (aka "Message Guy")
Copyright © 2013-2020
BirthdayMessages.net.
All rights reserved.
All trademarks and service marks
are the property of their
respective owners.
The copyrights of all birthday
messages on this website
belong to the individual authors.
Site 
Powered By
Solo Build It (SBI)