Cool Birthday Quotes
---
Cool birthday quotes aren't cold — quite the opposite. These sayings are birthday messages that are so hot that they're "cool." Like the ones right here.
Choosing a perfectly cool birthday saying can, however, be a little tricky because you need to strike a balance between what you think is cool and what you believe will make that special someone feel incredible, which is the whole point of sending a birthday message in the first place.

Also, keep in mind that I've combined the famous quotes on this page with personal birthday wishes (done for you by me, Message Guy), a truly amazing combo that will make the birthday boy or girl in your life feel extraordinary). Now isn't that cool?

Message Guy Tip #43:
How to choose cool birthday quotes
"Cool" is hard to define but it's easy to spot. Birthday quotes can be cool. What type of cool birthday quotes are right for the birthday girl or boy you have in mind? That depends...
Read more ►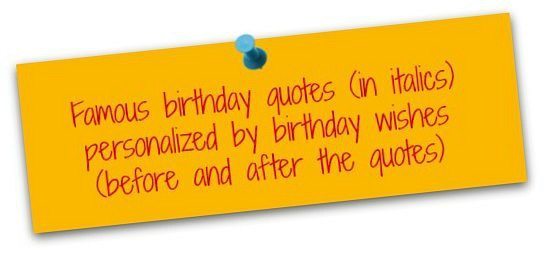 You and I should not spend another second even thinking about our glory days.

"No wise man ever wished to be younger."

~ Jonathan Swift


We should be happy we're still around on our birthdays (even with our ever-increasing senior moments)!


Age is for bean counters.

"Our birthdays are feathers in the broad wing of time."


~ Jean Paul


Just enjoy your birthday and your time on Earth.


There's no need to be afraid.

"The day which we fear as our last is but the birthday of eternity."


~ Lucius Annaeus Seneca


Have faith! Plus, celebrate each birthday and every day!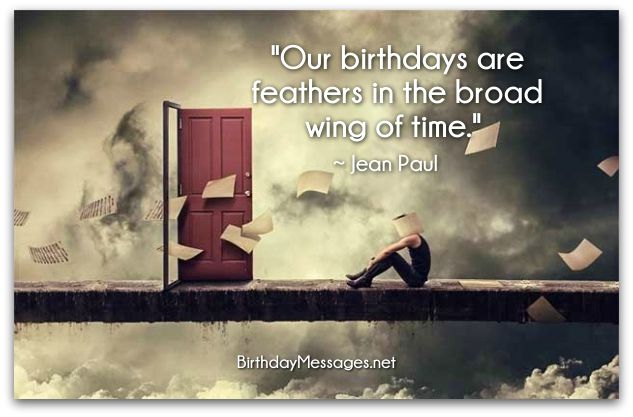 Yes, life is precious, no matter how old we are.

"God gave us the gift of life; it is up to us to give ourselves the gift of living well."


 ~ Voltaire


Love yourself. Celebrate every birthday. It's your special day...Make it special!


You're a grownup now...

"Thirty was so strange for me. I've really had to come to terms with the fact that I am now a walking and talking adult."


~ C. S. Lewis


Happy 30th birthday. It's the beginning of your wonderful grownup adventure. 


Certain things don't change...

"If you look over the years, the styles have changed — the clothes, the hair, the production, the approach to the songs. The icing to the cake has changed flavors. But if you really look at the cake itself, it's really the same."


~ John Oates


Birthdays are all the same: they all celebrate you. Happy birthday!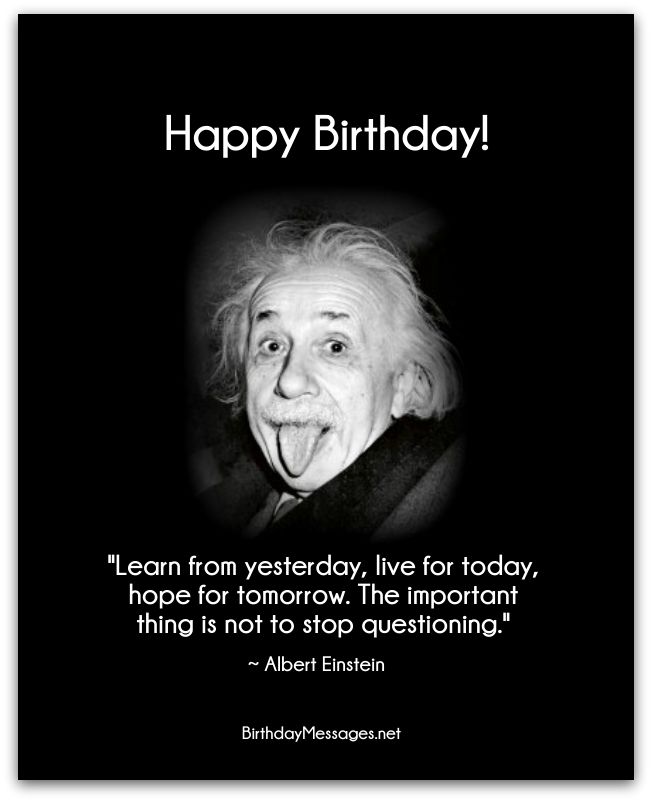 Message Guy Pick
The famous quote below rocks! This is why I think so... Read more ►
The adventure continues…

"Learn from yesterday, live for today, hope for tomorrow. The important thing is not to stop questioning."

~ Albert Einstein


Keep searching. You'll find your way. Happy birthday!

As we age, the meaning of life doesn't get any clearer...

"We don't understand life any better at forty than at twenty, but we know it and admit it."


~ Jules Renard


And knowing and admitting it just makes  our birthdays and life in general so much better. Happy birthday!


You are the best gift I could ever get...

"A gift, with a kind countenance, is a double present."


~ Thomas Fuller


My gift to you is all my love...and then some! Happy birthday!


To stay young at heart is the heart of the matter...

"To keep the heart unwrinkled, to be hopeful, kindly, cheerful, reverent that is to triumph over old age."


~ Amos Bronson Alcott


You're the youngest person (in spirit) I know. Keep charging ahead! Happy birthday!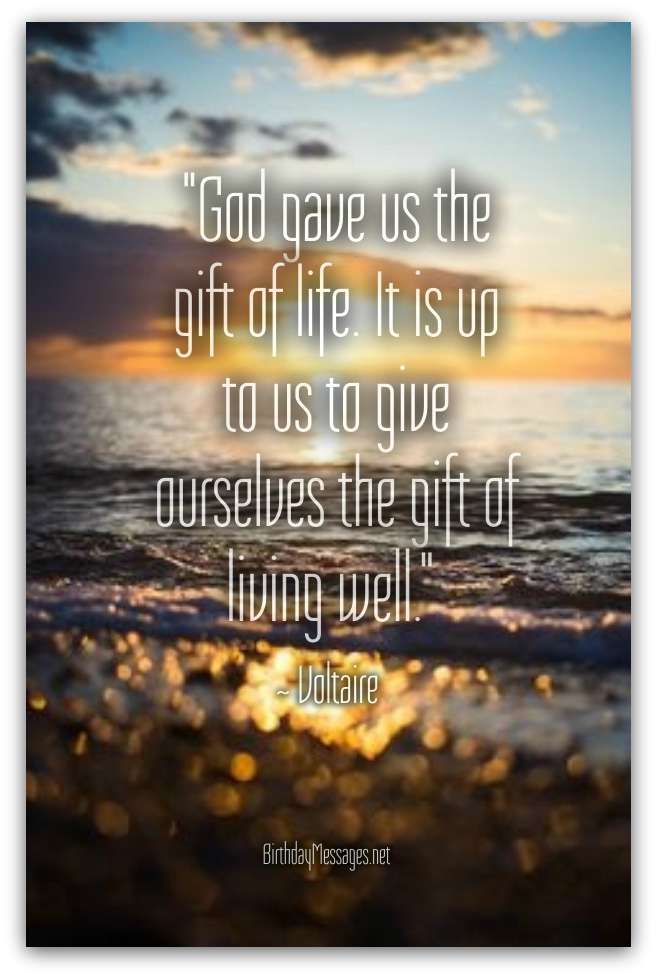 Top of Cool Birthday Quotes
Finally, the secret...

"The secret to eternal youth is arrested development."


~ Alice Roosevelt Longworth


I bet you've known this secret for quite some time.  You're youth personified! Happy birthday!


Certain rules are meant to be broken.

"It is utterly false and cruelly arbitrary to put all the play and learning into childhood, all the work into middle age, and all the regrets into old age."


~ Margaret Mead


You're my favorite rule breaker, my hero! Keep breaking the rules. 


This is our philosophy of life...

"There is no cure for birth and death, save to enjoy the interval."


~ George Santayana


Let's enjoy ourselves every day. Let's party on your birthday!

Message Guy Tip #44
How do you know if the cool birthday quote you choose is "way, way too cool" for the birthday boy or girl. Well, if you agree with any of the statements below, you'll know that you've gone too cool and need to pick another quote.

You don't entirely understand the quote (and must consult Wikipedia or a dictionary to know what it means). 
You can't help but feel nothing (or, worse, numb) after reading this cool birthday quote. 
No one in their right mind would send such a weird quote. 
You have no idea who wrote the quote (you've never heard of the author). 
Your high school or university professor often refers (or referred) to this quote (never a good sign).
This is proof that getting older doesn't have to be all about aches and pains...

"That which does not kill us makes us stronger."


~ Friedrich Nietzsche


You're the strongest person I know. Happy birthday!


If you have your health, you have everything you need...

"It is health that is real wealth and not pieces of gold and silver."


~ Mahatma Gandhi


Have a happy and healthy birthday!


You know the old "People who need people are the luckiest people in the world" refrain? It's true!

"One of the signs of passing youth is the birth of a sense of fellowship with other human beings as we take our place among them."


~ Virginia Woolf


Happy birthday! You're one of my favorite people.

---
Message Guy
Creator of this site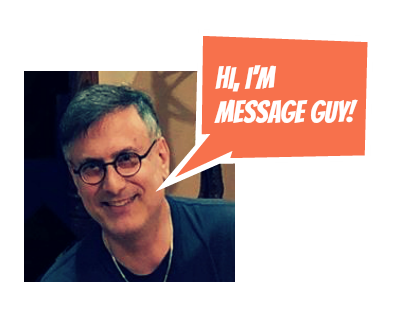 Kevin, the "Message Guy" who writes the birthday wishes, quotes, poems, toasts and speeches for this site, has been a professional writer, editor and translator for more than 25 years. He decided to create BirthdayMessages.net in 2012 to share his passion for famous quotes on the best day of the year — your birthday.

CLICK HERE TO LEARN MORE ABOUT KEVIN (AKA MESSAGE GUY) 
Can't Find
What You Need?
By Kevin (aka "Message Guy")
Copyright © 2013-2020
BirthdayMessages.net.
All rights reserved.
All trademarks and service marks
are the property of their
respective owners.
The copyrights of all birthday
messages on this website
belong to the individual authors.
Site 
Powered By
Solo Build It (SBI)