Cool Birthday Wishes
---
How cool should cool birthday wishes be? So cool you sense their "coolness" almost immediately. The cool birthday messages here have that effect on people.
Of course, there's cool and then there's coooooool. In other words, there's a difference between "cool enough" and "too cool" when it comes to cool birthday messages.
You can be sure that the birthday girl or boy will want a cool birthday greeting that also comes with a heartfelt message...from your heart. This birthday wish should truly and warmly express how you feel about him or her.
| | | |
| --- | --- | --- |
| May joy make everything look rosy on your birthday and the greyest of your days. | Happy birthday. May you find beauty today and every day amidst life's swirling chaos. | Happy birthday. Wishing you a special day and life filled with the joy of love, wonder, laughter, purpose and Oreos. |
| | | |
| --- | --- | --- |
| Happy birthday! In life, it's not about how many birthdays that have come and gone. It's about how many birthdays are yet to come. | Happy birthday! May you always remember we do not get older with each birthday — we reach newer heights. | Birthdays are like wine. Some, if spoiled by time and circumstance, taste like vinegar, but most, with the right course, just get better with age. Happy birthday! |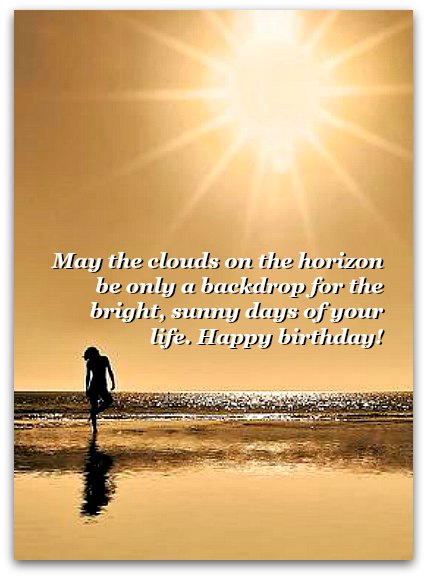 Looking at more examples is a cool thing to do! 
Look at even more cool birthday wishes below...
| | | |
| --- | --- | --- |
| Wherever you are, there's the bliss that can only come from love, peace and kindness! Happy birthday! | May you only know the thrill of living every moment of your life and, even more so, on your special day. Happy birthday! | Our birthdays are fleeting, yet exquisite moments in time. Enjoy yours! |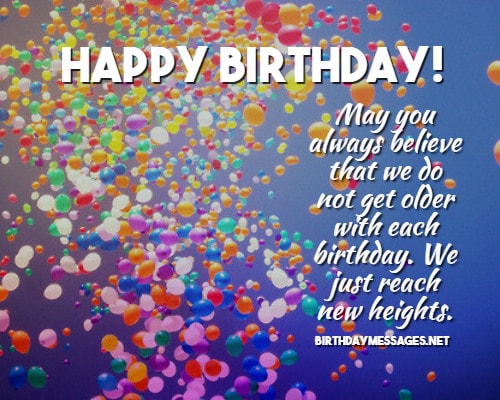 | | | |
| --- | --- | --- |
| May the clouds on the horizon be only a backdrop for the bright, sunny days of your life. Happy birthday! | Happy birthday! Today and every other day of the year, may you forget what's best forgotten and remember what's best remembered. | Enjoy every minute of your birthday. There's plenty of time to be dead afterwards. |
| | | |
| --- | --- | --- |
| May misfortune never find you and may you forever find fortune...today and the rest of your days. Happy birthday! | Your birthday is not just the first day of another year in your life, but the first day of another year of life. Happy birthday! | Youth is given to you to throw away like a newspaper. Age is bestowed upon you to appreciate like fine art! Happy birthday! |
---
<<Previous     1    2    3    
Message Guy
Creator of this site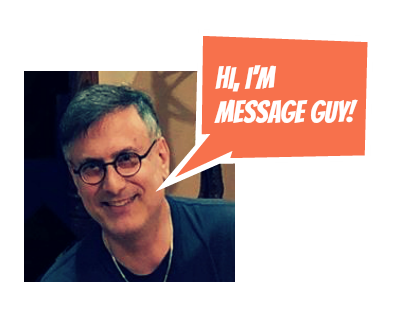 Kevin, the "Message Guy" who writes the birthday wishes, quotes, poems, toasts and speeches for this site, has been a professional writer, editor and translator for more than 25 years. He decided to create BirthdayMessages.net in 2012 to share his passion for famous quotes on the best day of the year — your birthday.

CLICK HERE TO LEARN MORE ABOUT KEVIN (AKA MESSAGE GUY) 
Can't Find
What You Need?
By Kevin (aka "Message Guy")
Copyright © 2013-2020
BirthdayMessages.net.
All rights reserved.
All trademarks and service marks
are the property of their
respective owners.
The copyrights of all birthday
messages on this website
belong to the individual authors.
Site 
Powered By
Solo Build It (SBI)