Cute Birthday Quotes
---
Cute birthday quotes by celebrities can be so adorable. Adding personal birthday wishes to these sayings just makes them cuter. That's what we do here, for you.

Feel free to use the birthday quotes with or without the sample birthday wishes. Do whatever you think is "cuter" for your family and friends.
Because you're here to take the "cute" path with your birthday saying, the only advice I have for you is to carefully select the level of cuteness you want. There are many quotes here, with varying degrees of cuteness, so pick one that comes closest to  your "cute" limit.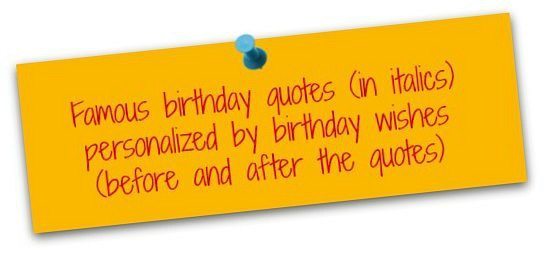 Yes, this is true, no matter what age you are...

"Wear a smile and have friends; wear a scowl and have wrinkles."


~ George Eliot


Smile, it's your birthday! Whenever you do, you seem so much younger. 

You have so much courage.

"It takes courage to grow up and become who you really are."


~ E. E. Cummings


You're my role model. Happy birthday!


You're just like this mom...

"My mom FedExes a red velvet cake she makes from scratch to me every birthday."


~ Molly Sims


You make my life so much sweeter, so I thought I'd do the same for you. Enjoy the cake!

Don't be sad like her...

"I cried on my 18th birthday. I thought 17 was such a nice age. You're young enough to get away with things, but you're old enough, too."


~ Liv Tyler


When you're 18, you can do all the things you did secretly in the open (without getting into trouble). Happy 18th! 

There's nothing wrong with staying young.

"Like many women my age, I am 28 years old."


~ Mary Schmich


That's cool, I'm 28, too. Happy 28th birthday!


In the great words of Golda Meir...

"Being seventy is not a sin."


~ Golda Meir


Let's sin anyways. Happy 70th birthday!


This is why I always remember your birthday...

"The reason I met my husband was because I remembered a friend's birthday. The moral of the story is: Remember people's birthdays."


~ Julianna Margulies


I'd remember your birthday, anyway. That's how special you are to me. Happy birthday!

Top of Cute Birthday Quotes
Want to be even cuter with your message?


Look at more cute birthday quotes below...
We should all be this encouraging to ourselves.

"When I was in elementary school, I used to write letters to myself. I'd write letters and go Dear Kristen-at-16-years-old, happy birthday. I hope you're doing something."


~ Kristin Kreuk


I bet you wrote something to yourself, because you're doing so much with your life. Happy birthday!


Come here, come here...

"A hug is like a boomerang — you get it back right away."


~ Bil Keane


Let me give a great, big birthday hug. Happy birthday!


This is not a hint...

"If I'd known I was going to live this long, I'd have taken better care of myself."


~ Ubie Blake


Of course, it never hurts to plan...to be even younger at heart. Happy birthday!

Message Guy Pick
The birthday message below is one of those cute birthday quotes that's impossible to dislike. Why?
Read more ►
How true...

"A true friend is one who overlooks your failures and tolerates your success!"


~ Doug Larson


That's the type of friend I have in you. Now if I could only be successful (or as good a friend as you). Happy birthday, best friend.  

Listen to the music.

"Life is one grand, sweet song, so start the music."


~ Ronald Reagan


Life sounds great...with you. Happy birthday!


I guess you're always in the pink...

"Pink isn't just a color, it's an attitude!"


~ Miley Cyrus


Your attitude about life (and getting older) are always in the pink. Stay positive. Happy birthday!


It looks like I need a little Wisconsin to perk up.

"If you're looking for a can-do, earthy-crunchy attitude, you've got to go to Wisconsin."


~ Dar Williams


When's the next bus? That's because we're going there for your birthday! No? Okay, let's go to Wisconsin.com.

---
<<Previous     1    2

Message Guy
Creator of this site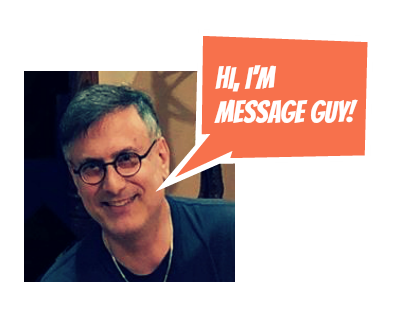 Kevin, the "Message Guy" who writes the birthday wishes, quotes, poems, toasts and speeches for this site, has been a professional writer, editor and translator for more than 25 years. He decided to create BirthdayMessages.net in 2012 to share his passion for famous quotes on the best day of the year — your birthday.

CLICK HERE TO LEARN MORE ABOUT KEVIN (AKA MESSAGE GUY) 
Can't Find
What You Need?
By Kevin (aka "Message Guy")
Copyright © 2013-2020
BirthdayMessages.net.
All rights reserved.
All trademarks and service marks
are the property of their
respective owners.
The copyrights of all birthday
messages on this website
belong to the individual authors.
Site 
Powered By
Solo Build It (SBI)