Cute Birthday Quotes
---
Cute birthday quotes can be even cuter than kittens — really — when you personalize them with unique birthday wishes (done for you here). That's what we have exclusively on this page.
If you've chosen the "cute" route, you'll be happy to know that you have many "cute levels" to choose from, making it easier for you to pick the ideal cute birthday verse for the birthday girl or boy.
Because no two people like the same dose of cuteness in their birthday messages, select the one that feels right to you and your loved one celebrating a birthday. If you need a few tips, take a few moments to read the Message Guy Tip below. 
Message Guy Tip #24:
How to pick cute birthday quotes
Kittens are cute. So are birthday quotes with the right mix of sweet, adorable words. But "cute" is not for everyone. For some, it triggers the "aww so cute" response. For others, the gagging reflex. So choose cute sayings when you're sure it's the way to go.

Don't pick quotes that are too cute — only the ones that express how you feel about the birthday boy or girl (with a just dab of honey). Now wasn't that cute?
Read more ►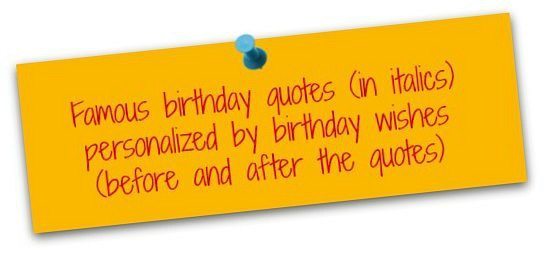 Aw, shucks...

"I think love can happen at any age... it has no age."


~ Shahrukh Khan


And I love you, sweetie, no matter how old you are. Happy birthday!


I did it and she didn't...

"I tried to bake a cake for my mother's birthday — it took me four hours. It was terrible, and I cried for three days."


 ~ Rachael Ray


With me, you can have your cake and eat it too on your special day. Isn't that special? Happy birthday!


This is what I believe with all my heart...

"Where children are, there is the golden age."


~ Novalis


Our children make us, especially you, the picture of youth. Happy birthday!

Wow, this must be Neverland, where you never grow up! 

"Well, birthdays are merely symbolic of how another year has gone by and how little we've grown."


~ Jerry Seinfeld


If this means we stay young, I'm all for it. Happy birthday!


This sounds like me... 

"Middle age is when you still believe you'll feel better in the morning."


 ~ Bob Hope


It doesn't sound at all like you, because you're so young (at heart). Happy birthday!


I must be rolling along nicely by now...

"Just remember, once you're over the hill you begin to pick up speed."


~ Charles Schulz


You must be just starting your climb. Happy birthday!

Message Guy Pick
The message below is my favorite cute birthday quote because it captures something very special.
Read more ►
This is the kind of friend you are...the best kind!

"A friend is one who knows you and loves you just the same."

~ Elbert Hubbard


I feel the same about you. Happy birthday, BFF!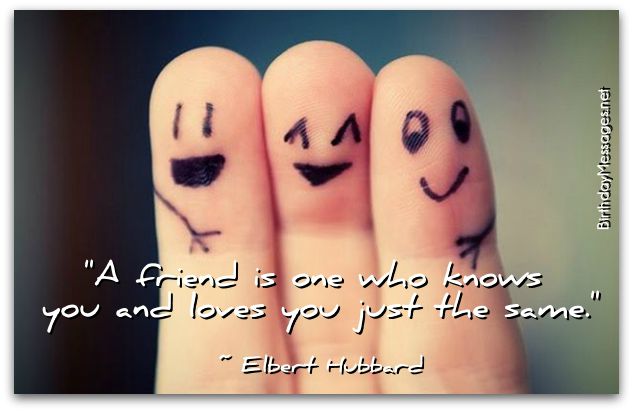 You don't seem like you've been here a long time.

"Nobody's old anymore — they've just been around for a long time."

 ~ Abigail Van Buren

With you, it always feels like time passes so quickly. It must be your young vibe.


You're not there yet.

"You know you're getting old when you get that one candle on the cake. It's like, See if you can blow this out."

~ Jerry Seinfeld

Don't worry! Your cake still costs way more than your candles. Happy birthday!

Some people enjoy the simple things in life...

"A table, a chair, a bowl of fruit and a violin; what else does a man need to be happy?"

~ Albert Einstein

Just you. Happy birthday!
Top of Cute Birthday Quotes
Looking for something even cuter?


See more cute birthday quotes here...
Some days, nothing is easy. To make it easier for you to pick cute birthday quotes for your loved ones, don't forget to check out just below and the next page for more cute birthday quotes.
Sounds like a great plan...

"You are only young once, but you can be immature for a lifetime."


 ~ John P. Grier


Let's do it, starting on your special day! Let's celebrate like two teens! Happy birthday! 


To be young at heart takes the type of wisdom that only comes with age.

"It takes a long time to grow young."


~ Pablo Picasso


You are, by far, the youngest person at heart I know. 


Happy birthday!

This is definitely your special day.

"There are 364 days when you might get unbirthday presents…and only one for birthday presents, you know."


 ~ Lewis Carroll


Happy un-unbirthday!
Today, 50 is the new 35.

"To me, old age is always 15 years older than I am."


 ~ Bernard M. Baruch


Happy 35th birthday for the 15th time.


This is good advice to follow...

"Growing old is mandatory; growing up is optional."


~ Chili Davis


Let's stay young together! Happy birthday!


When you feel down...

"There is only one happiness in this life, to love and be loved."


~ George Sand 


You have both in life. You are truly blessed. Happy birthday!

---
Message Guy
Creator of this site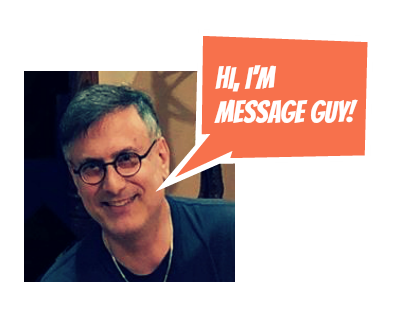 Kevin, the "Message Guy" who writes the birthday wishes, quotes, poems, toasts and speeches for this site, has been a professional writer, editor and translator for more than 25 years. He decided to create BirthdayMessages.net in 2012 to share his passion for famous quotes on the best day of the year — your birthday.

CLICK HERE TO LEARN MORE ABOUT KEVIN (AKA MESSAGE GUY) 
Can't Find
What You Need?
By Kevin (aka "Message Guy")
Copyright © 2013-2020
BirthdayMessages.net.
All rights reserved.
All trademarks and service marks
are the property of their
respective owners.
The copyrights of all birthday
messages on this website
belong to the individual authors.
Site 
Powered By
Solo Build It (SBI)