Cute Birthday Wishes
---
The best kind of cute birthday wishes have the right dose of cuteness, just enough to give the birthday boy or girl that "aw, shucks" moment. You'll find plenty of those moments in this section.
If you're here, it's because you think the birthday boy or girl will appreciate a cute birthday message, so you should be mindful of how cute you want your birthday wish to be.
Here, you have a choice of cute, super cute and OMG cute. To help you pick the level of cuteness that's right for your loved one, take a look at the Message Guy Tip below. 
Message Guy Tip #81:
How to select cute birthday wishes
There's a very good reason for all the photos of babies, kittens, puppies, ducklings and pandas on the web: they're cute. Most people love to see and read "cute" things. That's what makes choosing the "cute" route practically a "no-brainer" when it comes to birthday wishes. Virtually everybody loves them.
The problem? Yes, there's a problem. Basically, what's cute for some people is nauseating to others.
Below are three levels of "cute" birthday wishes to choose from. So just how cute should your birthday messages be? The first thing to consider is...
Read more ►
Choose one of my cute birthday wishes
| | | |
| --- | --- | --- |
| Happy birthday! Quick, make a wish and blow out all the candles on your birthday cake...before I do. I must have your cake and eat it, also! | I have a big birthday surprise for you...I actually got you a gift you will like. Happy birthday! | Happy birthday. Some friends are precious. You're more than precious. You're priceless precious. |
| | | |
| --- | --- | --- |
| Hey, buddy, I hope you have bundles of fun on your birthday...plus bundles of gifts. | I hope your birthday is a rainbow of fun, family and friends...with lots of birthday cake, ice cream and gifts right at the end of it (for your pot of gold). | Wishing you lots and lots of sweet surprises on your special day...like the biggest birthday cake, every flavor of ice cream and enough gifts to fill your room. |

Quick Links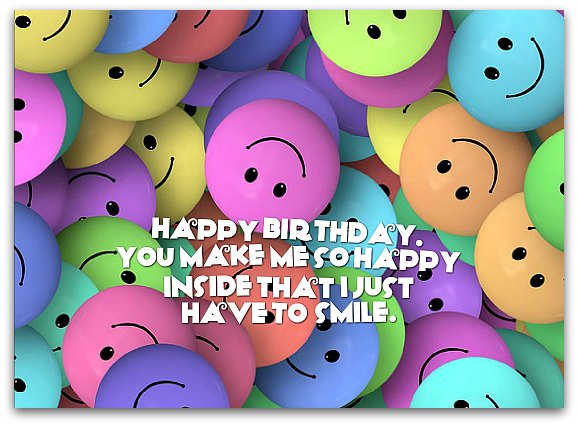 Select one of my super cute birthday wishes
| | | |
| --- | --- | --- |
| May your birthday bring you more happiness than all the teddy bears, rubber duckies and blankies in the world. | Happy birthday, sweetie! You're a dash of sugar, a dollop of syrup and a dab of honey, all in one! | Happy birthday and lots of love to the loveliest, loving, lovable lovebug.  |
| | | |
| --- | --- | --- |
| Wishing wonderfully wonderful you a beautifully beautiful birthday! | There's nothing more special than a super special friend like you. Hope your birthday is especially special like you. | May the sweetest of your sweet dreams come true on the sweetest day of the year...your birthday! |
See everyone's favorite birthday messages
| | | |
| --- | --- | --- |
| Happy birthday to the sweetest, sweetilicious sweetie of a sweetheart. | Happy birthday! You hold a special place in my life...deep, deep in my heart of hearts.  | Happy birthday, beautiful blue eyes. You glow with so much goodness that you burn brighter than a trillion suns. |
Pick one of my OMG cute birthday wishes
| | | |
| --- | --- | --- |
| Happy birthday to the cutest of the cuties in CutieLand. | Happy birthday to the gooiest, oooiest, chewiest, yummiest, chocolicious cake of a sweetie. You. | Happy birthday, honey bunch of goodness and gumdrops. I just want to hug you until the end of time. |
Top of Cute Birthday Wishes
| | | |
| --- | --- | --- |
| Happy birthday to my scrumdelicious strawberry tart sweetheart.  | Happy birthday, sugarplum. May you have a sweet, snuggly sunbeam of a birthday! | Happy birthday, sweetheart. I'm sending you a birthday wish filled with the smileliest smiles, huggiest hugs, kissiest kisses and loveliest love. |
---
---
Message Guy
Creator of this site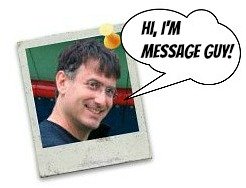 Meet the veteran writer behind every birthday message here
---
---
Check out these
popular pages
CAN'T FIND WHAT YOU NEED?
SEARCH HERE
---
Like this page?


Help me get the message out

Follow this site

 


on Facebook



Be the first to see what's new