Dad Birthday Wishes
---
You're bound to find the perfect Dad birthday wishes from all the beautifully written birthday greetings on this page — one of the biggest collections of birthday messages for Dads to choose from. 
How will you know you've found the perfect birthday greeting for your Dad? You'll know. The messages here each have a different "Dad" way of paying tribute to your father on his birthday, so you're sure to see what you want to say to him from at least one of the birthday verses — the right one. 
| | | |
| --- | --- | --- |
| You've always been a blessing in my life. For this honor, I just want to say two things I don't say enough to you: "Thank you" and "I love you." Happy birthday, Dad! | Happy birthday, Dadio. You're the coolest, hippest, grooviest and finest Dad this side of the universe. I guess the meds are working. | My life has been a series of very fortunate events from the start. The reason? Your support, strength, guidance, patience, kindness, love (and money). Thanks for everything.  Happy birthday, Dad! |
| | | |
| --- | --- | --- |
| There are two kinds of Dads in this world. You're the best kind. The other is just not as great as you are. Happy birthday, Dad! | You did not have a father, yet you knew exactly how to be the best father to me. You've always been a natural when it comes to all things Dad. Happy birthday to my favorite Dad in the world!  | Happy birthday, Dad! There's no man better than you. You love me with all your heart and you've always been my best friend through thick and thin. I love you! |
| | | |
| --- | --- | --- |
| I want to thank whoever is in charge of deciding who your parents are going to be. I'm so glad they chose you as my father. I love you. Happy birthday, Dad! | Words cannot express how much I love you. I can never thank you enough for everything you've done for me. You're the greatest. Happy birthday, Dad! | I don't mind being called "Daddy's little girl." In fact, I'm proud of the title, because you're my hero, my pillar of strength, my teacher, the best father a daughter could ever have. Happy birthday, Dad! |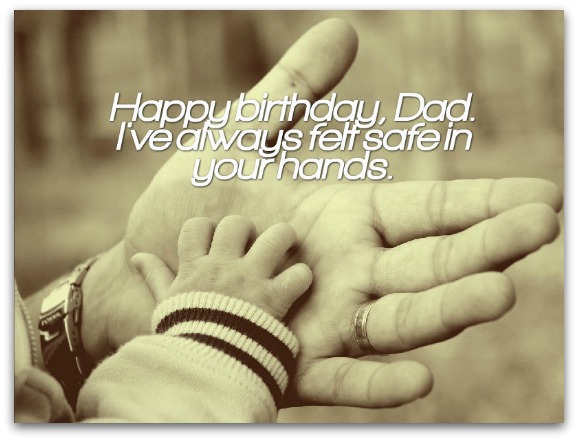 I know what it takes to be a great father...because you, Dad, have shown me what it takes. You're the greatest father a kid (and an adult) could ever want! Happy birthday, Dad!


Dad, you have shown me your love in so many ways. Whether it's a few simple words, a big bear hug, a hand on my shoulder or a heartfelt "I love you," I've always known that I'm loved. That's the greatest gift you can give your child. Happy birthday to the world's most loving Dad!


In life, so many things are frighteningly unpredictable. 
But you're predictable in the most reassuring way — you've always had my back. I can depend on you, no matter what. I love you. Happy birthday, Dad! 
Top of Dad Birthday Wishes
Yes, I have more dad birthday wishes...
| | | |
| --- | --- | --- |
| You mean the world to me and I just wanted to let you know how I feel, because I don't nearly tell you enough. You're the greatest Dad ever. Happy birthday, Pop! | We love you, Dad! May your birthday be as special as you. You deserve it. Happy birthday, Dad! | Dads like you are the grease that keeps the world turning around and around, keeps our family together and, believe it or not, keeps me on the straight and narrow. You're the best. Happy birthday, Dad! |
| | | |
| --- | --- | --- |
| Dad, you make fatherhood look effortless...even though I know you put everything of yourself into it. I appreciate everything you've done. Happy birthday, Dad! | Have your cake, pie, whatever, and eat it. May you always taste the joy and wonder of this birthday..and every day. Happy birthday to the sweetest Dad! | Nobody's Dad is as great as mine. That's  because nobody else has you as a Dad.  Happy birthday, Pop! |
---
<<Previous     1    2    3    Next>>  
Message Guy
Creator of this site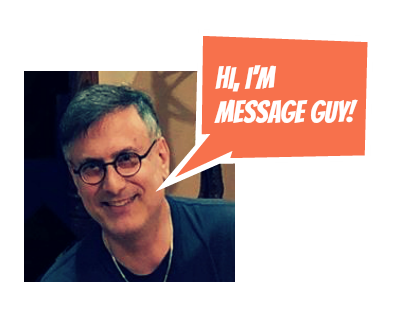 Kevin, the "Message Guy" who writes the birthday wishes, quotes, poems, toasts and speeches on BirthdayMessages.net, has been a content writer since 1993. He created this site in 2012 to share the power of words with you on one of the best days of the year — the birthday of a loved one.

Can't Find
What You Need?
By  Kevin (aka "Message Guy")
Copyright © 2013-2020
BirthdayMessages.net.
All rights reserved.
All trademarks and service marks
are the property of their
respective owners.
The copyrights of all birthday
messages on this website
belong to the individual authors.
Site 
Powered By
Solo Build It (SBI)
Build Your Own Website