Dad Birthday Wishes
---
Dad birthday wishes as unique as your Dad let him know just how special he is to you. Here, you'll find only one-of-a-kind birthday messages for your father. The best kind. Anything less just wouldn't do.
When my father was alive, he loved (and was always grateful) to receive birthday wishes from friends and family alike. He really appreciated that everyone took the time to wish him well on his special day. He never took it for granted. 
Your Dad will love to hear from you, too, especially when you choose a dad birthday message (from the examples below) that truly shows how you feel about him. I bet he won't take your birthday greeting for granted.
Message Guy Tip #61:


How to select dad birthday wishes...
Dads are super special. A father is a wonderful combination of strength, warmth, kindness, laughter and love. So figuring out the message to pick, in a broad sense, is easy. Choose one that makes your Dad feel very special on his birthday. But that could mean different types of Dad birthday wishes. What type should you go with? 
Should birthday messages for fathers be sentimental? Definitely. Inspirational? Yes, if your father needs a little boost. Funny? Sure, if your Dad likes a good laugh now and then. Cool or clever? Or both? Perhaps, if your father is a fan of puns and witty plays on words.

The key here is to choose one of those dad birthday wishes that do these three things:

The Dad birthday wishes you select should express how you really feel about your Dad. Don't pick a sentimental message because it's the thing to do. Your father has known you since birth, so he'll be able to smell false emotions from a mile away.
The Dad birthday wishes you pick should reflect your Dad's personality.
The Dad birthday wishes you pick should reflect your personality.
When one of the messages in this section meets all three of these conditions, you'll know it. 

| | | |
| --- | --- | --- |
| You are the greatest Dad in the world.  If this was Father's Day, I would give you a tie. But it's your birthday, so I'll give you all my love, respect and affection, the ties that bind. Happy birthday! | Dad, happy birthday! You've always been an amazing father. Now, I'm glad to say, you're an even more amazing friend.  | Dad, you're one in a million. No, one in a billion. Actually, one in a trillion. In other words, you're one of a kind. The best, most loving kind. Happy birthday! |
| | | |
| --- | --- | --- |
| Dad, you're the greatest. It's not just because you're there for me through good times and bad. It's also because you make the bad times good with your amazing love and support. Happy birthday! | The older I get, the more I realize that a Dad like you is as rare as a desert rose — and just as beautiful. I'm so grateful you're my Dad. Happy birthday to the best father anywhere. | Personally, I like to celebrate Father's Day twice a year — once on Father's Day and once more on my father's day, your birthday. And, Dad, you deserve it for being the best father ever. Happy birthday, Dadio! |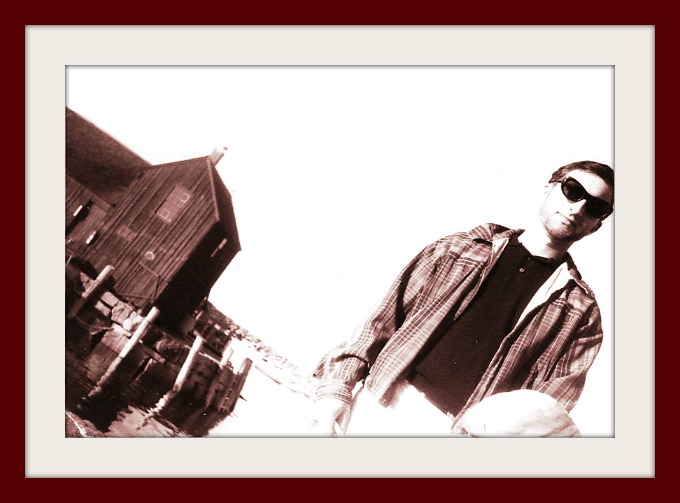 My Dad at his coolest. The best man I've ever known!
(1929-2008)
All my birthday wishes for fathers are dedicated to him (and inspired by him)!
---
NEW!
Share this birthday video with your father!


He'll love it!
Subscribe and get a new video to share every week
Video birthday message
Happy, happy, happy birthday wishes for my Dad!

This is for you, Dad!
When I'm bad, you love me.
When I'm good, you love me.
No matter what I do, you love me.
I'm so lucky to have a father who loves me unconditionally.
Dad, you're one in a million.
No, one in a trillion.
You're one of a kind. The best kind.
Happy birthday to the best father anywhere.
Hope you liked these loving birthday wishes. Here's to the most incredible Dad!

---
Message Guy Pick
This is one of those special Dad Birthday Wishes. It was a tribute to my Dad five years after he passed away. This is one of my top picks because it expresses how I personally felt five years after my own father passed away. I still feel the same way. I guess that's what makes this message so timeless. In my mind (and heart), this message can be used anytime after you've lost your father, whether it's a year later or decades later.
Today is five years since you passed away. I think about you at least a hundred times a day. There's so much I would like to say to you. So, if you have a Facebook account (with your e-mail notifications set properly), a half-decent wireless connection and the latest Windows version, sit back wherever you are and enjoy these two quotes (you know the first one because you often used it when I was 18): 

"When I was 18, I thought my father was pretty dumb. After a while when I got to be 21, I was amazed to find out how much he'd learned in three years."


~ Frank Butler


"I know I'm older now, but there's still that little lad inside me who likes his Dad there to see him."


~ Jamie Redknapp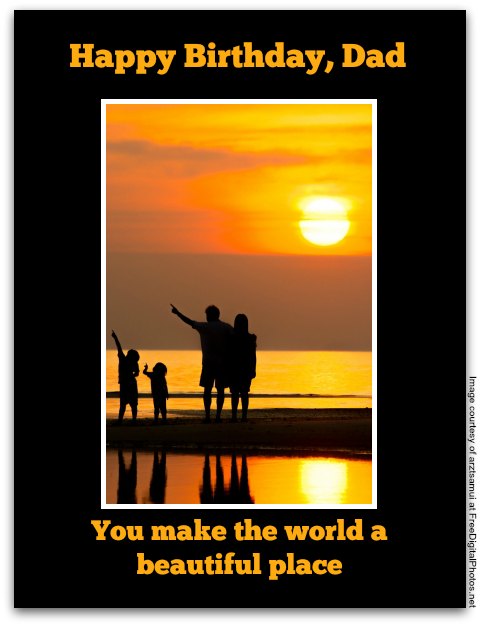 What does your Dad want to hear?
Here are 11 things your Dad wants to hear from you
I found a very interesting Father's Day article that can easily apply to dad birthday messages. It's a great piece that lists the 11 things that dads, in general, would like to hear from their children. If you would like to find out for yourself, click here to read the article. It will probably help you choose the right birthday greeting for your Dad.
| | | |
| --- | --- | --- |
| When we're bad, you love us. When we're good, you love us.  No matter what we do, you love us. We're so thankful to have a Dad who loves us unconditionally. Happy birthday, Dad! | Happy birthday to the world's most incredible, wonderful, unbelievable, amazing, awesome, marvelous and, of course, handsome Dad! | To say I'm thankful for having a father like you is an understatement. I'm overjoyed, lucky, blessed, you name it. Happy birthday! |
Top of Dad Birthday Wishes
Need to see a few more examples?


Here are even more dad birthday wishes...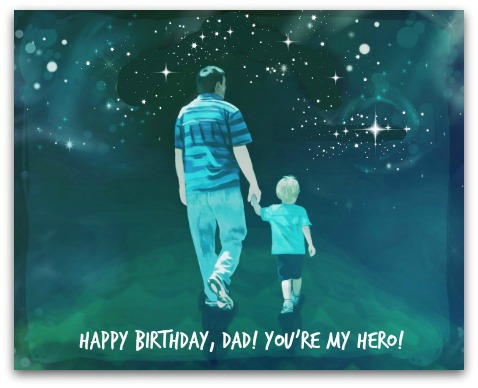 | | | |
| --- | --- | --- |
| You're more than just a father to me — you're my hero, my doctor, my guru, my inspiration, my friend. Happy birthday, Dad! | Thank you for sharing every ounce of the love in your heart and the songs in your soul. I love you! Happy birthday, Dad! | You've always been so loving, so caring, so strong through the years. You've always been the best. Happy birthday, Dad! |
| | | |
| --- | --- | --- |
| Happy birthday, Dad! May you always be as happy, healthy, and whole as you've made everyone you love.  | Wishing you a very healthy, incredibly happy and entirely peaceful birthday, Dad! | You're so amazing that I can just scream "Happy birthday, Dad" from the top of my lungs to the bottom of my heart.  |
---
Message Guy
Creator of this site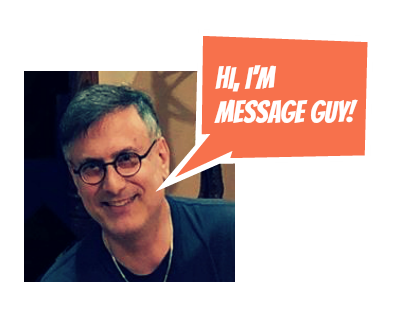 Kevin, the "Message Guy" who writes the birthday wishes, quotes, poems, toasts and speeches on BirthdayMessages.net, has been a content writer since 1993. He created this site in 2012 to share the power of words with you on one of the best days of the year — the birthday of a loved one.

Can't Find
What You Need?
By  Kevin (aka "Message Guy")
Copyright © 2013-2020
BirthdayMessages.net.
All rights reserved.
All trademarks and service marks
are the property of their
respective owners.
The copyrights of all birthday
messages on this website
belong to the individual authors.
Site 
Powered By
Solo Build It (SBI)
Build Your Own Website