Daughter Birthday Wishes
---
Perfect daughter birthday wishes aren't perfect because they're flawless — it's because they speak straight from the heart, expressing your feelings for your daughter flawlessly.
"Perfect" birthday messages for your daughter are what you'll find on this page. To help you along the way, you can always click here to check out my tips for picking the ideal birthday verses for your daughter. Go ahead, you're only one click away! 
| | | |
| --- | --- | --- |
| Glowing with an inner radiance, you shine bright, lighting up every life you touch, especially ours. Happy birthday, sweet princess. | From the moment we first laid eyes on you, you made us believe in miracles and, in short order, Barney, Build-A-Bears, iPads, Selena Gomez, Snapchat, you name it...Happy birthday, our sweet, expensive miracle. | Honey pie, you are the source of all that's true, beautiful and good in our lives. Hoping you have a truly happy birthday. |
| | |
| --- | --- |
| With a daughter like you, the sun burns hotter, the stars shine brighter, the wind blows gentler and life tastes sweeter. You make everything better. Happy birthday! | Happy birthday to a daughter who makes beauty more beautiful, joy more joyful, wonder more wonderful and hope more hopeful. |
| | | |
| --- | --- | --- |
| Sweet little baby, you're our pride, joy, heart, soul, hope and strength. Happy birthday! | Happy birthday, our little precious one. You're all the light, life and love we need in this crazy world. | Since you came into our lives, this special day, your birthday, has always been an occasion we celebrate with great pride, joy and love. That's because you're our greatest pride, joy and love. Happy birthday! |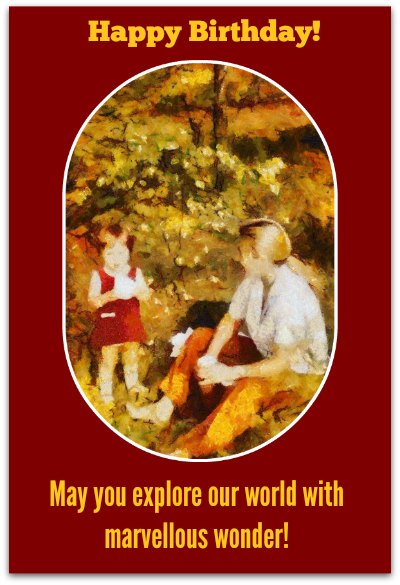 Top of Daughter Birthday Wishes
| | | |
| --- | --- | --- |
| As you grow up, the love we have for you will never grow old, only stronger. Happy birthday, sweet child! | Happy birthday, sweetie! You inspire me to do things I've never done for any other human being...like sharing my food. | With every birthday of yours, we're reminded of what matters most to us: you. Happy birthday, sweetie! |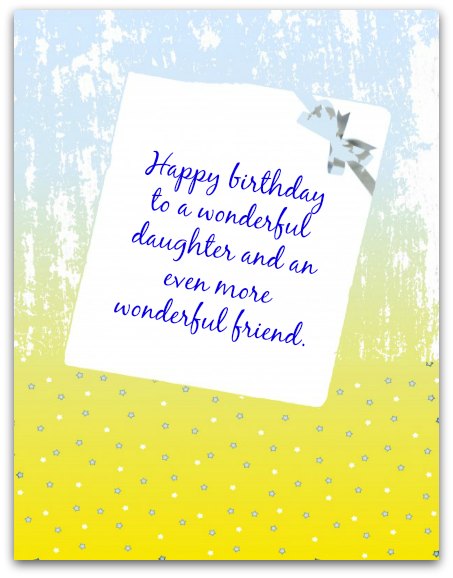 And the daughter birthday wishes keep coming...
| | | |
| --- | --- | --- |
| Wishing the most special girl ever the most special birthday ever. | We are so proud, happy and blessed to have a sweet, strong, smart daughter like you. Happy birthday, dear! | For as long as we can remember, you've been our greatest and steadiest source of pride, joy, wonder and hope. That doesn't include your teens (we've forgotten those years altogether). Happy birthday, princess. |
| | | |
| --- | --- | --- |
| Your whole life long, may you, what you choose to do, the people you hold dear and the lives you touch be blessed with all that's right in this world. Happy birthday, sweetheart! | To us, you're more precious than all the diamonds, pearls and gems in the world. You just can't put a price tag on our love for you. That doesn't include the gift we bought you for your special day (that has a price tag, a pretty hefty one, in fact). Happy birthday, darling child! | Whatever road you take in life, count on us to be there with you (in spirit, of course, because we plan to spend most of the winter months in Florida and the summer months in Europe). Wishing you an incredibly happy birthday, an amazing life and decent Internet access (in case we need to email you)! |
---
<<Previous     1    2    3     Next>>  
Message Guy
Creator of this site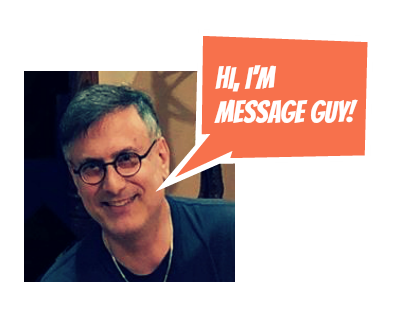 Kevin, the "Message Guy" who writes the birthday wishes, quotes, poems, toasts and speeches on BirthdayMessages.net, has been a content writer since 1993. He created this site in 2012 to share the power of words with you on one of the best days of the year — the birthday of a loved one.

Can't Find
What You Need?
By Kevin (aka "Message Guy")
Copyright © 2013-2020
BirthdayMessages.net.
All rights reserved.
All trademarks and service marks
are the property of their
respective owners.
The copyrights of all birthday
messages on this website
belong to the individual authors.
Site 
Powered By
Solo Build It (SBI)
Build Your Own Website