Friend Birthday Wishes
---
Great friend birthday wishes have one thing in common: all show how much you care about your pals. That's why great birthday messages for friends are what you'll find on this page.
Sincere, heartfelt birthday messages for friends can brighten up any pal's day. When you show your BFFs that you honestly care about them and truly want to celebrate their special day through beautifully written, poetic words, you really can't go wrong. 
Here, you have many styles to choose from: funny, sentimental, cool, inspirational, cute, happy, you name it. 
| | | |
| --- | --- | --- |
| I wouldn't be anywhere else but here with you on your birthday. In fact, I wouldn't be anywhere else the rest of the year. You're great company. Happy birthday to my everyday friend. | I know I always say I'm incredibly fortunate to have a friend like you, but I can't say it enough, especially on your birthday. You're purely (and impurely) a wonderful pal. Happy birthday! | I hope we can enjoy every aspect of our amazing friendship for many, many, many more birthdays in the future. |
| | | |
| --- | --- | --- |
| With a friend like you, every day of the year we spend together is a celebration. Just imagine how much more of a celebration your special day will be. I'm talking EPIC! Let's start your party right now. | To merely say that I'm grateful to have you as my friend would be the understatement of the century. I'm not just grateful — I'm mystified, electrified, stupefied, maximized and solidified to count you among my friends. Happy birthday! | Happy birthday to a special person: you! When all my fair-weather friends are nowhere to be seen during the stormy times of my life, you throw me a life preserver to keep me afloat. That makes you either crazy or a great friend. You're probably both! |

Quick Links
| | | |
| --- | --- | --- |
| It seems like only yesterday when we met each other and instantly became friends, yet it was years ago. Happy birthday to one of my, if I dare say, oldest friends (with the youngest outlook on life anywhere). | Money can't buy you friendship. Friendship is free...if you can find it in your heart. I've found it with you. Happy birthday, pal. | You are a gift that has come into my life. Now every day I get to enjoy the greatest gift of all. Our friendship. Happy birthday! |
See everyone's favorite birthday messages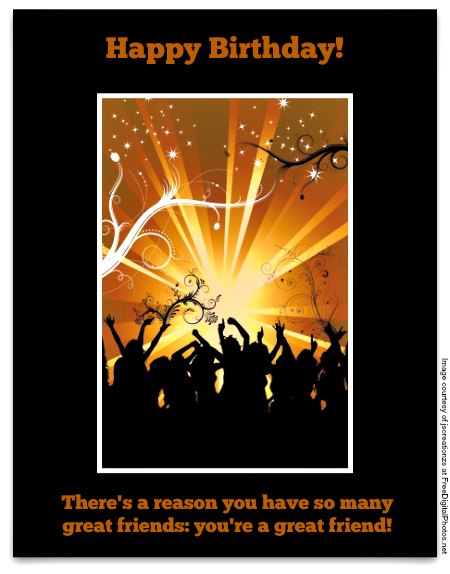 | | | |
| --- | --- | --- |
| Fair-weather friends are a dime a dozen. As a friend, you're priceless! I wouldn't trade you for all the diamonds, pearls, gems, sapphires and rubies in the world. Have an incredibly happy birthday! | I know what makes a good friend. It's so obvious. It's whatever you do. Happy birthday to my best friend forever and a day! | Awesome friends are awesome for one reason: their awesomeness. You're an awesomely awesome friend. Wishing you an awesome birthday! |
Top of Friend Birthday Wishes
Plus, check out these friend birthday wishes...
| | | |
| --- | --- | --- |
| A terrific friend is difficult to find, tricky to keep and impossible to ignore. You're a terrific friend. May you have a birthday as terrific as you are! | Best friends remember your birthday, not your wrinkles, crow's feet, laugh lines and flabby arms. That's the kind of friend I am. Happy 29th birthday for the nth time! | Happy birthday, my old, umm, mature, I mean, seasoned, hmm, youngish buddy! |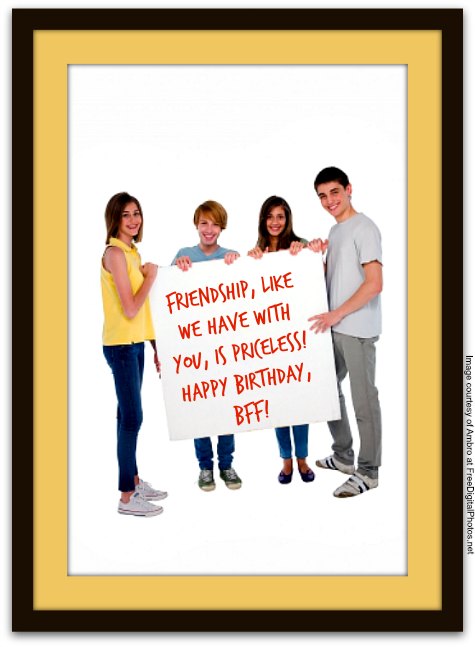 | | | |
| --- | --- | --- |
| Happy birthday to a good friend who brightens up every day. My life would simply suck without you. When we get together, all my troubles just fall away. Thank you! | Life would not be as wonderful without a friend like you. I'm glad you're in my life...and I'm glad I'm in yours. Happy birthday, pal! | One of the best things in the world is a true friendship. That's truly what I have with you. Happy birthday, my truest friend! |
---
---
Message Guy
Creator of this site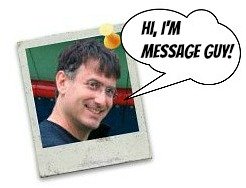 Meet the veteran writer behind every birthday message here
---
Free Extras!
For Greetingville Subscribers Only
Subscribe to my newsletter for free extras from
exclusive birthday videos to birthday discounts!

---
Check out these
popular pages
New!
Can't find what you need?
---