Friend Birthday Wishes
---
The right friend birthday wishes can make any pal's birthday the best ever.
What's the best kind of birthday verse for your friends? Whether you choose to add your friend birthday messages to an eCard or Facebook, it should show how much you care about your pals, how much you want to celebrate their birthday and how much you wish them well.

How will you know you've chosen the right one for him or her? That's all I have here. See for yourself below.
| | | |
| --- | --- | --- |
| Happy birthday to a friend I would never leave stranded...except if we were on a deserted island and only had a lifeboat with room for just one of us. Then, I would take the lifeboat to the nearest port of safety and get help for you, unless... | Always take your birthday wishes with a grain of salt...plus some lemon, ice cubes and, last but not least, lots of tequila. Now that's a happy birthday!  | Happy birthday! We're such great friends. I hope we stay friends for eons. May we live long enough to really, really get sick of each other. So far, I like you just fine! |
| | | |
| --- | --- | --- |
| Happy birthday! You're my best friend and would do anything for you, so I've decided that you will have the best birthday ever — even better than any Kardashian birthday bash! Let's get this shindig started now! | Happy birthday! You're a real friend — not only because you accept me the way I am, but also because you make me better than I would ever be otherwise. | The best that life has to offer is not good enough for a friend like you. On your birthday, you deserve so much more as a gift — like a decade of free Netflix service, at the very least. |

Quick Links
| | | |
| --- | --- | --- |
| Hey, BFF, I hope you will make us feel right at home at your birthday party, because home is where we really want to be. Happy birthday! | As you get older, you should really learn how to laugh at yourself...and your wrinkles, your frown lines, your crow's feet... If you don't, all your friends, including me, will do it for you. Happy birthday, old fart! | Celebrating your birthday with you is the best medicine — looking younger than you is the best revenge. |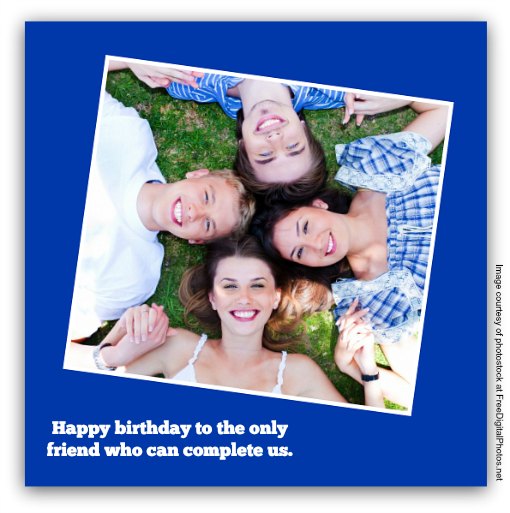 Top of Friend Birthday Wishes
Extra friend birthday wishes to choose from...
| | | |
| --- | --- | --- |
| Happy birthday. Now that you're over the hill, you can see how much nicer the view is on this side. It's all coasting from here on out. | As your best friend, I should tell you about the latest diet craze — the Balanced Birthday Cake Diet. All you have to do is put a piece of cake in each of your hands and, presto, you end up with the perfect balanced diet! Now that's what I call a deliciously happy birthday. | Celebrate getting older. It's not the worst thing that can happen to you — not getting older would be. In other words, happy birthday! |
See everyone's favorite birthday messages
| | | |
| --- | --- | --- |
| Another birthday, another year older, another chance to cross items off your bucket list — in other words, another day to hang out with my favorite friend (you) and chill. Let's make it a truly special day! | As a friend, the right thing to say on your birthday is that you look great, even if you don't. Pal, you look great! Happy birthday! | Happy birthday. For your special day, I would like to share some hard-earned wisdom with you: letting your hair go grey and looking old is so much better than dying your hair and ending up with purple highlights. |
From the Show "Friends":


A Birthday Message from Chandler & Monica 
What's the backstory for this video? Read more ►
| | | |
| --- | --- | --- |
| I'm the best kind of friend to have. I never see you, I never call you, I never email you and I never text you. I just post a birthday message on your Facebook page once a year. Happy birthday, Facebook friend. | Happy birthday to my most brilliant friend! If your children think you're an idiot, ask them if they'll be able to graduate from elementary school, high school or college like you did — without even a glance at Google, Wikipedia, Twitter or Pinterest. | You're the most beautiful, brilliant, gifted, awesome and interesting friend I have. Hoping your birthday is just as wonderfully special as you are. |
---
---
Message Guy
Creator of this site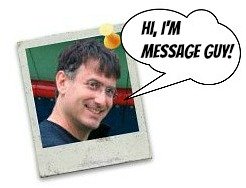 Meet the veteran writer behind every birthday message here
---
---
Check out these
popular pages
CAN'T FIND WHAT YOU NEED?
SEARCH HERE
---
Like this page?


Help me get the message out

Follow this site

 


on Facebook



Be the first to see what's new