Friend Birthday Wishes
---
Your friend's birthday should start and end with the warmest of friend birthday wishes from you, making him or her feel as special (or even more special) as he or she makes you feel every day. 
With great friend birthday wishes, you can show exactly how you feel about your chums with just a few or many well-chosen words. 
That's why I carefully chose my words for each birthday message on this page. It's also why you should spend as much time as you need here to pick the ideal birthday greetings for your friends.
| | | |
| --- | --- | --- |
| I've decided that I'm as special as you are on this special day. I'm special because I have a special friend like you. Happy birthday, my friend!  | I'll always be there for you! I'll always have your back. And I will always be your friend. Happy birthday!  | "Happy birthday" seems like the best reason to celebrate with a nice single malt or two. Let's drink to a smashing birthday...yours. |
| | | |
| --- | --- | --- |
| The best part of your birthday is the chance to have a special day to show you just how special you are to me. Happy birthday, BFF! | Happy birthday to the happiest friend I know. When you smile or laugh, it's as if a thousand lights have come on and, all of a sudden, the world's a brighter place. | So many people have you in their thoughts, especially me. We all love you and think you're a great friend. I just thought you should hear something very special about yourself on your special day. Have a super birthday! |

Quick Links
| | | |
| --- | --- | --- |
| There's only one thing you need to do on your special day! Nothing, except be happy and enjoy a ton of birthday cake and ice cream! | My friend, it's your birthday and you deserve to have the time of your life with plenty of joy, wonder and unforgettable memories to spare.  | Happy birthday to a marvelous friend...in every way. You're a marvel of beauty, love, courage, strength, kindness and calm. May your special day be as marvelous as you are. |
Top of Friend Birthday Wishes
Can't choose?
Here are more friend birthday wishes...
| | | |
| --- | --- | --- |
| I wish you a very warm and happy birthday, BFF! Your friendship has touched many people, especially me. May you get all you desire. | You have a bigger heart than anyone I know. It's heartening to have a friend like you. I only have the utmost of heartfelt birthday wishes for you. | You, my friend, are never very far away from my mind and my heart. I'm touched and inspired by the strength of our friendship every day. Happy birthday, bestie. |
See everyone's favorite birthday messages
| | | |
| --- | --- | --- |
| I'm sorry I can't be with you on your special day but I will always be there for you in mind and spirit. I wish for you a wonderful birthday! | You're a kind and generous person who can brighten up any friend's day, bringing joy to others with your kind and thoughtful ways. I hope your special day is as bright and joyful. | You're a wonderful friend who makes my cares just go away with your warm, charming smile — through thick and thin all year long. On your birthday and the year ahead, we want to take care of you, making you carefree and happy in the most endearing way. |
| | | |
| --- | --- | --- |
| You are the reason my spirits are always so high. You always keep me up! Happy birthday to the most wonderful friend a person can have! | Thank you for being there for me, supporting me and giving of yourself. I can always count on you. Count on me. Happy birthday! | Happy birthday to my most inspirational friend! May every single dream of yours — even the most pie-in-the-sky ones on your wish list— become a reality for you. |
---
---
Message Guy
Creator of this site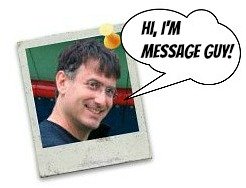 Meet the veteran writer behind every birthday message here
---
---
Check out these
popular pages
CAN'T FIND WHAT YOU NEED?
SEARCH HERE
---
Like this page?


Help me get the message out

Follow this site

 


on Facebook



Be the first to see what's new