Funny Birthday Quotes

---
The best funny birthday quotes are book-ended by personal birthday messages. One message serves as an intro to the famous funny quote and the other as a closer.
Alone, famous birthday sayings make great birthday greetings. With a personalized intro and closer, they have even more comedic punch, enough to really tickle the funny bone of the birthday boy or girl.
That's why every quote on this page include funny birthday messages with a personal touch anybody can relate to. No other website offers this combo.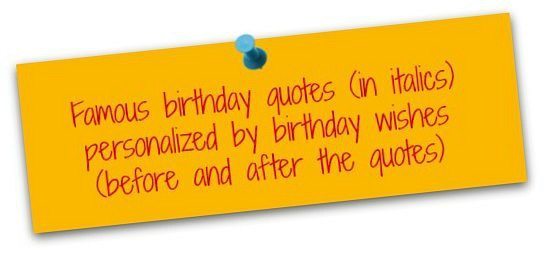 I know what to get you (not like your husband).

"A friend never defends a husband who gets his wife an electric skillet for her birthday."

~ Erma Bombeck

That's why I got you a gift card. It's the perfect gift. You can get anything you want (and you deserve everything) and you can't hurt anyone with it. Happy birthday!

When it comes to aging, everything's different now...

"To me — old age is always ten years older than I am."

~ John Burrough

That's why I'm wishing my youngest-looking friend (you) a "happy 39th birthday" for the 10th time. 

 I still can't get a handle on this "aging" thing. Now I know what's what...

"There is still no cure for the common birthday."

~ John Glenn

So forget about getting older and get on with the business of life. Happy birthday!
According to this quote, you can have your cake and eat it (along with everybody else):

"Why is a birthday cake the only food you can blow on and spit on and everybody rushes to get a piece?"

~ Bobby Kelton


Do you still want your cake? Maybe you should have something else to eat. Happy birthday!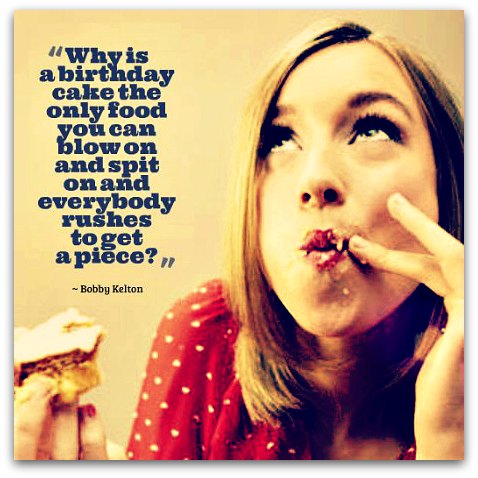 Need I say more, BFF?

"From birth to age eighteen, a girl needs good parents. From eighteen to thirty-five, she needs good looks. From thirty-five to fifty-five, she needs a good personality. From fifty-five on, she needs good cash."

~ Sophie Tucker

Or a huge line of credit, right? Happy birthday, girl!

This says it all:

"I hate birthdays."


 ~ Zane Grey


Let's pretend it's just another special day! 


I never thought of it this way:

"Birthdays are good for you. Statistics show that the people who have the most live the longest."


 ~ Larry Lorenzoni


Here's to more birthdays! Have a great one!

Don't stop yet!
Keep looking for funny birthday quotes here...
This should be everyone's attitude on their special day and every day:

"I binge when I'm happy. When everything is going really well, every day is like I'm at a birthday party."

~ Kirstie Alley

Well, today is your real birthday! Let's really go to town!

I would never do this to you...

"The main prank that we play with props is for people's birthdays. The special effects people will put a little explosive in the cake, so it blows up in their face — that's always fun to play on a guest star, or one of the trainees or someone who's new."

~ Catherine Bell

On second thought...no, just kidding. Happy birthday!

I don't know whether to laugh or cry when I realize...

"Inside every older person is a younger person — wondering what the hell happened."

~ Cora Harvey Armstrong

The great thing about you is that you're so young at heart you make me feel young. So, I guess, happy birthday!
Message Guy Pick
Sometimes, you come across funny birthday quotes you just have to love.
Like the one below. Why?
Read more ►
Sounds like a good plan...

"When I have a birthday, I take a day-off. But when my wife has a birthday, she takes a year or two off."

~ Anonymous

With this in mind, let's celebrate the second anniversary of last year's birthday!
Top of Funny Birthday Quotes
The fact that you're starting to hit the middle ages reminds me of a joke:

"I remember when the candle shop burned down. Everyone stood around singing Happy Birthday."

~ Steven Wright

With all the candles on your birthday cake, I can't help thinking about the fire marshal.
Happy birthday!

This is so true.

"It's odd the things that people remember. Parents will arrange a birthday party, certain it will stick in your mind forever. You'll have a nice time, then two years later you'll be like: There was a pony there? Really? And a clown with one leg?"

~ David Sedaris

Your birthday parties are so memorable (just like you), so don't worry! Let's celebrate you!

I would never do this to you.

"Interventions are really emotionally exhausting and I would never ever want to have one. In the same way, I would never want to have a surprise birthday party. That would be horrible."


 ~ Margaret Cho


So you better be nice to me. Just kidding! happy birthday!

Need some help choosing a quote?
Get free tips on selecting funny birthday quotes

!
Sometimes, a few tips can help you pick funny birthday quotes that really hit the mark. Click here to get the tips you need.

This just proves that we should never waste any time...

"By the time a man realizes that his father was right, he has a son who thinks he's wrong."

~ Charles Wadsworth

May your birthday be the time of your life.

When I think about this quote, I think about you...

"I don't feel old. I don't feel anything till noon. That's when it's time for my nap."

 ~ Bob Hope

You never look or feel old. You're the best napper I know. Happy birthday!

Happy birthday! This is the kind of attitude you should have about life...

"I intend to live forever. So far, so good."

~ Steven Wright

May you live 1,001 lives during your lifetime, so you'll at least feel like you're living forever. 
---
<<Previous     1    2    3    4     Next>>
Message Guy
Creator of this site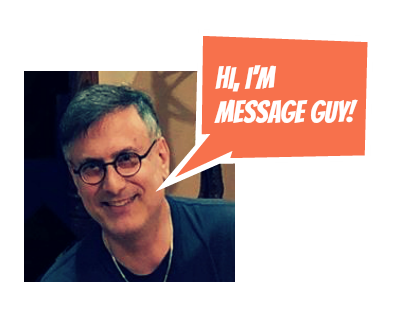 Kevin, the "Message Guy" who writes the birthday wishes, quotes, poems, toasts and speeches for this site, has been a professional writer, editor and translator for more than 25 years. He decided to create BirthdayMessages.net in 2012 to share his passion for birthday and "unbirthday" quotes on the best day of the year — your birthday.

CLICK HERE TO LEARN MORE ABOUT KEVIN (AKA MESSAGE GUY) 
Can't Find
What You Need?
By Kevin (aka "Message Guy")
Copyright © 2013-2019
BirthdayMessages.net.
All rights reserved.
All trademarks and service marks
are the property of their
respective owners.
The copyrights of all birthday
messages on this website
belong to the individual authors.
Site 
Powered By
Solo Build It (SBI)