☰ Menu BIRTHDAYMESSAGES.NET
Funny Birthday Wishes

---
Funny birthday wishes are witty (and poke fun) at their best and just plain offensive at their worst. The funny birthday messages here are 100% at their best, so you never have to worry about seriously offending your loved ones on their birthday.
What makes the birthday greetings here so funny is their attempt to show the birthday girl or boy that getting older is not a tragedy, just a comedy of errors, false pride, poor decisions, hangovers, miscommunication, rotten luck (or teeth) and bad hair days (or no hair at all). In other words, funny birthday messages are all about laughing at ourselves. That's the type you'll find here.
| | | |
| --- | --- | --- |
| Happy birthday! Don't worry, you're still a kid — your friends still blow out your birthday candles before you do. | Happy birthday! You have so many candles on your birthday cake you can see the candlelight from space. | Happy birthday! May you live to be so old your arms sag and look like wings. |
| | | |
| --- | --- | --- |
| Happy birthday! When we were younger, we always thought getting older meant we could do whatever we wanted— we never realized that this applied only to our bodies! | I just got an old World War II relic from a friend of mine. It made me think of you. Happy birthday!  | This year, I was going to send your birthday wish in an actual greeting card...but then I reset my modem and got back my Internet connection.   |
| | | |
| --- | --- | --- |
| Happy birthday! At our age, we shouldn't take life so seriously. We need to laugh at ourselves. If we don't, one of our kids will do it for us. | Happy birthday! You're old enough to know better and too old to remember why. | Happy birthday! Remember when middle age seemed really ancient? I don't remember, either! |

Quick Links
See everyone's favorite birthday messages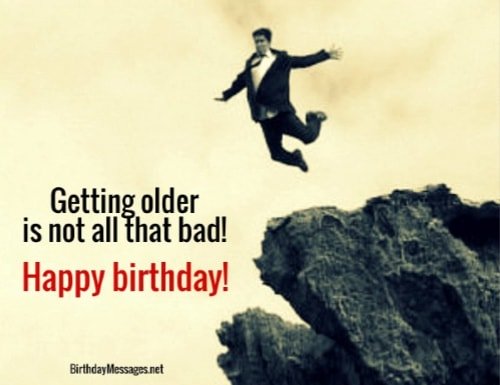 Top of Funny Birthday Wishes
Keep laughing

!



Find even more funny birthday wishes below...
Happy birthday! Don't fret! It could be so much worse — 10 years from now, you will be 10 years older.


Happy birthday! 

So many candles, so much light. My eyes, my eyes. 


Happy birthday. You're not old! You're still 18 with a full-on Keith Richards look happening!

| | | |
| --- | --- | --- |
| Happy birthday! Another year older, another year of denying to ourselves that we now permanently look like we just woke up. | Happy birthday. Remember to wear your sunglasses when your cake comes out. Admit it, there are more candles than cake this year.  | Happy birthday! Don't think of it as your special day to mourn the loss of your youth. Think of it as one year closer to your government pension. |
| | | |
| --- | --- | --- |
| Always take your birthday wishes with a grain of salt...plus some lemon and, oh, a bottle of tequila. Happy birthday! Let's party! | Happy birthday! You have a right to act as young as you feel or as young as you can get away with. | Happy birthday. Be glad you're alive and greet each day with a smile…not false teeth and deep smile lines.  |
---
Message Guy
Creator of this site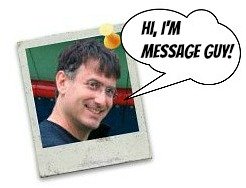 Meet the veteran writer behind every birthday message here
---
Free Extras!
For Greetingville Subscribers Only
Subscribe to my newsletter for free extras from
exclusive birthday videos to birthday discounts!

---
Check out these
popular pages
New!
Can't find what you need?
---