Funny Birthday Wishes

---
Great funny birthday wishes have one thing in common: they're funny. Bad ones just insult you. Here, the funny birthday messages are all, well, great overall.
The next step for you? You need to choose a funny birthday verse that's funny enough to pass your "funny bone" test and won't fail to make the birthday girl or boy laugh and feel special, depending on his sense of humor. 
If selecting a funny wish seems a little daunting to you, join the company. As they say, "comedy is hard." To help you pick the best funny birthday messages, click here to check out Message Guy Tip #38.
| | | |
| --- | --- | --- |
| There's one sure-fire way to make me remember your birthday. Stop buying me stuff. Happy birthday, Dad! | First, I would like to wish you a "happy birthday!" Now I will tell you why it isn't... | Happy birthday! When you were a kid, I taught you how to walk, talk and play nice. Now that you're older, all I want to do is teach you how to sit still, keep quiet and make a nice living. |
Message Guy Tip
The funny birthday message below is for someone with a tough skin.
Otherwise, avoid it at all costs.
| | | |
| --- | --- | --- |
| | Happy birthday to someone who has never looked better. Never. | |
| | | |
| --- | --- | --- |
| Happy birthday. With all the candles on your birthday cake, your heating bill should be pretty low this month. | Happy birthday. You know you're older than you think when eating a bowl or two of cereal for supper is preferable to cooking dinner. | Happy birthday. It's great to be young, beautiful and energetic. You must miss those days! |

Quick Links
| | | |
| --- | --- | --- |
| Happy birthday. If you're on a diet, grab two pieces of your birthday cake (one in each hand) and, like magic, you'll be on a balanced diet! | Happy birthday. Your mind is still in good shape. You may be a little forgetful but at least you haven't forgotten that you're forgetful. | There's only one birthday that's truly bad: your last one! All the rest, it's been scientifically proven, are good for your health. Here's to another happy birthday. |
See everyone's favorite birthday messages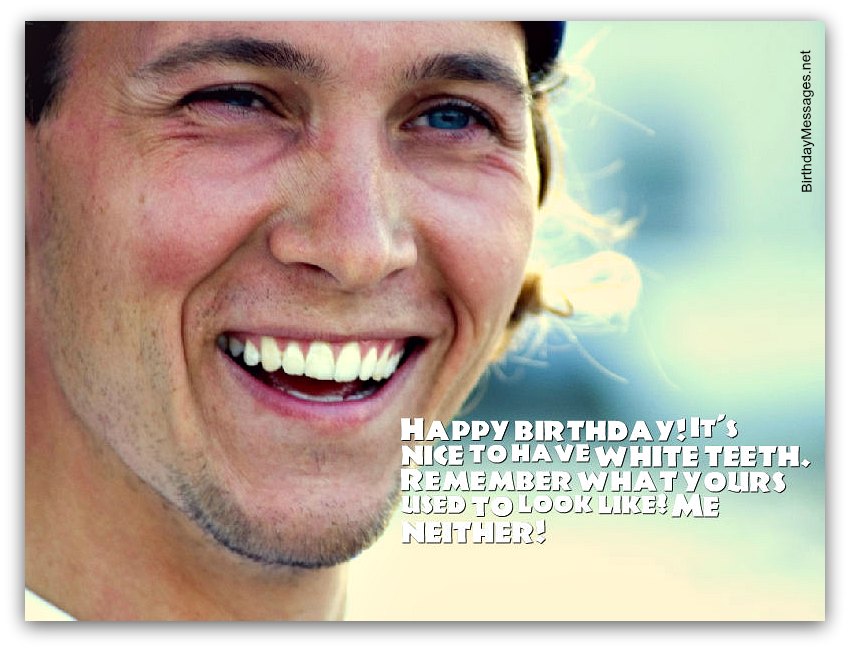 Below are more laughs!


See even more funny birthday wishes...
| | | |
| --- | --- | --- |
| Happy birthday! One more year down the drain, one more reason to plug away at life.  | Happy birthday! Age is a only number and yours only seems to go in reverse. | Happy birthday. Remember how excited you were as a kid whenever you had a birthday? Kids are stupid. |
Top of Funny Birthday Wishes
| | | |
| --- | --- | --- |
| Happy birthday. As you get older, don't let aging get you down. It's too hard to get back up.  | Happy birthday. You know you're older than you think when you really start believing that 50 is the new 40!  | Happy birthday! Now that you're getting older, your kids should respect you. After all, you graduated from high school and college without Google or Wikipedia.  |
| | | |
| --- | --- | --- |
| I know you hate birthdays but you should celebrate yours. Aren't most people your age dead? Happy birthday! | Happy birthday! You know you're older than you think when putting on lipstick and eyeliner is harder than exercising!  | Happy birthday! I can't wait for your special day to end, so we can celebrate the one that really matters — mine.  |
---
---
Message Guy
Creator of this site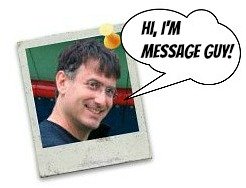 Meet the veteran writer behind every birthday message here
---
---
Check out these
popular pages
CAN'T FIND WHAT YOU NEED?
SEARCH HERE
---
Like this page?


Help me get the message out

Follow this site

 


on Facebook



Be the first to see what's new