Funny Birthday Wishes
---
The funny birthday wishes here are the best birthday messages to put in a card, eCard or text for a birthday girl or boy with a great sense of humor.  
Simply pick the birthday greeting that helps you best express what you want to say to your loved ones...and is guaranteed to tickle their funny bone.
Keep in mind that, as you're making your choice, you should never select funny birthday messages that are even remotely insulting, offensive or abusive. Just stick to birthday greetings that have the best chance of making the people you love laugh with you.
| | | |
| --- | --- | --- |
| Happy birthday! If age is all in our minds, why do we feel more and more aches and pains all over our bodies as we get older? | Happy birthday! Birthdays are nature's way of making sure we don't get out of here alive. | Happy birthday! Did you turn up the heat or just light all the candles on your birthday cake? |
| | | |
| --- | --- | --- |
| Birthdays can be hazardous to your health. The more you have, the worse you look and feel and the less you see and hear. | Happy birthday! With age comes wisdom and grace. Better luck next year. | Birthdays are like drinking. After a few, you feel great. Too many, you feel like hell. |

Quick Links
| | | |
| --- | --- | --- |
| The older I get, the richer I feel to have a friend like you…someone who's always happy to pick up the tab for dinner and drinks! Happy birthday! | Happy birthday! If only the good die young, I guess you're not such an angel after all! | Happy birthday! It's nice to have white teeth. Remember what yours used to look like? Me neither. |
| | | |
| --- | --- | --- |
| Happy birthday! At our age, the best gift to get is forgetfulness, so there's no chance of remembering how old we are. | Happy birthday! If you are as young as you feel, you must be just a few aches and pains shy of your government pension. | Happy birthday! The best age to be is the one you just hit. Remember to tell everyone this very same age on your next birthday. |
See everyone's favorite birthday messages
More laughs can be found below!
Look for more funny birthday wishes here...
| | | |
| --- | --- | --- |
| Happy birthday! Real friends like me are your friends for life or, given your age, as long as your memory holds out. | Happy birthday! If youth is like a long weekend on Friday night and middle age is like a long weekend on Monday afternoon, old age must be like a midnight snack on Sunday.  | Happy birthday! They say that getting older is an art. If this is the case, you must be Picasso! |
Top of Funny Birthday Wishes
| | | |
| --- | --- | --- |
| Happy birthday! The older you get, the easier it'll become to lie about your age (since you won't be able remember yours anyhow). | Happy birthday! Just be happy our birthday celebrations don't get bigger and bigger every year. At your age, we'd have to hold yours at a football stadium. | Happy birthday! You still have a few more good years before your age becomes a punch line. |
---
<<Previous     1    2    3    4    5
---
Message Guy
Creator of this site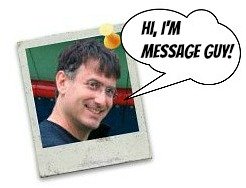 Meet the veteran writer behind every birthday message here
---
Free Extras!
For Greetingville Subscribers Only
Subscribe to my newsletter for free extras from
exclusive birthday videos to birthday discounts!

---
Check out these
popular pages
New!
Can't find what you need?
---