Granddaughter Birthday Wishes
---
Naturally, you want the granddaughter birthday wishes you send to be the very best. What are the best?
The best birthday messages for granddaughters, like the ones below, have all the elements you need in granddaughter birthday greetings: unconditional love, inspiration and support (plus everything you feel about your granddaughter).
Message Guy Tip #75:
How to choose granddaughter birthday wishes...
Granddaughters are special — that goes without saying, I guess. And I don't think I really need to tell you just how special they are. You know more than I do (I'm not a grandfather) But, as a writer, I do need to remind you that their "specialness" should have an impact on your choice of granddaughter birthday wishes. Unfortunately, there's no "one size fits all" kind of birthday wishes for granddaughters.
So how should you proceed? The first thing...
Read more ►
| | | |
| --- | --- | --- |
| You're synonymous with everything that's sweet, smart and sassy in this world. Happy birthday, sweetie!  | Thank you for bringing the best kind of joy, wonder and love into my life — the granddaughter kind. You make me feel brand new. Wishing you the very same on your birthday, sweetie...and every day afterwards! | You're like sugar. You make everything so  delicious. Your birthday reminds me that, if you hadn't come into this world, life would have been flavorless. You make everything so much sweeter. Happy birthday, sweet baby! |
| | | |
| --- | --- | --- |
| You are my little princess, my light, my joy. Happy birthday, sweetie!  | May all your wishes today and tomorrow come true. I can't think of anyone more deserving of this wish from me. Happy birthday, darling girl! | You deserve to win the "Best Granddaughter of the Century" Award every year, especially on your birthday! I love you! Happy birthday, my little award winner! |
For your younger granddaughter...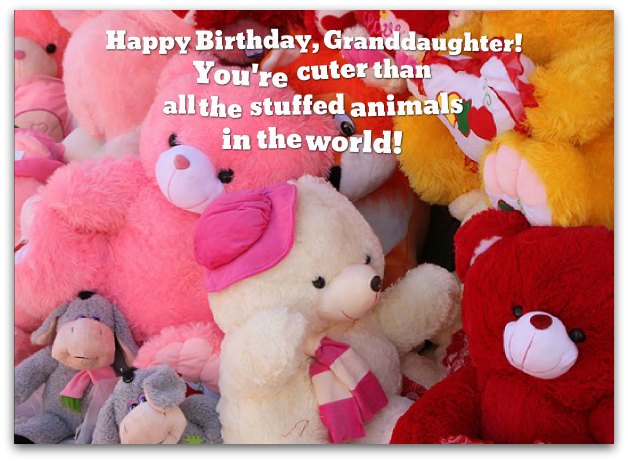 Message Guy Pic
k
Why have I chosen the birthday wish below as my pick? Mostly, it's because this birthday verse has a certain quality that should appeal to any granddaughter. What is it?
Read more ►
| | | |
| --- | --- | --- |
| | Happy birthday, darling! May every birthday you celebrate take you on another new and fantastic year-long adventure — not just because you deserve it and we love you, but because it will also make every moment of the next 365 days as amazing as you. | |
Your message quest is not done yet
Look at these granddaughter birthday wishes
| | | |
| --- | --- | --- |
| Just recalling all the amazing times we've spent together brings me such happiness. Thank you for being a wonderful, wonderful granddaughter. Warm wishes for a wonderful birthday, cutie-pie. | Never hide your sparkling eyes, bright smile and glowing face from the world. Otherwise nobody will get a chance to see your light shine so brilliantly. Happy birthday to the light of my everyday life. | Granddaughters like you are life's greatest delight, greatest reason to celebrate and greatest love. Happy birthday to the source of my greatest joy! |
Top of Granddaughter Birthday Wishes
For an older granddaughter...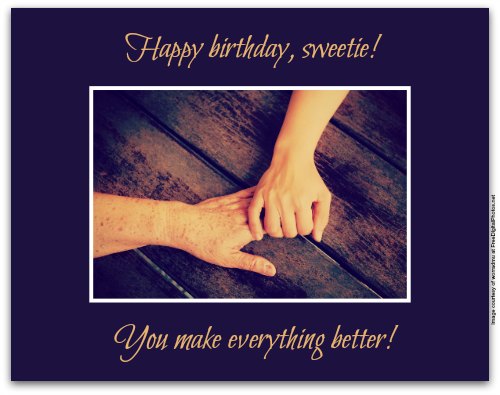 | | | |
| --- | --- | --- |
| You have the warmest heart of any granddaughter under the sun. You're so loving, so kind, so gentle, so good . That's why everyone, including us, warms up to you so quickly. Happy birthday, sunshine! | I know that I tell you how special you are to us all the time, but it never hurts to say it once, twice or even more. When someone's special to you, you just want to make them feel special whenever, wherever. Happy birthday to the most special girl in the world! | Thinking of you with undying love and immense pride on your birthday...and always. Happy birthday, my sweet love! |
| | | |
| --- | --- | --- |
| Sweetheart, you always make me smile. Whatever the future holds, I will love you more and more every second of every day. Happy birthday. | You're so full of sweetness. You're sweeter than all the birthday cake and ice cream in the world. That's why everyone thinks you're so delicious. It's why I can't go a day without thinking about you at least 100 times. Happy birthday, sweetie! | Of course you're smart, kind, talented and lovable. You take after me! Happy birthday, my perfect child! |
For an older or a younger granddaughter...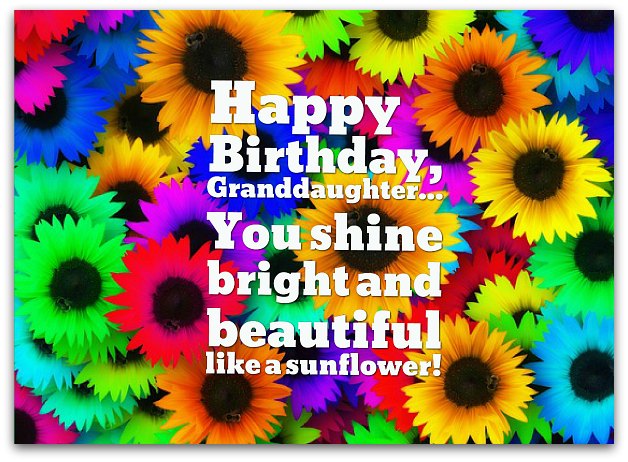 ---
Message Guy
Creator of this site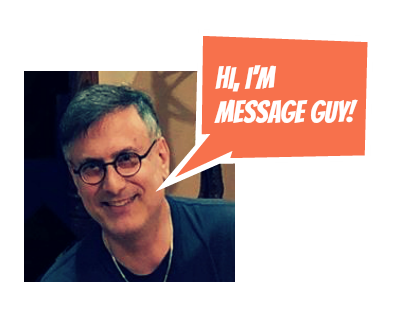 Kevin, the "Message Guy" who writes the birthday wishes, quotes, poems, toasts and speeches on BirthdayMessages.net, has been a content writer since 1993. He created this site in 2012 to share the power of words with you on one of the best days of the year — the birthday of a loved one.

Can't Find
What You Need?
Follow on FeedBurner
By  Kevin (aka "Message Guy")
Copyright © 2013-2021
BirthdayMessages.net.
All rights reserved. 
All trademarks and service marks
are the property of their
respective owners.
The copyrights of all birthday
messages on this website
belong to the individual authors.
Site 
Powered By
Solo Build It (SBI)
Build Your Own Website