Grandma Birthday Wishes
---
Picking the right grandma birthday wishes is easy when you have a great choice of grandmother birthday messages from the start. That's why you should start with the birthday greetings right below.
Which one should you pick? Think of all the times your Grandma put a smile on your face with just a hug (particularly when you needed one the most) or gave you inspiring words of advice that made everything clearer (and better).
Now it's time to show her how much she matters to you — heart and soul — with a special birthday wish. Make sure it's packed with unconditional love, kindness, attention and guidance to give her the biggest smile ever on the biggest day of the year for her.
See everyone's favorite birthday messages
Need tips on choosing grandma birthday wishes?
You're just a click away from a bunch of them

! 
If you need a little help, I have a bunch of tips on choosing just the right grandma birthday messages. You'll find them right here.
| | | |
| --- | --- | --- |
| Thanks for being such an incredibly loving, caring and inspirational grandmother to me. Happy birthday, Grandma! | Despite everything we do badly, you love us unconditionally. We're so lucky to have you as a grandmother. Happy birthday. | You're more than just a grandmother to me — you're my role model in life and love. Happy birthday, Grandma! |
| | | |
| --- | --- | --- |
| May you always be happy, healthy and spiritually fulfilled. Now let's make this birthday the happiest ever, Grandma! | Thank you for being a kind and caring Grandma. Happy birthday! | Grandma, my Mom is so lucky to have you as her Mom and we're so lucky to have you as our second Mom. Happy birthday! |

Quick Links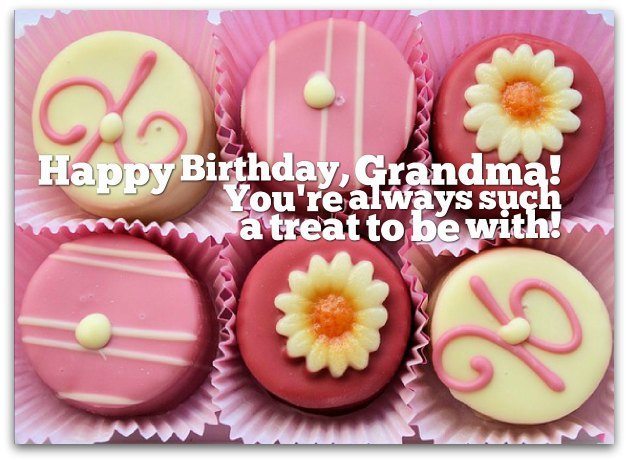 | | | |
| --- | --- | --- |
| Happy birthday, Grandma! May you always enjoy the finest rewards life has to offer. As the World's Best Grandmother, you've earned every single one of them — and then some! | Happy birthday, Grandma! Your special day should be as special you. You're the most thoughtful, warm and forgiving person in the world. I love you so much. I hope I grow up to be just like you. | Wishing you a long, healthy life, grandma...filled with joy and wonder! Happy birthday to the greatest Grandma! |
Top of Grandma Birthday Wishes
| | | |
| --- | --- | --- |
| Grandma, you've left me with a legacy of truth, joy, compassion and, above all, love — everything that really matters in life. Thank you. May your birthday leave you with even more of these precious gifts! | Whether I've won or lost at anything, you've always been my biggest cheerleader. I guess that's why, rain or shine, I've always been so cheerful. I love you, Grandma. Happy birthday. | Happy birthday to an incredibly magnificent Grandma and an even more magnificent BFF. |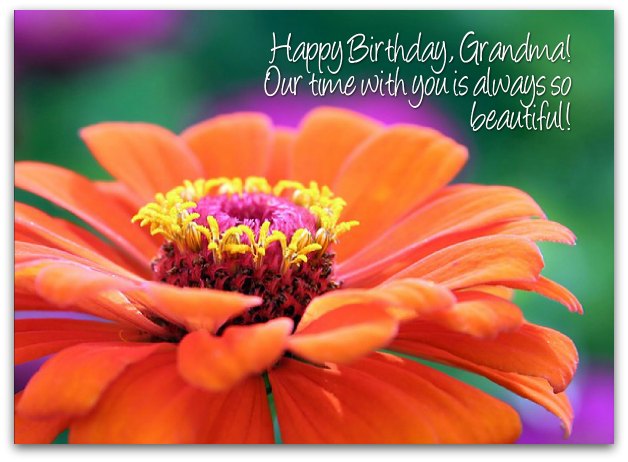 | | | |
| --- | --- | --- |
| Granny, I could never thank you enough for being my second mother in every way, every day. I would have to hug and kiss you every day for the next 100 years to come even close to what you do for me! Happy birthday. I love you. | Your birthday is the most important day of the year. After all, it's our opportunity to celebrate everything wonderful about you for 24 straight, fun-filled hours (or until you fall asleep at 7:00 p.m., after your daily 5:00 p.m. early-bird special). I know I speak for everyone when I say, may you have a truly special day, full of all the love you give away so freely! | The greatest gift I ever received from my parents is as soft as silk, hard as a diamond, strong as steel, warm as a Canada Goose coat and loving as a Valentine. It's you, Grandma. Happy birthday! |
| | | |
| --- | --- | --- |
| Grandma, you're one in a zillion. Happy birthday! | Happy birthday. The older I get, the more blessed I feel to have you as my grandma and the more I realize just how special you are. | Grandma, you know just how to turn all the best ingredients, from joy, caring and wonder to grace, forgiveness and love, into the best recipe for life. Happy birthday to my absolute favorite cook. |
---
<<Previous     1    2 
---
Message Guy
Creator of this site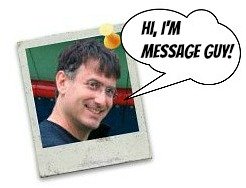 Meet the veteran writer behind every birthday message here
---
---
Check out these popular pages
CAN'T FIND WHAT YOU NEED?
SEARCH HERE
---
Like this page?


Help me get the message out