Grandson Birthday Wishes
---
The best grandson birthday wishes are original, cute, clever, heartwarming, happy-go-lucky and moving — all at once — just like your precious grandson and the unique, beautifully birthday messages in this section.
Choosing the right grandson birthday message for an eCard, Instagram or Facebook, one that he will cherish long after his special day, can be a little daunting, especially for a teenager or young man. 
To make it easier for yourself, keep in mind that he may not be too comfortable with an overly affectionate. Instead, think about giving him an inspirational or funny birthday greeting.
Message Guy Tip #78:
How to pick grandson birthday wishes...
When it comes to grandson birthday messages, you can take the easy route and underwhelm him or the better route and create a lasting memory.
What's the easy route? What's the better route? The answer is...
Read more ►
| | | |
| --- | --- | --- |
| You're a brilliant, shining star, Grandson! I'm so glad you're in my universe. Happy birthday! | What can I say about a grandson that's so handsome, funny, kind and smart. Hey, wait...I just said it! Happy birthday! | Having you as a grandson is a gift from the BIG GUY upstairs. And I'm not talking about your father. Your birth is truly a blessing! Happy birthday! |
| | | |
| --- | --- | --- |
| Grandsons like you are so rare. We feel so blessed to have you in our lives. You are our prince, our hero, our light. Happy birthday! | The moment you were born, we felt a love that had been missing from our lives. And with an amazing grandson like you, this love has only grown deeper every day! Happy birthday! | My dear grandson, you're the coolest dude I know. You make me young...and cooler than I have a right to be at my age! Happy birthday! |
For a younger grandson...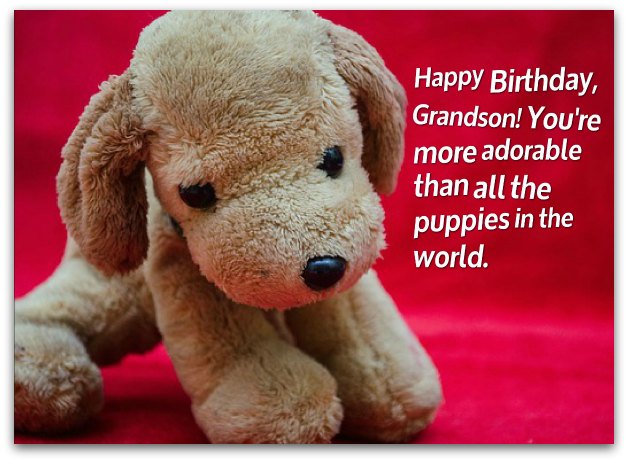 | | | |
| --- | --- | --- |
| Happy birthday! I declare you the winner of the "Best Grandson Ever" Award!  | There's something I would never trade for anything…having an amazing grandson like you! Happy birthday! | Happy birthday! There's not a single grandson in this world who can come close to your incredibleness. After all, you're related to us! |
Still undecided?
Glance at the grandson birthday wishes below...
| | | |
| --- | --- | --- |
| Wishing you get everything you want on your birthday — and we have every intention of making this wish come true for you (no matter what your parents think). | I don't hug and kiss you enough, so I decided to include a bunch right here — XOXOXOXO. Of course, there's many more where that came from, if you ever need extra! Happy birthday! | Happy birthday! You are exceptionally handsome, smart and talented...I guess you take after me! May you become more like me every day — you know, modest.  |
For an older grandson...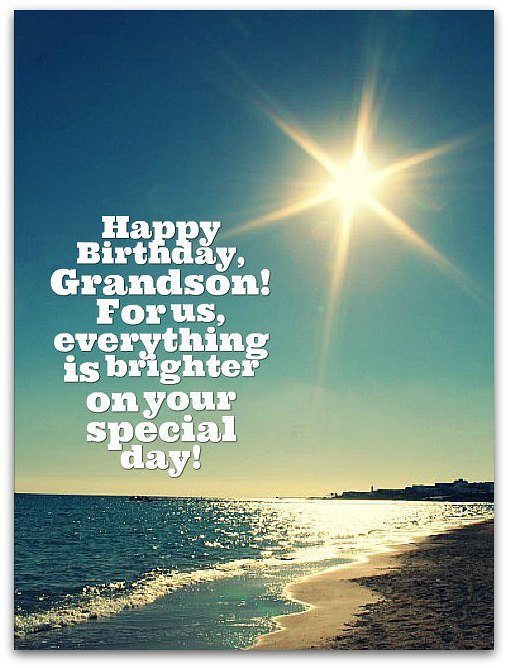 | | | |
| --- | --- | --- |
| | I feel so honored to be part of your birthday and, most importantly, be part of your life. You make me so proud and happy. Happy birthday, Grandson! | |
| | | |
| --- | --- | --- |
| Happy birthday, Grandson! I know your special day will be a major hit, just like you! | On your birthday, I always want to do the same thing — spend time with you and make sure you have the best birthday ever! Happy birthday to my favorite (and only) grandson! | You're a superstar. You're a champion. You're an MVP. Mostly, though, you're an MVG….Most Valuable Grandson! Happy birthday! |



Happy Birthday Wishes for Grandson
What should you write in your grandson's birthday card? The best way to say "happy birthday" to your grandson is to let him know how much you love him and admire what he has done with his life, so let your feelings be your guide.
For some inspiration, check out the examples below:

| | | |
| --- | --- | --- |
| Happy birthday, grandson. Give yourself a break from all your troubles and let yourself fully enjoy your special day — after all, it's the only day of the year that you can get away with it. | Happy birthday, grandson. For your special day, I have only one wish for you: be happy in the now, so you'll be happy forever! | My dearest grandson, any day we can live our lives to the fullest is a gift. Savor every moment of your special day. Happy birthday. |
| | | |
| --- | --- | --- |
| Wishing you the greatest birthday ever, my lovely grandson. | Wishing one of the best individuals I know, who also happens to be my grandson, the very best birthday. | Your age makes no difference. You do. And you're great. Every day. Happy birthday, grandson. |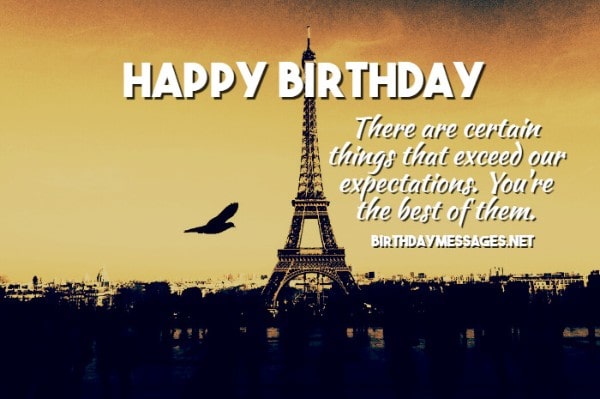 | | | |
| --- | --- | --- |
| My beautiful grandson, hope you have a wonderful birthday with memories that last all year-round! | Happier birthdays come to dreamers who dare to take action. Like you, grandson. Happy birthday. | Happy birthday balloon, cake, candles, ice cream and gift day! That's what I wish for you, my darling grandson. |
| | | |
| --- | --- | --- |
| Happy birthday to my favorite grandson (and my only one)! May joy be your companion everywhere you go. | Happy birthday, grandson! It's time for your BIG birthday bash! Let's get started! | Grandson, have a bright, beautiful, fun-filled birthday (and lots of cake, ice cream and presents, of course)! |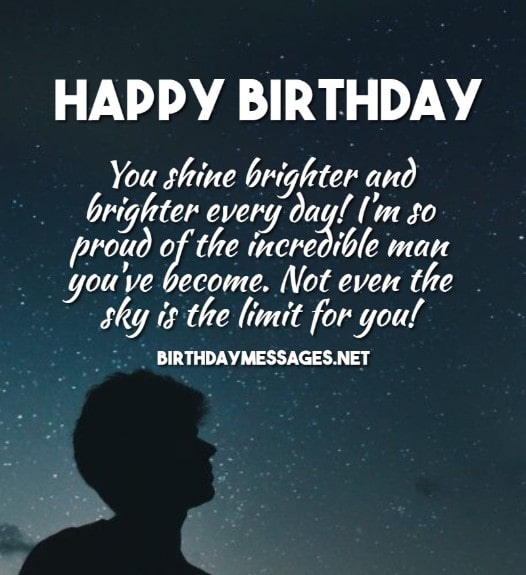 | | | |
| --- | --- | --- |
| Happy birthday, my sweet grandson! Today, celebrate the day you were born. Every day, celebrate life. | Happy birthday, grandson! Hope this special day is the start of your most special year ever! | Grandson, here's to a birthday full of life and a life full of happy birthdays! |
| | | |
| --- | --- | --- |
| When you came into the world, my world became as beautiful as you are. And you, grandson, are a very beautiful boy. Happy birthday. | To my dear grandson, happy birthday. You shine brighter and brighter every day! I'm so proud of the incredible man you've become. Not even the sky is the limit for you! | Happy birthday, grandson! Hoping your big day and every other day of the coming year brings you all you wish you could have (and then some). |
Finding perfect grandson birthday wishes is so much easier when every birthday message you check out is flawless. That's why you'll love checking out the birthday greetings here. 
All the birthday messages for grandsons on this page have what it takes to make yours feel extraordinary on his special day. Each will show how proud of him you are and how much you want to make his special day all the more unforgettable.
| | | |
| --- | --- | --- |
| Thank you for bringing so much happiness into our lives. Have a wonderful birthday, grandson!  | Happy birthday, Grandson! We hope you live your life like an open book. This birthday is where your story begins — the rest is still unwritten and up to you!  | Happy birthday, Grandson. Thanks for letting us into your life so willingly. We love you very much and are extremely proud to be your grandparents.  |
| | | |
| --- | --- | --- |
| You light up our lives like the candles on your birthday cake, outshining everyone else. Happy birthday to our spectacular grandson. | Like sunshine, your light warms our hearts and stirs our souls. You're a shining example of sheer goodness and unconditional love. And we love you right back. Happy birthday to our shining star. | Happy birthday, my dearest!  I'm so lucky to have you as my grandson. May your birthday be the start of a wonderful year full of wishes that come true every day! |
For an older grandson...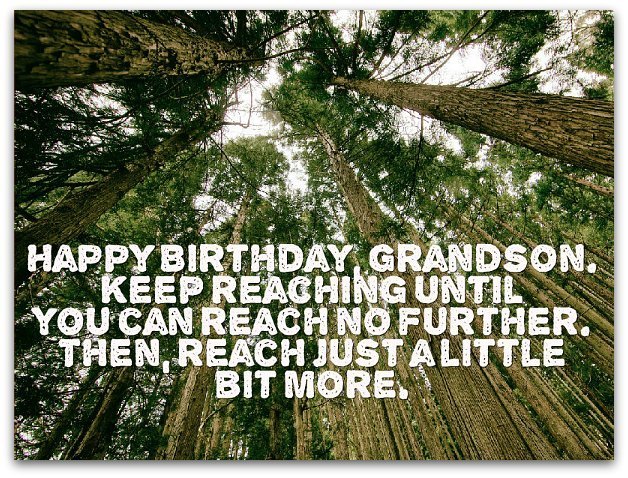 | | | |
| --- | --- | --- |
| This message is full of happy wishes for one of the best grandsons ever! It also comes with a big hug and kiss! Happy birthday! | I only give birthday wishes to VIPs — Very Important People. Since you're the most important person in my life, here's my birthday message for you. May you only know joy and wonder. No regrets. Happy birthday! | You are a champion! You are the world's greatest grandson! That makes you a winner in our eyes! Happy birthday, kiddo! |
Want to check out more options?
Check out the grandson birthday wishes here...
| | | |
| --- | --- | --- |
| | There's so much that we could say about a great grandson like you. We could start now but it would take us days to say it all. So, we'll just jump right to the end: We love you. You're the best! Happy birthday, dear boy! | |
For a younger or an older grandson...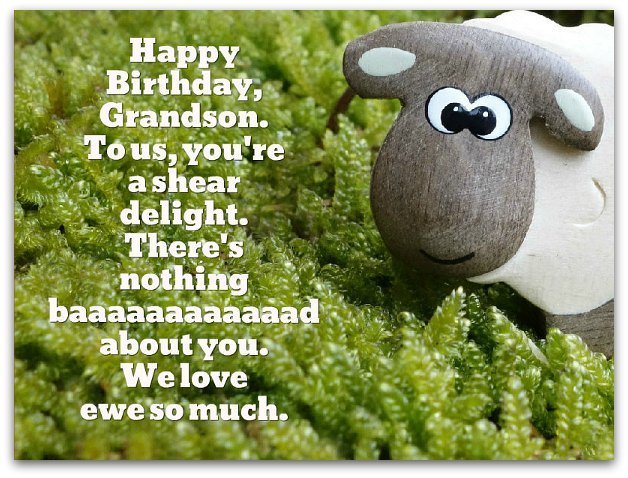 | | | |
| --- | --- | --- |
| This is definitely your day! Have a ball and do all the cool things you love! Happy birthday, Grandson! | Loving! Happy! Warm! Handsome! Wonderful! That's you, Grandson. You make being your grandmother and grandfather a privilege and joy! Happy birthday! | I always have fun with you, Grandson! Your birthday is the perfect time for us to have more fun than ever! Let's party (hey, I was young once)! Happy birthday! |
Happy birthday,
grand-kiddo! As far as kids go, you're the absolute grandest (in more ways than one)!


It makes total sense that you're everyone's favorite. Everybody loves everything about you. There's only one person everybody loves more than you: future you. Happy birthday to a grandson who only gets more loveable every day!


May all your dreams, one by one, become reality...starting today, your birthday, and every day afterward. Only the best for you. Happy birthday!

---
Message Guy
Creator of this site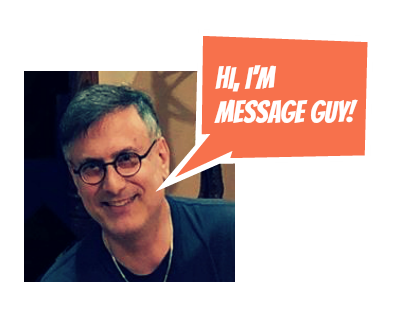 Kevin, the "Message Guy" who writes the birthday wishes, quotes, poems, toasts and speeches on BirthdayMessages.net, has been a content writer since 1993. He created this site in 2012 to share the power of words with you on one of the best days of the year — the birthday of a loved one.

Can't Find
What You Need?
Follow on FeedBurner
By  Kevin (aka "Message Guy")
Copyright © 2013-2021
BirthdayMessages.net.
All rights reserved. 
All trademarks and service marks
are the property of their
respective owners.
The copyrights of all birthday
messages on this website
belong to the individual authors.
Site 
Powered By
Solo Build It (SBI)
Build Your Own Website