In-Law Birthday Wishes
---
You can't choose your in-laws but you can choose in-law birthday wishes, but selecting the best birthday greetings for your mother-in-law, father-in-law, brother-in-law, sister-in-law, son-in-law or daughter-in-law can be difficult.
Choosing a standard "happy birthday" message may lack what every great birthday wish has going for it: the ability to make the birthday boy or girl feel special on their special day. Of course, going the overly sentimental route may be too much.
To get started, choose the type of in-law birthday messages you need below.
Message Guy Tip #79:
How to choose in-law birthday wishes
In-laws, by definition, are related to you by law...not by choice. This immediately puts you at a disadvantage when it comes to choosing in-law birthday wishes for them. Why a disadvantage? Because you don't know them as well as your own family — and you may not even like them very much either.
So how do you select the right birthday greetings for in-laws? Very carefully. First...
Read more ►
Make your mother-in-law feel special

Mother-in-law birthday wishes...
| | | |
| --- | --- | --- |
| I am so blessed to have you as my mother-in-law. You're so good to me. Happy birthday! Have a wonderful day!  | Today, I want to thank you for all the special things you do, your loving and caring ways, and your patience and kindness. Thanks for being a wonderful mother-in-law. May you have many more birthdays to come. | You are the matriarch of our family. You take care of us in so many ways. I'm so fortunate that I have a mother-in-law like you. Hoping your birthday is as amazing as I think you are! |
When I hear your voice, it's music to my ears. I could listen to you all day. No kidding, you're such a delight. I'm the luckiest person in the world...because I have you as my
mother-in-law.


Happy birthday to a saint of a mother-in-law. You bless us with your gentle, thoughtful and generous spirit every day. May you always be blessed with the best life has to offer.


For most people, it's so easy to make
mother-in-law jokes. For me, it's virtually impossible to do — you're just too wonderful as a
mother-in-law. Happy birthday to one of my favorite people (really).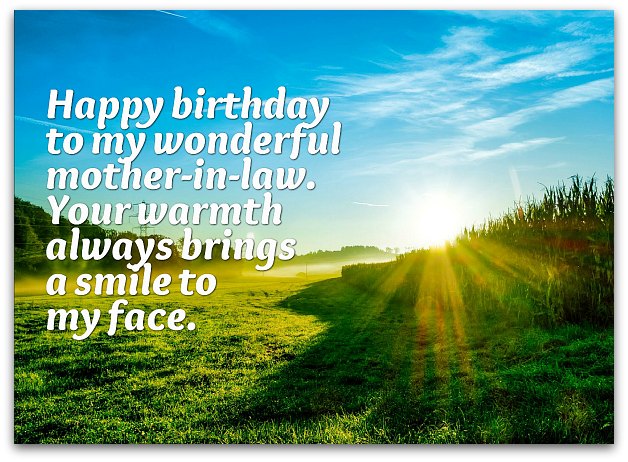 | | | |
| --- | --- | --- |
| There's a special place I've reserved for a mother-in-law like you: my heart. You're truly my second Mom. I love you. Happy birthday! | As a family, we're so delighted to wish you a big HAPPY BIRTHDAY! As your daughter-in-law, I want to add a few more words: You're the world's best mother-in-law. I'm glad you're mine. | I feel sorry for people who go through life with only one mother. I'm lucky that I have two: my Mom and you. Happy birthday to the dearest mother-in-law ever. |
| | | |
| --- | --- | --- |
| It's so easy for me to treat you like my own mother — because you've been like a second mother to me since the day I met you. Happy birthday to the world's greatest mother-in-law. | On your special day, you should get what you deserve: the biggest and best celebration in your honor. Happy, happy, happy birthday to the finest mother-in-law to ever grace this planet. | A little birdie told me that you're upset about getting older. Don't be upset, you're not getting older. You're just getting better and better! |
Top of In-Law Birthday Wishes
Give your brother-in-law a big smile

Brother-in-law birthday wishes...
| | | |
| --- | --- | --- |
| It's official! According to a recent survey of one (me), you are the "World's Greatest Brother-In-Law" and will have the "Greatest" birthday! | I'm so glad you are my brother-in-law and a part of the family. Happy birthday! Have a fantastic day! | Today, there's something I must get off my chest, something I've waited a whole year to tell you: You're an amazing brother-in-law and, of course, have an amazing birthday! |
| | | |
| --- | --- | --- |
| Your birthday is not the time to be sad. You're much too wonderful a brother-in-law to feel anything less than wonderful on your birthday. Have a wonderfully special day! | It's your birthday, my blessed brother-in-law! I hope your celebration gives you many special moments to remember! May your birthday be a blessed event!  | I no longer consider you the best brother-in-law — you've been promoted to the rank of "greatest brother" in my eyes. Happy birthday, bro! |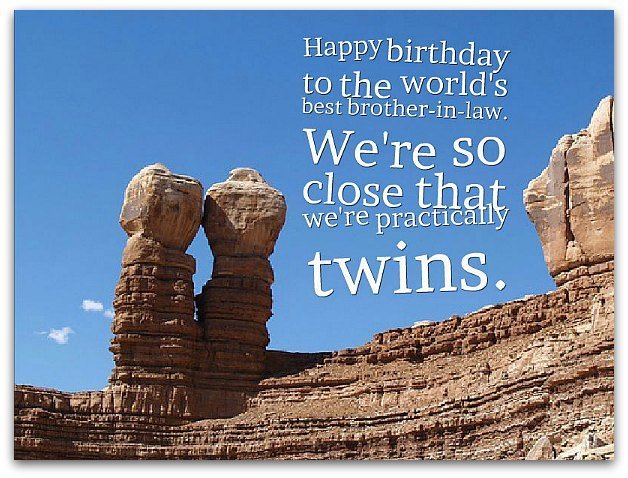 | | | |
| --- | --- | --- |
| Happy birthday, bro-in-law! I don't need a Facebook reminder to remember it's your birthday. You're way too special for that (your sister just called to remind me). | Very few people in my life are birthday message-worthy. A brother-in-law like you, though, is worthy of the finest birthday wishes. May you be blessed with only the finest of everything on your special day. | Wishing a gigantic HAPPY BIRTHDAY to my favorite (and only) bro-in-law and truly one of my best pals. You give all in-laws a good name. |
| | | |
| --- | --- | --- |
| You mean too much to me to call you my brother-in-law. I consider you my brother, my friend and my guardian angel. Today, I wish you only the best, because that's exactly what you deserve. | From Day 1, you've been like a brother to me, not a brother-in-law. And like family, we've had our ups and downs — mostly ups, though. So, it's with lots of love that I wish you "Happy Birthday." | You've always been a great brother to your sister. Now you're a great brother-in-law to me. In other words, you're a great guy — and great guys deserve the greatest of birthdays. So let's make this one great! |
Show your father-in-law that you care

Father-in-law birthday wishes...
| | | |
| --- | --- | --- |
| Today, your birthday wish is everybody's command, so wish for the best. Considering that you're the greatest father-in-law in the world, your birthday wishes may just come true. I hope they do! | I will have a great life blessed with joy, hope and peace...simply because I have a saint for a father-in-law. May your birthday be likewise blessed. | There's an incredibly special individual in my life — you, my dear father-in-law. You've been my mentor, my hero and my second Dad since I came into the family. Thank you and happy, happy, happy birthday! |
Dear father-in-law, you have given me two of the greatest gifts ever, two men to love for a lifetime — you yourself and my darling husband. I can't thank you enough but I can start by wishing you a very, very special birthday.


Happy birthday to a wonderful father-in-law. Today, you should take a moment to think about your lifetime of accomplishments and give yourself the accolades you deserve. If you don't, I certainly will.


Thank you for going beyond the call of father-in-law duty and becoming like a second father to me. And like any father, you knew that was exactly what I needed.
Happy birthday,
Dad 2.0!

Click to see more father-in-law birthday wishes
---
Be the First to See What's New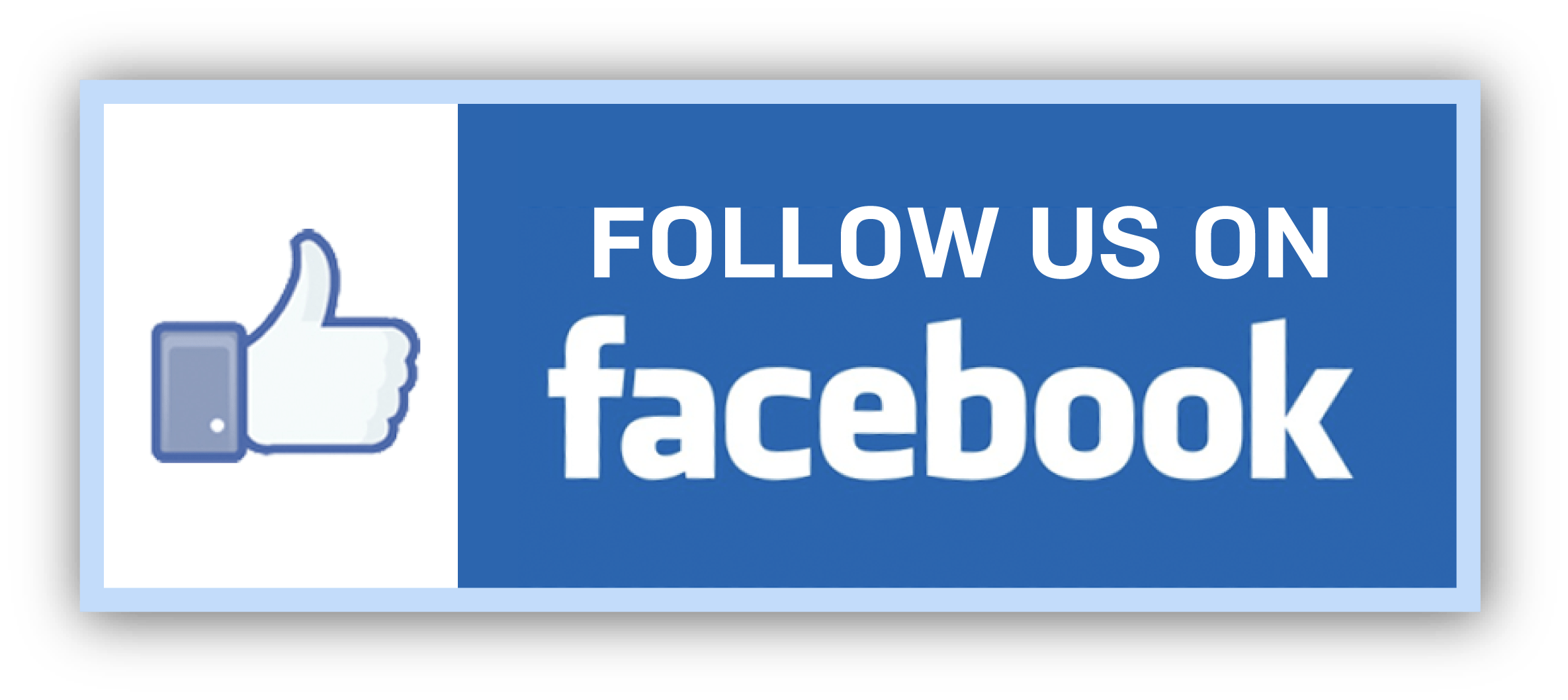 Message Guy
Creator of this site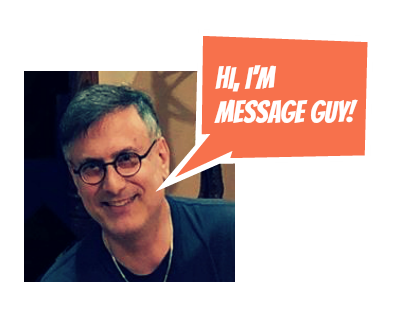 Kevin, the "Message Guy" who writes the birthday wishes, quotes, poems, toasts and speeches on BirthdayMessages.net, has been a content writer since 1993. In 2012, Kevin created this site to share the incredible power of words with birthday well-wishers everywhere.

Can't Find
What You Need?
Follow on FeedBurner
By  Kevin (aka "Message Guy")
Copyright © 2013-2022
BirthdayMessages.net.
All rights reserved. 
All trademarks and service marks
are the property of their
respective owners.
The copyrights of all birthday
messages on this website
belong to the individual authors.
Site 
Powered By
Solo Build It (SBI)
Build Your Own Website