Mom Birthday Wishes
---
You'll know you've chosen perfect mom birthday wishes — when the birthday messages you send your mother make her smile with tears in her eyes. Just like the birthday verses on this page.
To make sure you find the right birthday verse for your mother, I've written many different styles for you to choose from, but they all have one thing in common: they will show your Mom how much she means to you. 
So what are you waiting for? Start looking for the perfect message below.
| | | |
| --- | --- | --- |
| Happy birthday to the best friend anyone can ever have. That's you, Mom! | To thank you for all the support you have given me, I have a special birthday gift for you. It's now my turn to support you. Happy birthday, Mom!  | Thank you for going way beyond the call of duty, every day of my life. Nobody is as kind and loving as you are. Happy birthday, Mom! |

Quick Links
| | | |
| --- | --- | --- |
| Happy birthday to the best Mom anywhere. Even my day is bad, you brighten it with your love and words of wisdom.  | I want to wish the happiest of birthdays to you, the happiest of mothers. May you know only immense happiness on your special day.  | Because you've always believed in me, I've always believed in myself. That's the greatest gift anyone could give another. So I believe in you, Mom. It's your time to soar! Let this birthday be the first day of a new adventure. |
| | | |
| --- | --- | --- |
| Happy birthday to my role model. Whatever the road ahead brings my way, I want to move forward with the same grace, courage, hope and exhilaration as you, Mom. | When I think of a thing of beauty, I think of you, Mom! You define and redefine the whole idea of beauty with every birthday of yours. | It's more than a blessing to have you as my mother. It's an honor and privilege to be your child. Happy birthday, Mom! I'm so proud of you. |
See everyone's favorite birthday messages
Don't quit now!
Find extra mom birthday wishes right here...
| | | |
| --- | --- | --- |
| Happy birthday, Mom. May God bless every second of every minute of every hour of every day you walk this fine earth. | Every time I fell, you helped me get up. You never let me miss a step, get paralyzed by fear or pass up love. I wouldn't be who I am without you. Happy birthday, Mom!  | On your special day, it's my turn to celebrate you. This calls for the best of everything...for the best Mom ever! Happy birthday from the bottom of my heart.  |
Top of Mom Birthday Wishes
| | | |
| --- | --- | --- |
| You are the one person in this world I can completely trust and I know you will never let me down. May you give me the privilege to do the same for you. Happy birthday!  | You have a heart that knows love, a soul that knows joy, a spirit that knows giving. Thank you for being the mother any child would ever want. Happy birthday, Mom!  | There are very few birthday wishes I wouldn't make come true for you. Mom, it's a pleasure to do anything for you, even the impossible. Happy birthday! I love you. |
| | | |
| --- | --- | --- |
| I remember every moment of my childhood, because you made it something special, something unique. Thank you, Mom, for all the loving memories we shared together. Happy birthday! | I love you so much, Mom, more than you can imagine! Happy birthday to you and may you celebrate many more birthdays to come.  | You were always there for me. You still are. Now, let me be there for you, too! My gift of love to you, on this birthday and every day that follows, is to be a pillar of strength you can lean on.  |
---
---
Message Guy
Creator of this site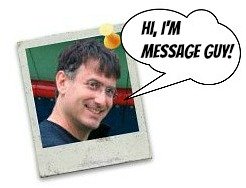 Meet the veteran writer behind every birthday message here
---
---
Check out these
popular pages
CAN'T FIND WHAT YOU NEED?
SEARCH HERE
---
Like this page?


Help me get the message out

Follow this site

 


on Facebook



Be the first to see what's new