Romantic Birthday Quotes
---
Famous romantic birthday quotes, sandwiched by personal, romantic birthday messages written by me (Message Guy), can turn a ho-hum birthday into a real love fest.
There's nothing quite like a well-written, well-known quotation when you need something beautifully written and genuinely romantic to put into a greeting card or eCard for your lover, fiancé, boyfriend, girlfriend, wife or husband — at the last second.
Now it's easy to find the perfect romantic sayings for any birthday. Just get started with the great quotes (complete with wishes before and after them) right below.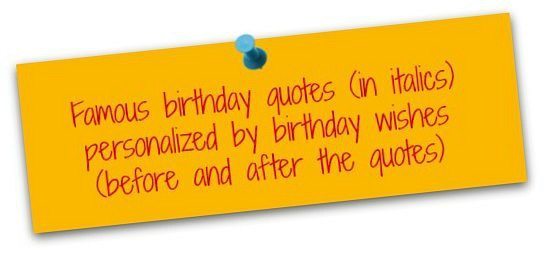 Listen to your heart...

"Only do what your heart tells you."


~ Princess Diana


I know what my heart is telling me. It's saying (full blast) to love you forever. Happy birthday, darling!


I won't make this mistake again...

"Looking back, I have this to regret: that too often when I loved, I did not say so."


~ David Grayson


I love you, I love you, I love you. Happy birthday, my sweet darling.


I live in the moment with you...

"Each moment of a happy lover's hour is worth an age of dull and common life."


~ Aphra Behn


You make every moment wonderful. I love you. May every moment of your birthday (and way beyond) be as special (with me, of course).

This quote says how I feel about you so much better than I ever could…

"The hours I spend with you I look upon as sort of a perfumed garden, a dim twilight, and a fountain singing to it. You and you alone make me feel that I am alive. Other men it is said have seen angels, but I have seen thee and thou art enough."


~ George Edward Moore


Yep, that's how I feel exactly. Happy birthday, sweetie!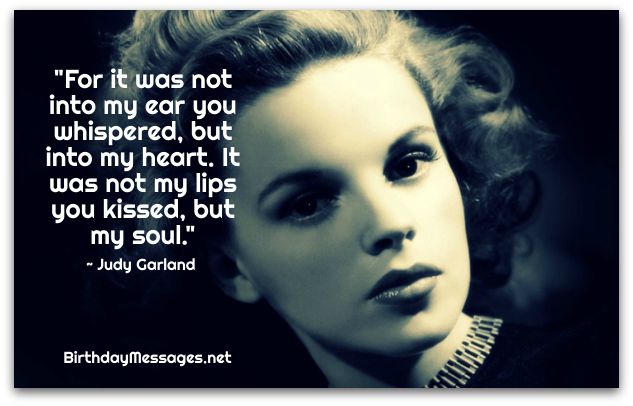 You are as refreshing as a sunny day.

"Love is the greatest refreshment in life."


~ Pablo Picasso


I can drink you up every day. Happy birthday!


Yes, we are alone but we are not lonely.

"For small creatures such as we, the vastness is bearable only through love."


~ Carl Sagan


Your love makes everything not just bearable but beautiful. Happy birthday, my love!


I love you more than anything, yet...

"There are never enough I Love You's."


~ Lenny Bruce


There aren't enough to say how much I love you.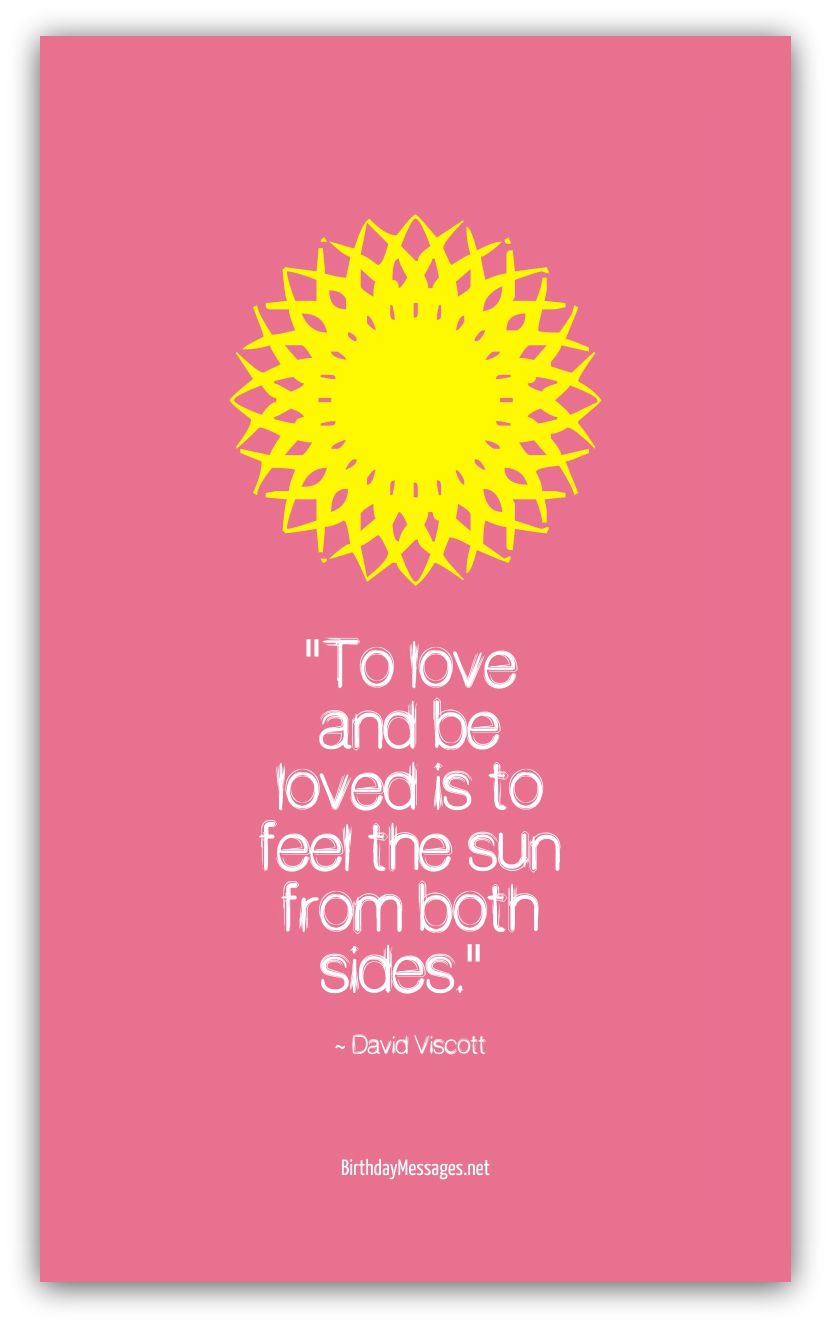 Without you, there is no love in this world.

"Take away love and our earth is a tomb."


~ Robert Browning


Without you, there is no world that I would consider livable.


I was born to be with you...

"We are all born for love. It is the principle of existence, and its only end."


~ Benjamin Disraeli


You are my destiny. I'm so glad we found each other. Happy birthday, sweetheart.


We have both..

"To love and be loved is to feel the sun from both sides."


~ David Viscott


Thankfully, we have both together. I love you. happy birthday, darling!

Top of Romantic Birthday Quotes
We're made from the same fabric...

"Whatever our souls are made of, his and mine are the same."


~ Emily Bronte


Ours are the same. I love you. Happy birthday!


I am a religious person...

"Love is my religion - I could die for it."


~ John Keats


I would die for my religion...you! Happy birthday, darling!


You are habit forming...

"Love is the hardest habit to break, and the most difficult to satisfy."


~ Drew Barrymore


I can make a habit of loving you. Happy birthday, my precious love!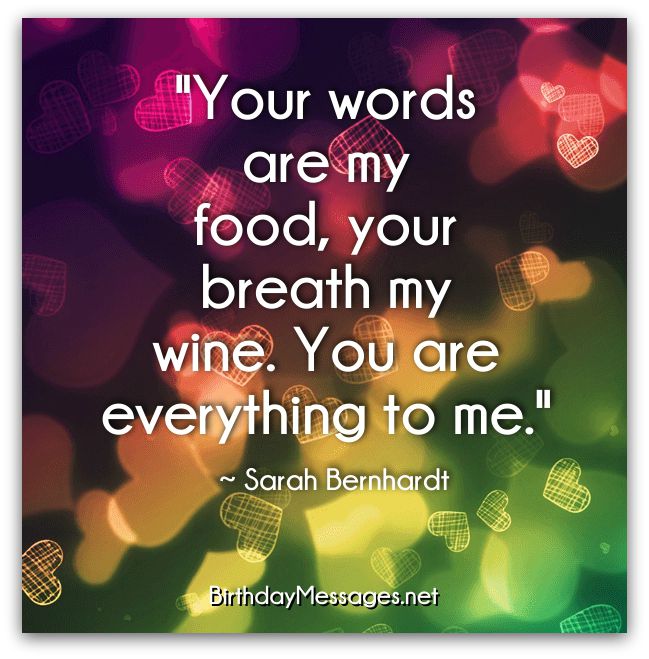 If you

can't choose

from the romantic birthday quotes on this page,

try these hints...
Take a look at my tips right here...and it will be easier for you to find the right romantic birthday quotes for someone very, very special.

You are love.

"Love... it surrounds every being and extends slowly to embrace all that shall be."


~ Khalil Gibran


Your love envelopes everything I do and think and feel. Happy birthday to my everything!


You're the fuel and match in one.

"Love in its essence is spiritual fire."


~ Lucius Annaeus Seneca


You light my fire every time, every day! Happy birthday, hot stuff!


Morning, noon and night...

"Your words are my food, your breath my wine. You are everything to me."


~ Sarah Bernhardt


You complete me in every sense. happy birthday to my one and only love.

---
<<Previous     1    2
Message Guy
Creator of this site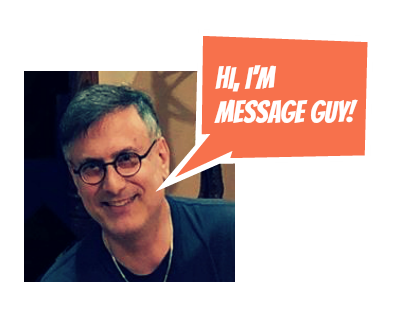 Kevin, the "Message Guy" who writes the birthday wishes, quotes, poems, toasts and speeches for this site, has been a professional writer, editor and translator for more than 25 years. He decided to create BirthdayMessages.net in 2012 to share his passion for famous quotes on the best day of the year — your birthday.

CLICK HERE TO LEARN MORE ABOUT KEVIN (AKA MESSAGE GUY) 
Can't Find
What You Need?
By Kevin (aka "Message Guy")
Copyright © 2013-2020
BirthdayMessages.net.
All rights reserved.
All trademarks and service marks
are the property of their
respective owners.
The copyrights of all birthday
messages on this website
belong to the individual authors.
Site 
Powered By
Solo Build It (SBI)