Romantic Birthday Wishes
---
Romantic birthday wishes with the right balance of passion and warmth, like the birthday messages on this page, can make anybody's special day unforgettably romantic and even steamy.
For your special someone, you don't have to go overboard with an endless stream of romantic poetry to create the perfect birthday atmosphere. That would just be wrong. 
To make sure the most special day of the year for your boyfriend, girlfriend, fiancé, wife, husband or lover is indeed special, start by picking one of the birthday greetings below — one that genuinely expresses your feelings for him or her. 
If you don't think you're ready to select the right love birthday message, click here to see how I would choose the perfect birthday wish. 
See everyone's favorite birthday messages
| | | |
| --- | --- | --- |
| Did I ever thank you for loving me so freely, making my heart pound just by the sound of your voice and turning my life into a real love story? Well, I guess I just did. Happy birthday, my love! | What's the difference between you and vintage wine? Nothing. You only improve with every birthday, you always make everything better and, most importantly, I LOVE wine. | Happy birthday, sweetheart! Let me count the ways I love you. Let's see…Infinite ways. |

Quick Links
| | |
| --- | --- |
| Happy birthday to my flame for life. I can honestly say with 100% certainty that the fire of our love will burn strong, bright and deep for eternity. | Honey, you will always be my only leading lady in the love story of our lives. Happy birthday, my love! |
| | | |
| --- | --- | --- |
| My love for you is the real deal. Really. Happy birthday! | Happy birthday, lover! For your birthday, there's a special dress code: you only have to wear your birthday suit! | On the night of your birthday, when I find myself in your arms, I just have this feeling that it will be the high point of your special day. |
Didn't find the perfect message yet?
Choose from the romantic birthday wishes below...
| | | |
| --- | --- | --- |
| Happy birthday, sweetie! Seeing you smile with love in your eyes just melts my heart. On your birthday, I want you to see the love that's in my eyes and know you'll always be the reason I smile. | I cannot put how I feel about you into words, but I'll try...I love you. You're my reason for living. Happy birthday, lover! | Happy birthday, sweetheart. I will love you forever…and every day afterward! |
Top of Romantic Birthday Wishes
| | | |
| --- | --- | --- |
| You're my girl, my life. Your birthday is the most special day of the year for me. I love you. Happy birthday, baby! | Happy birthday. Let's have a night of unbridled passion that celebrates our crazy love. Not because it's birthday. Just because.  | Happy birthday! If I traded every night of pure love I've spent with you for an ounce of gold, I'd be wealthy beyond belief. But I don't need to trade a thing — I'm already rich in the greatest love of all….yours. |
| | | |
| --- | --- | --- |
| Happy birthday! What I feel for you today is a fraction of how much I'll love you tomorrow. Happy birthday! | Happy birthday, darling! Our love is the start of something forever. | Happy birthday, my dearest! I just want to say that loving you is the easiest — and the absolute best — thing I've ever done and felt in my life.  |
---
<<Previous     1    2    3    4    5  
---
Message Guy
Creator of this site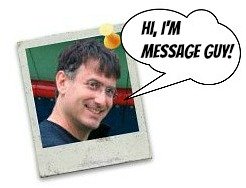 Meet the veteran writer behind every birthday message here
---
---
Check out these popular pages
CAN'T FIND WHAT YOU NEED?
SEARCH HERE
---
Like this page?


Help me get the message out