Sentimental Birthday Quotes

---
Still need to choose sentimental birthday quotes for someone special, someone who loves heartwarming birthday cards, eCards or texts? You're in luck. 
On this page, I have more sentimental birthday sayings, sandwiched by personal birthday messages (done for you, so you don't have to do them yourself). All the personal birthday wishes go nicely with the sayings here, showing the birthday boy or girl you care enough to send an extra-special birthday message.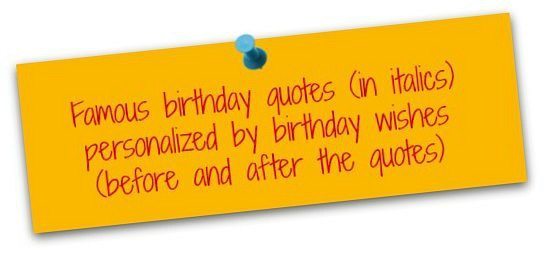 Shouldn't every day of the year be like the opening day of any baseball season?

"You always get a special kick on opening day, no matter how many you go through. You look forward to it like a birthday party when you're a kid. You think something wonderful is going to happen."


~ Joe DiMaggio


And every day should be like your special day. Hope you have a wonderful birthday and year.


There is so much to look forward to...

"Childhood itself is scarcely more lovely than a cheerful, kindly, sunshiny old age."


~ Lydia M. Child


Forget about our youth and look forward to our sunshiny future, starting on your special day!


Happy birthday!

This quote reminds me that you can have everything, even with practically nothing.

"On her birthday, my seven-year-old daughter will say that she wants these big cakes and certain expensive toys as presents, and I can't say no to her. It would just break my heart. But when I was little, for birthdays we just played outside and we were happy if we got any cake."


~ Goran Ivanisevic


Cake and all our loved ones would be perfect. Hope you have both in abundance on your birthday!

Just like fine wine...

"There's a vintage which comes with age and experience."


~ Jon Bon Jovi


You're the best vintage...sweet, sometimes dry and always delicious. Happy birthday! 

Every once and awhile, it's good to be reminded that life is short...and sweet.

"From our birthday, until we die, is but the winking of an eye."


~ William Butler Yeats


So keep your eye on the prize...your happiness, your loved ones, life itself. Happy birthday!


It ain't over until it's over. 

"I'll tell you, there is nothing better in life than being a late bloomer. I believe that success can happen at any time and at any age."


~ Salma Hayek


You've always been a success to me. Happy birthday!


The only time that matters is the time you spend with loved ones.

"Does age matter? Time doesn't matter."


~ Sandra Bullock


May you be blessed with lots of time with loved ones and, whenever possible, your hammock. 

Message Guy Pick
Some sentimental birthday quotes go further than others. The one below is not your typical quote. Why?
Read more ►
Tomorrow's another sunrise but it's your special day in the sun right now...

"I awake each day with the new sunrise. Blessed is this life and I'm going to celebrate being alive."


~ Jean Paul


May you be blessed with a wonderful birthday and many more sunrises.  

Top of Sentimental Birthday Quotes
Need to look at more quotes?


Look at the sentimental birthday quotes below
Yes, life is its own reward...

"They that have lived a single day have lived an age."


~ Jean de la Bruyere


Living each day like it's your last may not be too practical but it must be fun! Have the best-ever special day!


The next time someone says, act your age, tell them it's more fun to be young at heart.

"At the age of four with paper hats and wooden swords we're all Generals. Only some of us never grow out of it."


~ Peter Ustinov


As the song goes, stay forever young. It suits you. Happy birthday!


Hey, listen to Betty. She should know...

"I think it's your mental attitude. So many of us start dreading age in high school and that's a waste of a lovely life. Oh... I'm 30, oh, I'm 40, oh, 50. Make the most of it."


~ Betty White


I'd be happy with a quarter of her success and happiness. Wishing you 100% of her success. Happy birthday! 

You don't have to be young and sexy to be beautiful. In fact, the opposite is true...

"Everybody looks like clones and the only people you notice are my age. I don't notice anybody unless they look great, and every now and again they do, and they are usually 70."


~ Vivienne Westwood


You are beautiful to me! have an amazing birthday!


This is the real fountain of youth...

"I learned from a very young age that if I pursued the things that truly excited me, that they would reward in more important ways, like happiness."


~ Brandon Boyd


May you always follow your bliss... today (on your birthday) and every day!


Let me count the ways to apply this little piece of advice...

"Let us never know what old age is. Let us know the happiness time brings, not count the years."


~ Ausonius


May you only find happiness all your days, especially today, your birthday!

---
 <<Previous     1    2    
Message Guy
Creator of this site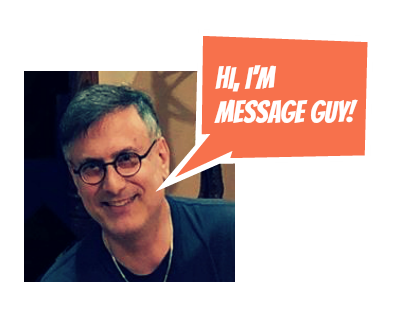 Kevin, the "Message Guy" who writes the birthday wishes, quotes, poems, toasts and speeches for this site, has been a professional writer, editor and translator for more than 25 years. He decided to create BirthdayMessages.net in 2012 to share his passion for famous quotes on the best day of the year — your birthday.

CLICK HERE TO LEARN MORE ABOUT KEVIN (AKA MESSAGE GUY) 
Can't Find
What You Need?
By Kevin (aka "Message Guy")
Copyright © 2013-2020
BirthdayMessages.net.
All rights reserved.
All trademarks and service marks
are the property of their
respective owners.
The copyrights of all birthday
messages on this website
belong to the individual authors.
Site 
Powered By
Solo Build It (SBI)