Sentimental Birthday Wishes & Quotes
---
Sentimental birthday wishes and quotes have the power to take anybody back to a truly magical time and place. Start the sentimental journey here.

To decide how sentimental you want to be with your sentimental birthday messages, check out the examples of sentimental birthday greetings below. 
BY KEVIN NISHMAS | UPDATED: MARCH 15, 2020

Jump to
Sentimental Birthday Wishes & Quotes

Jump to
Sentimental Birthday Wishes & Quotes




Sentimental Birthday Wishes
| | | |
| --- | --- | --- |
| Happy birthday! I can remember when you only came up to my knees and could barely stand on your own. Now you stand.head and shoulders above me. | Happy birthday! You've always been so special to us, ever since you learned to run before you could walk. | Happy birthday, my son. There was a time I could hold you in my arms. Now you tower over me and could hold me in your arms. Time and kids can indeed turn everything upside down. |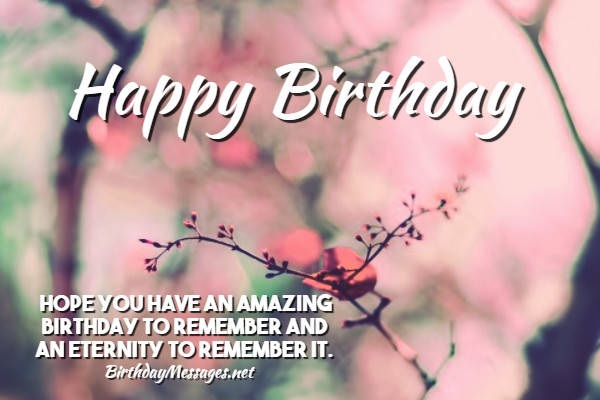 | | | |
| --- | --- | --- |
| Happy birthday, our precious princess! From the moment you came into our lives, you stole our hearts. Now that you're a woman, you make our hearts proud!  | Happy birthday! Hope you have an amazing birthday to remember and an eternity to remember it. | Happy birthday to my favorite teen. With your childhood behind you, it's time to put your childish things away and never look back — only forward!  |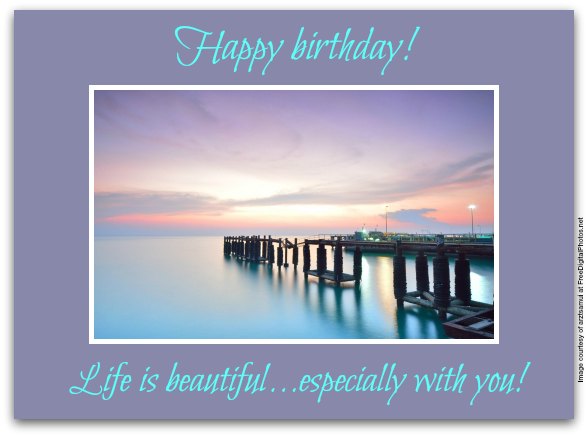 | | | |
| --- | --- | --- |
| Happy birthday! May your special day bring you enough joy, love and wonder to last you every day until your next birthday. You deserve every second. | Birthdays are a time of celebration. Your birthday is a time to celebrate you, the biggest celebration of the year. Happy birthday!  | Happy birthday. Everything that matters in my life matters because of you. |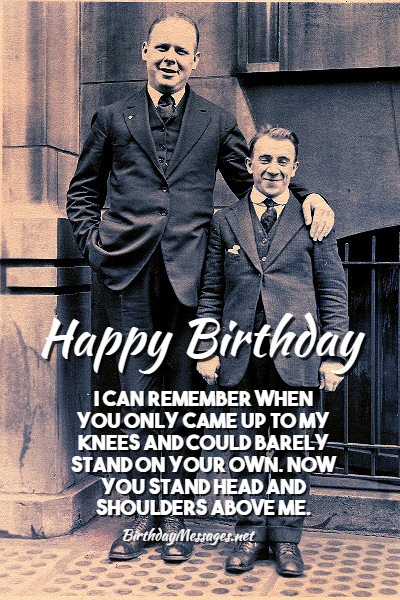 | | | |
| --- | --- | --- |
| Hoping all your dreams come true and, when they do, I hope that they're positively dreamy ...just like you! | May your birthday be full of smiling faces, endless giggles, happy thoughts, gifts of love and wishes that magically come true.  | May your special day bring you everything that's special about life — and may you have the joy, health and peace to savor every special moment of it...on your birthday and ever after. |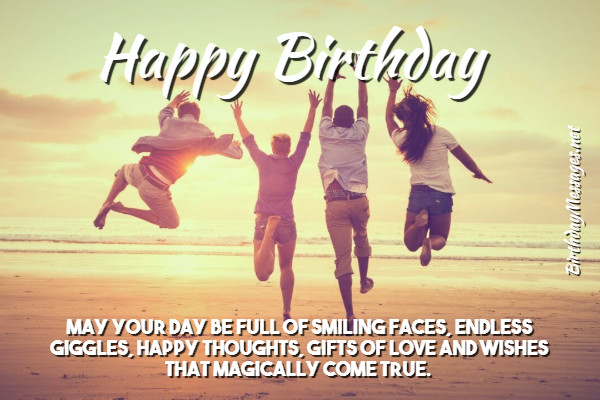 | | | |
| --- | --- | --- |
| Wishing you a lifetime of love that melts your heart, adventures that feed your soul and beauty that's more than skin deep, starting with your birthday.  | Every moment is a beautiful memory in the making. May you have a lifetime of making beautiful memories, beginning with this birthday! | May you live a captivating life that just gets more captivating every day...starting on your birthday, the day you first captivated the world around you! |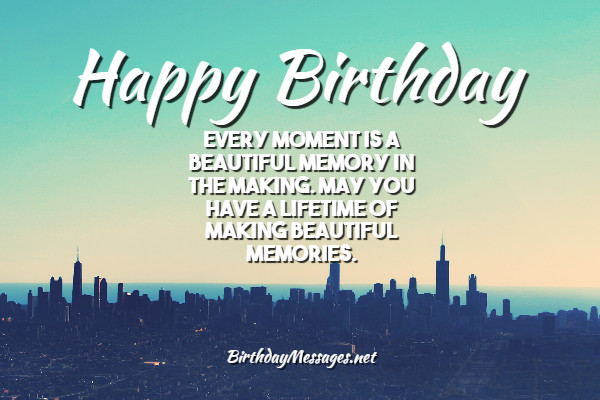 | | | |
| --- | --- | --- |
| I'm so happy you're a big part of my life! Happy birthday! | Happy birthday to a real treasure. The older you get, the more priceless you get to family and friends who know a precious jewel when they see one. | Through breakups, breakdowns, breakthroughs and breakouts, you've always had my back. May your special day break every birthday record.  |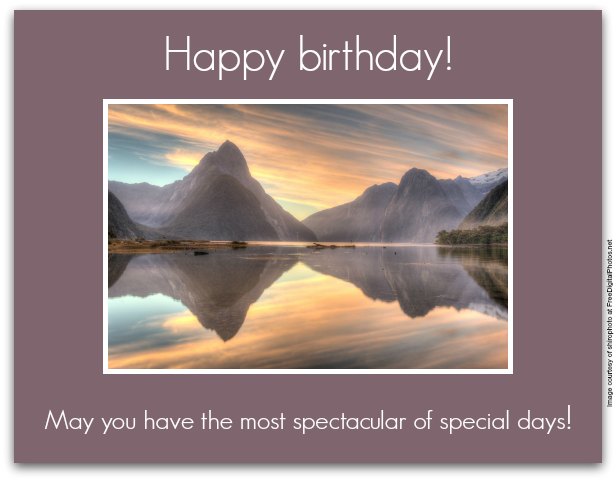 | | | |
| --- | --- | --- |
| Happy birthday! The best years of your life are just around the corner. To get there sooner rather than later, do what you've done since you were a kid — be great. | Everything I know that's good in my life I learned from watching you. You've always shown me right from wrong more times than I can ever count. Happy birthday! | Happy birthday! We're all just tall kids but you stand taller than any kid at heart I know. |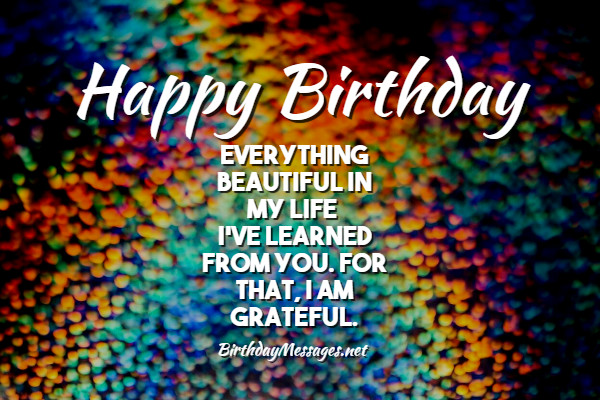 | | | |
| --- | --- | --- |
| Today, you have many reasons to be grateful that you're alive and well — I have one...you. Happy birthday! | Wishing you an unforgettable birthday that only gets more memorable every minute of every hour! | As kids, we'd play for hours on end...with pure joy in our hearts. We're older now but you're still that playful kid so full of joy. May your birthday be just as joyful! |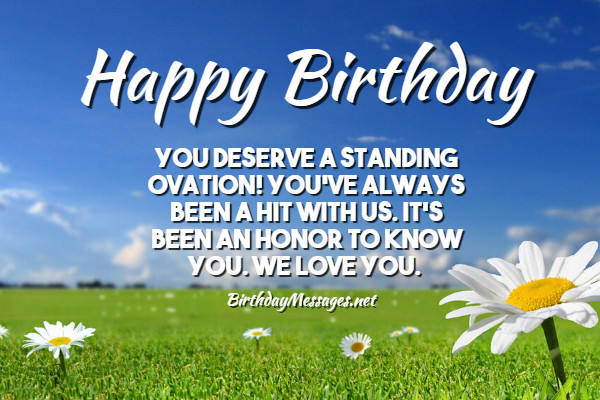 | | | |
| --- | --- | --- |
| Happy birthday! When I see the glint of possibility and excitement in your eyes, you don't look a day over the 18 year old I met so many years ago! You make me feel alive! | You deserve a standing ovation! You've always been a hit with us. It's been an honor to know you. We love you. Happy birthday! | It's a tremendous privilege for us to celebrate you, your birthday, your life and what it means to have you in ours!  |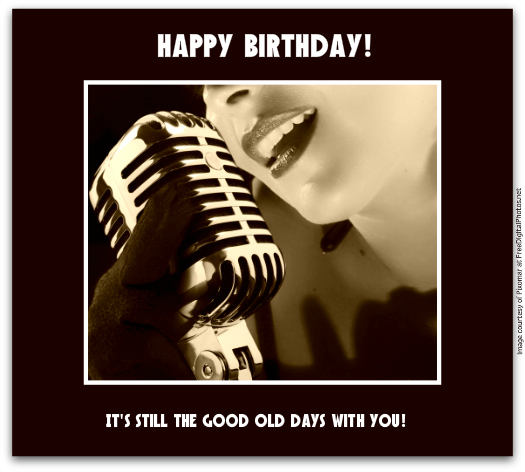 | | | |
| --- | --- | --- |
| You have touched so many lives for so many years. We just want to tell you we love you and THANKS. Happy birthday! | Happy birthday! You've always been a blessing to us and, today, we would like to bless you, with all our hearts, with all your heart desires. | Happy birthday and thank you for being the glue that has kept our family together all these years. We have each other because of everything you've done and sacrificed. |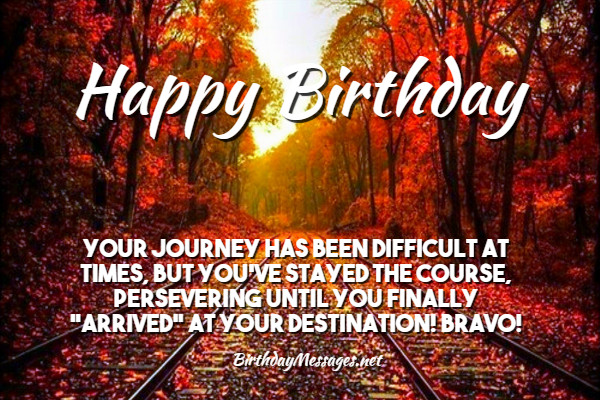 | | | |
| --- | --- | --- |
| Your journey through life has been difficult at times, but you've stayed the course with love, joy, kindness and dignity, persevering until you finally "arrived" at your destination! Happy birthday! | Let's have a celebration to commemorate your birthday, congratulate you on your many accomplishments, recognize your wonderful deeds and tell the tales you love to share.  | Wishing you endless joy and health on your birthday and the rest of your life...for all the good times you celebrated with us and all the bad times you stood behind us. |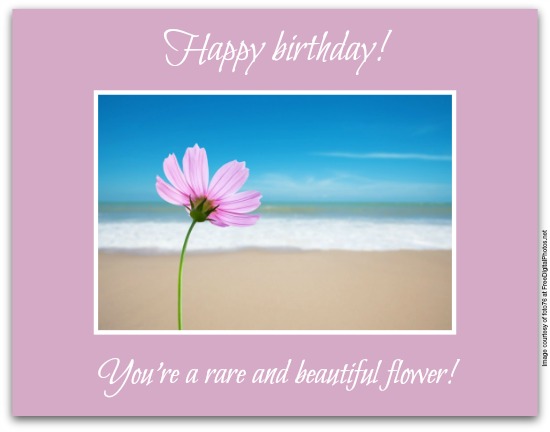 | | | |
| --- | --- | --- |
| Everything I know about life, love, hope, adventure, joy and kindness, the only things that really matter, I learned from you. Thank you. Happy birthday! | Happy birthday! Whatever your dreams, may they all come alive. Whatever your wishes, may they all come true. This I dream and wish for you. | All your dreams have come true. All your loved ones are healthy and happy. All your days are filled with love, joy and wonder. It's time to celebrate...your birthday and you! |
| | | |
| --- | --- | --- |
| Today, you get to celebrate a milestone that many may never reach. You get to celebrate a life that many can only imagine. I'm so glad I get to celebrate this milestone and your life with you. Happy birthday! | Happy birthday! May the beautiful moments of your life always keep your heart warm and your soul alive. | On your birthday, may you look back on a life well lived, celebrate the wonderful times you've had and look forward to years of immense joy, wonder and love. |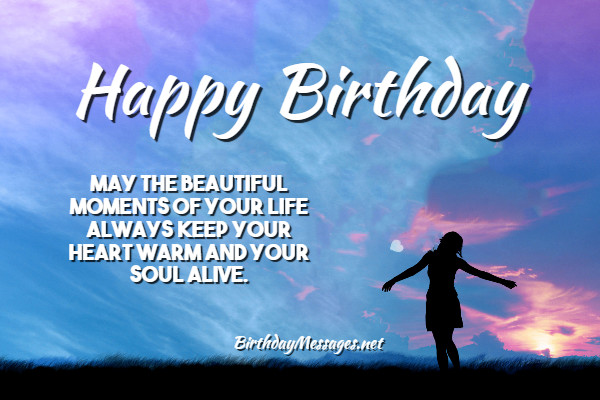 | | | |
| --- | --- | --- |
| The most important, most life-changing lessons I've learned come from only one source: you. You are my true mentor, my life coach. I'm awed and inspired by your kindness, wisdom and love. Happy birthday! | May you always groove to the sweet sounds of life, love and family, especially on your birthday!  | On your birthday, blow out all your candles and be sure to make a wish for each and every one! This year, they all come true. Happy birthday! |
| | | |
| --- | --- | --- |
| There are some things people just won't tell you about yourself. I'm not one of them. I think you need to know how incredibly wonderful you are. Happy birthday! | Even though we do not see each other every day, I want you to know that I'll always be there for you...just like you've always been there for me. Happy birthday! | The best for you is not good enough. You deserve everything you've ever wanted and much, much more! I designate this birthday of yours as the first day of getting what you want out of life...and me! |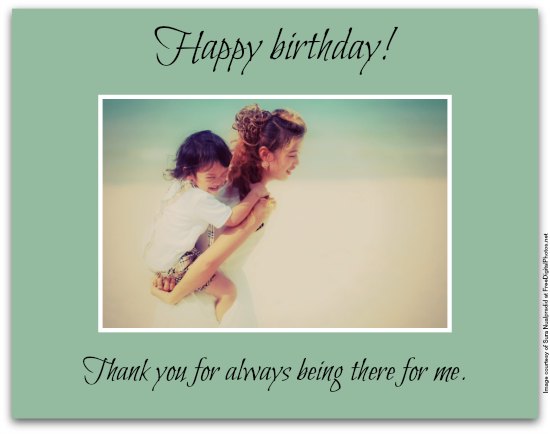 | | | |
| --- | --- | --- |
| Happy birthday! You're a little piece of my childhood that will always be with me — in body and spirit. I'm so glad I have someone like you in my life.  | Thanks for being there for me through the years. You're the best. Happy birthday! | Together, we've embarked on some incredible adventures, sharing thousands upon thousands of wonderful moments that given us unforgettable memories. Happy birthday! |
| | | |
| --- | --- | --- |
| Through every smile, every tear, every laugh, every mistake, every victory, every moment, you've been there for me. Happy birthday!  | Happy birthday and thank you for every great memory we have made together and you've inspired. Happy birthday! | Happy birthday. Every year, you just get sweeter and sweeter, spreading your love and light without thinking twice about it. You're so sweet that you're now serious competition for my mother (don't tell her I wrote that). |
| | | |
| --- | --- | --- |
| You're simply a gift from God. There's no other way to put it. You must have been an angel in another life! Now it's my turn to give you a beautiful gift: my love. Happy birthday! | Thank you for finding a crack in my trials and tribulations to shine a ray of light into my life with your bright outlook and brilliant spirit. Happy birthday! | Happy birthday! I'm so blessed to have you in my life. Through the years, through thick and thin, you've been so wonderful to me. May your special day be a celebration of your own special brand of wonderfulness. |
| | | |
| --- | --- | --- |
| Hope your birthday is a wonderful celebration of the amazingly wonderful you. Have a most special day! | Have the most incredible birthday you ever had...because you are incredible. | Happy birthday! Now that it's your special day, you really should know that there are so many people who absolutely adore you! You're so adorable! |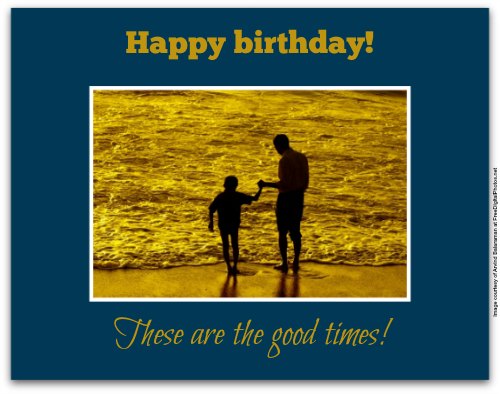 | | | |
| --- | --- | --- |
| You are a special person, so you deserve a special celebration on your special birthday. Happy special day! | Wishing you an extraordinary birthday because you're the most extraordinary person I know — and I know lots of people! | You are as warm as the sun, as bright as the stars and as sweet as honey. In other words, you're just perfect. Happy birthday! |
| | | |
| --- | --- | --- |
| Your birthday is always great, because it's a celebration of someone great...you! Happy birthday to the greatest person in the world! | You have always been our greatest source of happiness and pride. Wishing you the greatest of birthdays this year! | May everything, everyone and everywhere that touches you be a source of happiness and love for you every day, starting with your birthday. |
| | | |
| --- | --- | --- |
| I don't know many things with 100% certainty, but I know, with all my heart, you're amazing...and the one person I can count on in this world. Happy birthday, BFF!  | In your life, very few people measure up to the ideal person you have in your head. You do, so much so that now everybody has to measure up to you, if they want to be close to me. Happy birthday to the real ideal! | May your special day be filled with the loving memories you've made...and the family and friends who made them with you. Happy birthday! |
| | | |
| --- | --- | --- |
| You have spread so much love and joy without a moment's hesitation. You are truly one of a kind...the kind that deserves a birthday with just as much, if not more, love and joy. | On your birthday, just let the sunshine into your heart and soul. Then and only then, you'll know the effect you have on the people around you. Happy birthday, sunshine. | I believe in magic. You are pure magic. Everything you do and say works like magic. And we've made so many magic moments together. May your birthday be as magical as you! |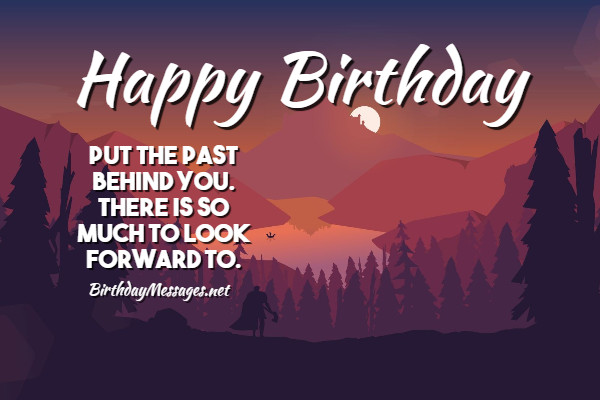 | | | |
| --- | --- | --- |
| Happy birthday! Put the past behind you. There is so much to look forward to. | Every day should be like your special day. Hope you have a wonderful birthday and year. | Happy birthday! Growing older is not so bad. As long as I'm with you, everything will be just perfect. |
| | | |
| --- | --- | --- |
| Happy birthday! All year, I can buy you anything. It's only on your birthday that I can give you what really matters: my love. | Happy birthday! Life is to be lived...and lived well. Enjoy your birthday! It's your special day, after all. It belongs to you.  | We're all on borrowed time. Luckily, you have all the time in the world to live your beautiful life. Happy birthday! |
| | | |
| --- | --- | --- |
| Happy birthday! Just like fine wine, you're the best vintage...sweet, sometimes dry and always delicious. | Happy birthday! Keep your eye on the prize...your happiness, your loved ones, life itself. | The only time that matters is the time you spend with loved ones. May you be blessed with lots of time with them and, whenever possible, your hammock. |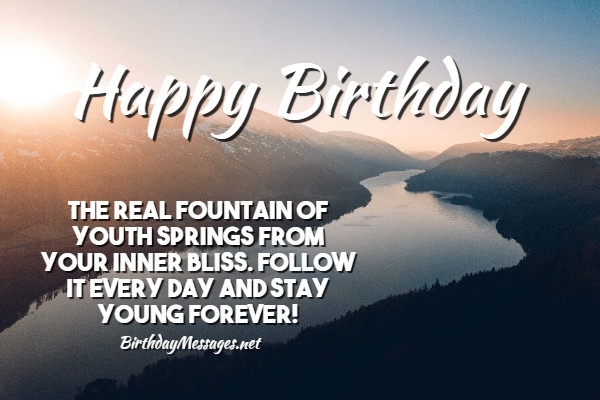 | | | |
| --- | --- | --- |
| Happy birthday! Tomorrow's another sunrise but it's your special day in the sun right now. | Happy birthday! Living each day like it's your last may not be too practical but it must be fun! Have the best-ever special day! | Happy birthday! The next time someone says, act your age, tell them it's more fun to be young at heart. Stay forever young. It suits you. |
| | | |
| --- | --- | --- |
| You don't have to be young and sexy to be beautiful. In fact, true beauty comes with time. You are beautiful to me! Have an amazing birthday! | Happy birthday! The real fountain of youth springs from your inner bliss. Follow it every day and stay young forever! | May we share and make many more memories together, starting on your birthday! |
---



Sentimental Birthday Quotes
Sentimental birthday quotes can make anybody's birthday so much more heartwarming. Choose from the sentimental birthday messages below..
"Whatever with the past has gone, the best is always yet to come."


~ Lucy Larcom

"May you live all the days of your life."


~ Jonathan Swift

"Grow old along with me! The best is yet to be!"


~ Robert Browning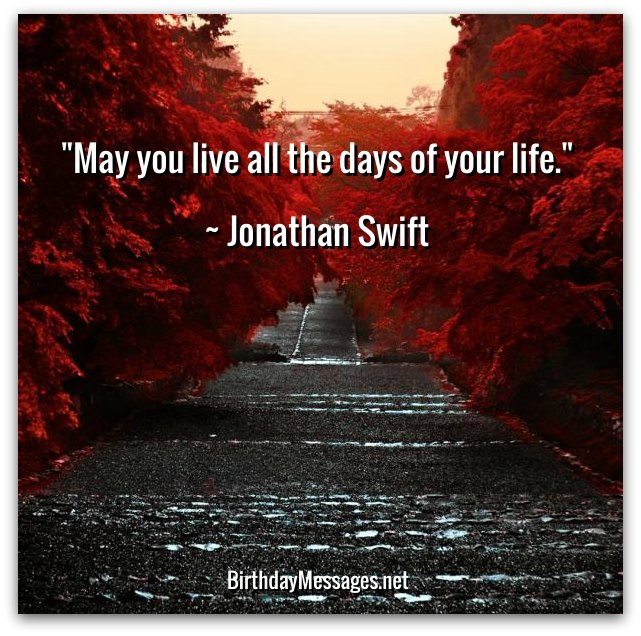 "To be happy, we must be true to nature and carry our age along with us."


~ William Hazlitt

"Presents don't really mean much to me. I don't want to sound mawkish, but it was the realization that I have a great many people in my life who really love me, and who I really love."


~ Gabriel Byrne

"I'm not materialistic. I believe in presents from the heart, like a drawing that a child does."


~ Victoria Beckham
"I awake each day with the new sunrise. Blessed is this life and I'm going to celebrate being alive."


~ Jean Paul

"Live your life and forget your age."


~ Jean Paul

"There's a vintage which comes with age and experience."


~ Jon Bon Jovi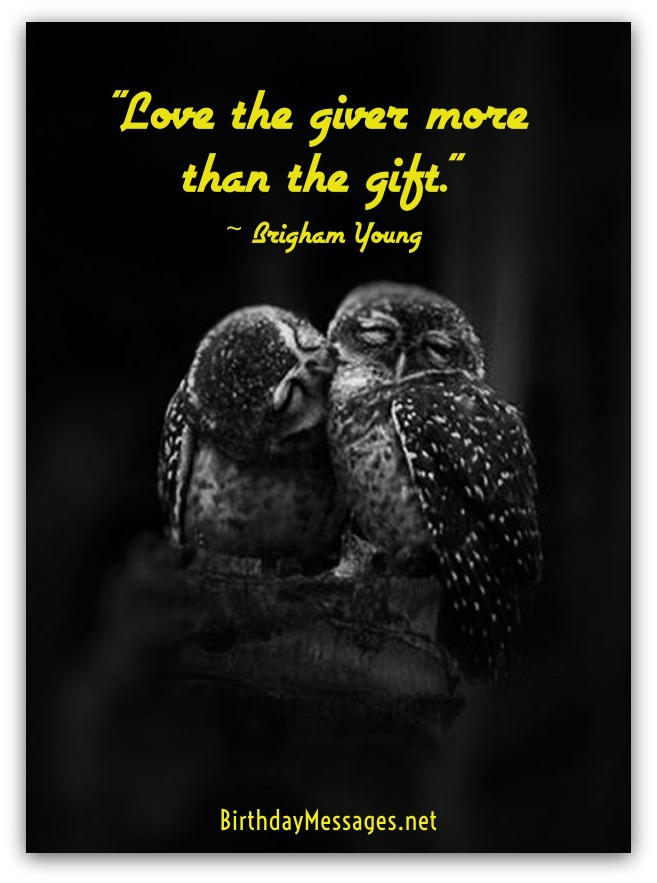 "Love the giver more than the gift."


~ Brigham Young

"My mother asked me what I wanted for my birthday, so I said I wanted to read poetry with her."


~ Guy Johnson

"What could be more beautiful than a dear old lady growing wise with age? Every age can be enchanting, provided you live within it."


~ Brigitte Bardot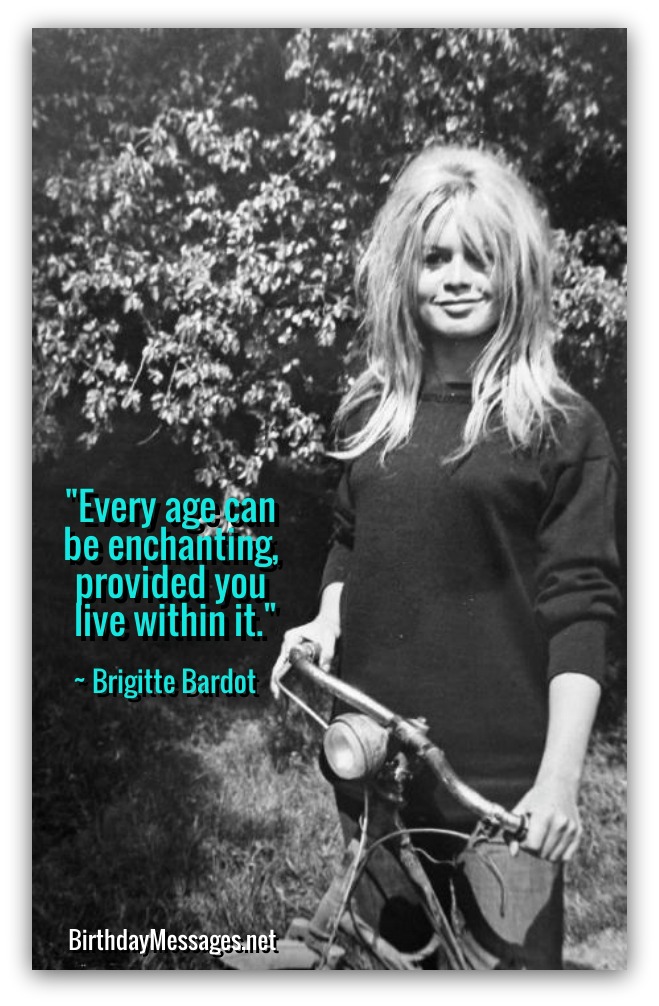 "Mum loves me being famous! She is so excited and proud, as she had me so young and couldn't support me, so I am living her dream. It's sweeter for both of us. It's her 40th birthday soon and I'm going to buy her 40 presents."


~ Adele

"John Candy knew he was going to die. He told me on his 40th birthday. He said, well, Maureen, I'm on borrowed time."


~ Maureen O'Hara

"Citizens, thank you for all your birthday wishes. I am 88 years old today and still lucky to live in the greatest city in the world."


~ Ed Koch
"You always get a special kick on opening day, no matter how many you go through. You look forward to it like a birthday party when you're a kid. You think something wonderful is going to happen."


~ Joe DiMaggio

"Childhood itself is scarcely more lovely than a cheerful, kindly, sunshiny old age."


~ Lydia M. Child

"On her birthday, my seven-year-old daughter will say that she wants these big cakes and certain expensive toys as presents, and I can't say no to her. It would just break my heart. But when I was little, for birthdays we just played outside and we were happy if we got any cake."


~ Goran Ivanisevic
"From our birthday, until we die, is but the winking of an eye."


~ William Butler Yeats

"I'll tell you, there is nothing better in life than being a late bloomer. I believe that success can happen at any time and at any age."


~ Salma Hayek

"Does age matter? Time doesn't matter."


~ Sandra Bullock
"They that have lived a single day have lived an age."


~ Jean de la Bruyere

"At the age of four with paper hats and wooden swords we're all Generals. Only some of us never grow out of it."


~ Peter Ustinov

"I think it's your mental attitude. So many of us start dreading age in high school and that's a waste of a lovely life. Oh... I'm 30, oh, I'm 40, oh, 50. Make the most of it."


~ Betty White
"Everybody looks like clones and the only people you notice are my age. I don't notice anybody unless they look great, and every now and again they do, and they are usually 70."


~ Vivienne Westwood

"I learned from a very young age that if I pursued the things that truly excited me, that they would reward in more important ways, like happiness."


~ Brandon Boyd

"Let us never know what old age is. Let us know the happiness time brings, not count the years."


~ Ausonius
---



How do you write sentimental birthday wishes?

Even though sentimental birthday wishes and quotes can be a wonderful way to tell your loved ones how much you admire and adore them.
With sentimental birthday messages, you can be as flowery, sweet and mushy as you want to be when expressing your feelings for the birthday boy or girl, making him or her feel really, really special.
Depending on the sentimental birthday wishes and quotes you choose to send, you can also take your loved ones right back to a truly special moment in their lives, the best kind of birthday gift to give somebody on their special day.
On the negative side? These birthday greetings may not be to everyone's taste, so don't just assume the recipient of your birthday message is as sentimental as you are. Before you race off to write sentimental birthday wishes, determine if your loved one shows any signs of sentimentality. 
According to author Lexi Herrick, founder of HerTrack.com, there are 40 signs of a hopelessly sentimental person. Here are the Top 10:
Your room or home is like a shrine to your memories.
You're a chronic Facebook sharer of videos that make you cry.
You would never give a gift without a hand written greeting card.
You have read more Jodi Picoult or Nicholas Sparks novels than you care to admit.
You get emotionally attached to the characters in the TV shows that you follow.
You are partial to antique items and thrift shops.
You can look at certain articles of clothing and remember exact memories from when you wore them.
You've looked at old home videos and baby pictures more often than the average person.
You've got birthday cards from age seven and up hidden away somewhere.
You're a hugger and cuddler.
For these hopelessly sentimental fools, the best sentimental birthday wishes and quotes don't just tug at their heartstrings. They should also take them back to a simpler time, a special moment, a long-forgotten place all their own, like a song they've haven't heard in years.
To find the right words, take a look at the examples of sentimental birthday wishes and quotes on this page.
---
Message Guy
Creator of this site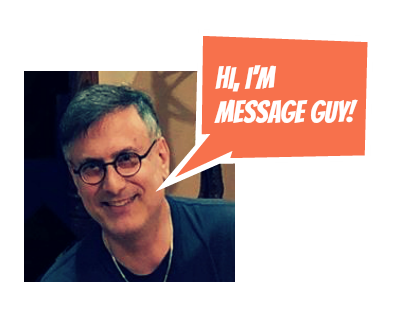 Kevin, the "Message Guy" who writes the birthday wishes, quotes, poems, toasts and speeches on BirthdayMessages.net, has been a content writer since 1993. He created this site in 2012 to share the power of words with you on one of the best days of the year — the birthday of a loved one.

Can't Find
What You Need?
By Kevin (aka "Message Guy")
Copyright © 2013-2020
BirthdayMessages.net.
All rights reserved.
All trademarks and service marks
are the property of their
respective owners.
The copyrights of all birthday
messages on this website
belong to the individual authors.
Site 
Powered By
Solo Build It (SBI)
Build Your Own Website