Sentimental Birthday Wishes
---
The best sentimental birthday wishes don't just tug at your heartstrings. They also take you back to a simpler time, a special moment, a long-forgotten place all your own, like a song you haven't heard in years...and like the heartwarming birthday messages in this section.
What you need to do, if you've chosen to go the sentimental route, is decide how sentimental you want to be with your sentimental birthday messages. This, of course, depends on the sentimentality of the birthday girl or boy, something you should carefully consider.
In this section, you'll find four pages of sentimental birthday greetings to choose from, giving you the choice you need to pick the perfect one for your loved one. 
Message Guy Tip #54:
How to select sentimental birthday wishes...
Even though sentimental birthday messages can be a wonderful way to tell your loved ones how much you love them, they're not sure-fire winners (or safe bets) for everybody. My experience has shown me that they can be a hit or a miss as a message.
So how will you know you've got a hit or miss on your hands? You won't know because...
Read more ►
| | | |
| --- | --- | --- |
| Happy birthday! You're growing up so fast. I can remember a time when you only came up to my knees and could barely stand on your own. Now you stand so tall...head and shoulders above me. | Happy birthday! You've always been so special to us, ever since you learned to run before you could walk. | Happy birthday, my son. There was a time I could hold you in my arms. Now you tower over me and could hold me in your arms. Time and kids can indeed turn everything upside down. |
| | | |
| --- | --- | --- |
| Happy birthday, our precious princess! From the moment you came into our lives, you stole our hearts. Now that you're a woman, you make our hearts proud!  | Happy birthday! On this special occasion, I pray you have a day to remember and an eternity to remember it. | Happy birthday to my favorite teen. With your childhood behind you, it's time to put your childish things away and never look back — only forward!  |
| | | |
| --- | --- | --- |
| Happy birthday! May your special day bring you enough joy, love and wonder to last you every day until your next birthday. You deserve every second. | Birthdays are a time of celebration. Your birthday is a time to celebrate you, the biggest celebration of the year. Happy birthday!  | Happy birthday. Everything that matters in my life matters because of you. |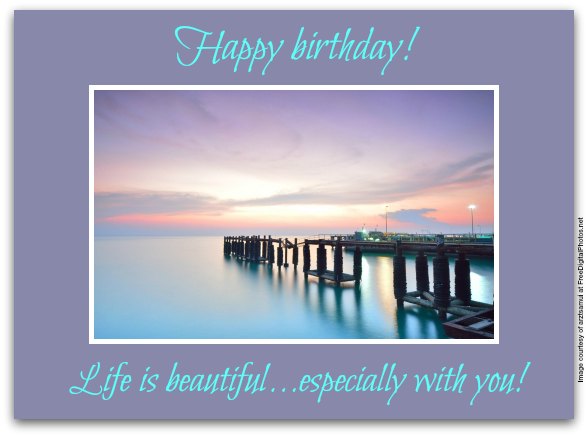 | | | |
| --- | --- | --- |
| Hoping all your dreams come true and, when they do, I hope that they're positively dreamy ...just like you! | May your birthday be full of smiling faces, endless giggles, happy thoughts, gifts of love and wishes that magically come true.  | May your special day bring you everything that's special about life — and may you have the joy, health and peace to savor every special moment of it...on your birthday and ever after. |
Top of Sentimental Birthday Wishes
Can't decide on a wish?
Below are more sentimental birthday wishes...
| | | |
| --- | --- | --- |
| Wishing you a lifetime of love that melts your heart, adventures that feed your soul and beauty that's more than skin deep, starting with your birthday.  | Every moment is a beautiful memory in the making that can last a lifetime. May your lifetime be all about making beautiful memories, beginning with this birthday! | May you live a captivating life that just gets more captivating every day...starting on your birthday, the day you first captivated the world around you! |
Message Guy Pick
I love all the birthday wishes on this page, so it was hard to choose one that really stands out, but I think the one below is a real keeper. Why?
Read more ►
| | | |
| --- | --- | --- |
| | Happy birthday to a real treasure. The older you get, the more priceless you get to family and friends who know a precious jewel when they see one. | |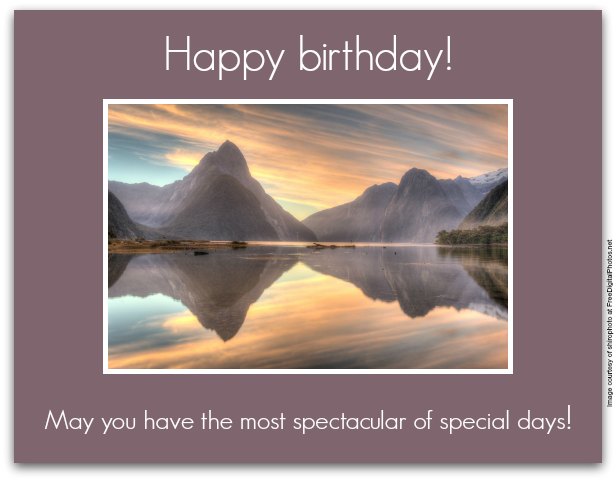 | | | |
| --- | --- | --- |
| Happy birthday! The best years of your life are just around the corner. To get there sooner rather than later, do what you've done since you were a kid — bust out your sneaks and make a run for it. | Everything I know that's good in my life I learned from watching you. You've always shown me right from wrong more times than I can ever count — through breakups, breakdowns, breakthroughs, even breakouts. May your special day break every birthday record.  | Happy birthday! We're all just tall kids but you stand taller than any kid at heart I know. |
---
Message Guy
Creator of this site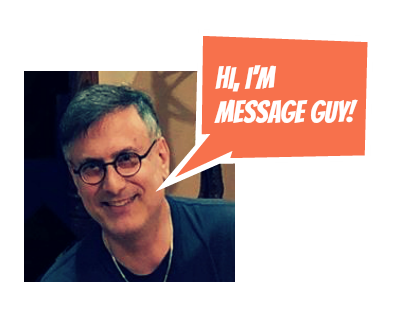 Kevin, the "Message Guy" who writes the birthday wishes, quotes, poems, toasts and speeches for this site, has been a professional writer, editor and translator for more than 25 years. He decided to create BirthdayMessages.net in 2012 to share his passion for famous quotes on the best day of the year — your birthday.

CLICK HERE TO LEARN MORE ABOUT KEVIN (AKA MESSAGE GUY) 
Can't Find
What You Need?
By Kevin (aka "Message Guy")
Copyright © 2013-2020
BirthdayMessages.net.
All rights reserved.
All trademarks and service marks
are the property of their
respective owners.
The copyrights of all birthday
messages on this website
belong to the individual authors.
Site 
Powered By
Solo Build It (SBI)