Sister Birthday Wishes

---
With sister birthday wishes, you sometimes need to see more options to pick the best one. My solution? Another page of great birthday messages for sisters to choose from.
And it also doesn't hurt to have some tips for choosing the right sister birthday messages along the way. If you need some help making your choice, just click here for my helpful hints.
| | | |
| --- | --- | --- |
| If everyone had a sister like you, the world would be a much better place! Wishing you a very happy and sweet birthday!  | Happy birthday to my favorite sister (and my only sister). | Yes, we are sisters by chance but we're also friends by choice and super cool by association. Happy birthday, sis! |

Quick Links
| | |
| --- | --- |
| Happy birthday, sis! When you were born, you were just a big nuisance, always following me around the house. Now that we're older, I love when we spend time together. You can follow me anytime. | You may not be Mom and Dad's favorite — since, as you well know, I'm their favorite. But you're my favorite person in the world. Happy birthday, sis. |
See everyone's favorite birthday messages
| | | |
| --- | --- | --- |
| Thank you for standing by me my whole life. Thank you for the guidance and inspiration. Thank you for helping me overcome every hurdle in my way. You're the best! Wishing you the very best birthday! | I have so much to be thankful for, especially you, sis. Thank you for supporting me through my rough patches and cheering me on through good times.  | Friends may come and go, but not you, sis. You'll be my friend for life. I love you. Happy birthday! |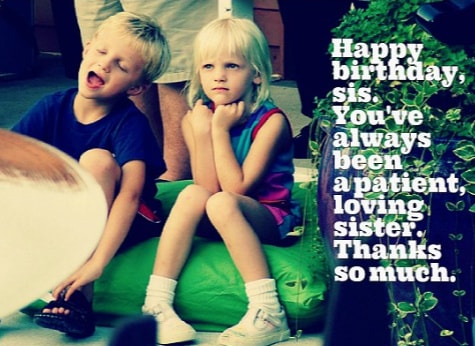 Message Guy Pick
Your sister will thank you for the wish below. The reason? Read more ►
| | | |
| --- | --- | --- |
| | Okay, you've had to listen to me go on and on for what must seem like forever to you. But I have one more thing to say, and I don't care if you want to hear it or not. I love you. I'm so glad you came along for the ride we call life. Happy birthday to the most patient, loving sister anyone can ever have! | |
Top of Sister Birthday Wishes
| | | |
| --- | --- | --- |
| When I say I'm so grateful to have you as a sister, it's not because of the things you do for me. It's because you're you. Happy birthday, sis! | Everything important that I've learned, I have learned from you. Happy birthday, sis! | There are so many things that are great about having a sister. The best, though, is that you're a huge chunk of my childhood that will never be eaten away. Happy birthday to my wonderful sister. |
| | | |
| --- | --- | --- |
| When Mom and Dad first brought you home, little sis, I was jealous of you. Over time, I've grown to love and like you as my best friend. Happy birthday! | You're an amazing gift from the stork, little sis.  I think I'll ask Mom and Dad to keep you. Happy birthday! | From all the souls floating around in heaven, I'm so glad that you turned out to be my sister. Happy birthday, sis! |
| | | |
| --- | --- | --- |
| I can only offer the most special sister birthday wishes to an incredibly wonderful sis and an extraordinary friend. Happy birthday! | Happy birthday, sis! Have a special day, a special year and, because you've always been so special, a special life! | Yes, it's true we're family. But we also share a lifetime friendship that has remained strong for years and years. I love you, sis. Have a lovely birthday full of happiness and joy! |
---
<<Previous    1    2    3    4    Next>>
---
Message Guy
Creator of this site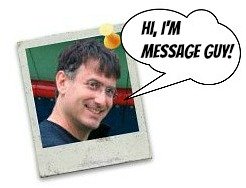 Meet the veteran writer behind every birthday message here
---
Free Extras!
For Greetingville Subscribers Only
Subscribe to my newsletter for free extras from
exclusive birthday videos to birthday discounts!

---
Check out these
popular pages
New!
Can't find what you need?
---
Like this page?


Like this site to help me get the message out