Sister Birthday Wishes
---
Getting sister birthday wishes just right is not the easiest thing to do, even if you and your sister are the best of friends. 
Picking the ideal birthday messages for your sister is even harder if the two of you can never get along with each other.
With my birthday messages for sisters, it's very easy…and fast to find and send the perfect verse, no matter what type of relationship you have with her!

Message Guy Tip #19:


How to choose sister birthday wishes...
A sister, despite the squabbles, blowups and shouting matches you may have with her, will be your ally for life.
Whether she's your older or younger sister, she may, sooner or later, turn into one of your best friends, best advocates, best teachers, best students and best therapists.
What should you choose as a birthday message for such a wonderful person? Your choice should be based on the most important factor of all. You have to…
Read more ►
Sister birthday wishes as sweet as your sis
| | | |
| --- | --- | --- |
| Sister, you're everything to me. I'm so lucky to have you in my life! Happy birthday. | You're the best sister anybody could wish for. I'm glad I have you for real. Happy birthday. | You'll always be the loveliest sister in the world. Hope you have a fantastic birthday. |

Quick Links
| | | |
| --- | --- | --- |
| I may not speak to you every day but you're always in my heart and soul. Happy birthday, dearest sister. | Sister, you're the best friend a girl could ever have. I'm so glad you're mine. Have the happiest of birthdays. | It's great to have an amazing sister — and even more amazing friend — like you. Have a great birthday! |
| | | |
| --- | --- | --- |
| Each and every day, I find so many reasons to be glad — no, ecstatic — you're my sister. I love everything about you. Happy birthday, sis! | Happy birthday to the best, finest, greatest, coolest, grooviest and bodacious sister ever born...anywhere in this whole wide world | Sis, you have a bigger heart than anyone I know. It's so big that you love me no matter what, despite my all-too-frequent not-so-nice side and few-and-far-between nice side. I love you for that. Happy birthday! |
| | | |
| --- | --- | --- |
| Despite our arguments and our differences, you are still the most important person in my life. Happy birthday, sis!  | Sis, I love you more than you can ever imagine. In fact, take how much you think I love you, double this amount and multiply by 1,000. On your birthday, multiply this amount by 1,000,000. Happy (to the power of 10) birthday! | Every day, I just pinch myself…because I'm so lucky to have the nicest, happiest, smartest, funniest and most supportive sister as my best friend. |
See everyone's favorite birthday messages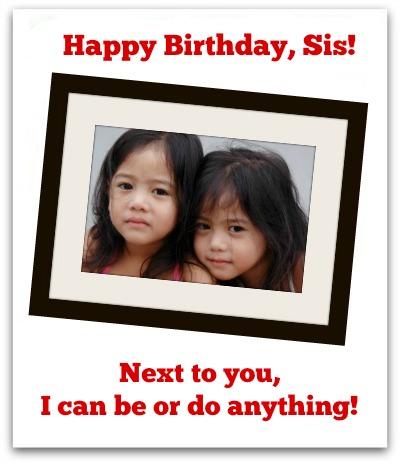 Message Guy Pick
Below is one of my top picks because it turns a famous saying upside down.
Read more ►
| | | |
| --- | --- | --- |
| | Sure, you can pick your friends but not your family. But, Sis, I would have picked you as my sister and my friend. You're the best sister and friend anyone can ever have. I love you. Happy birthday! | |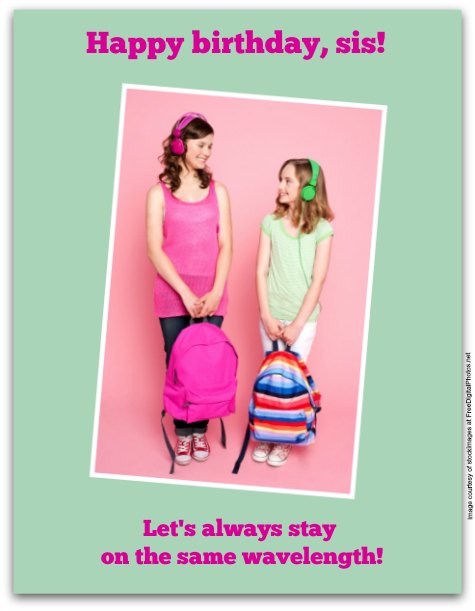 | | | |
| --- | --- | --- |
| It's so wonderful to know that you're not only my sister (and a great one at that) but also my best friend in good and bad times…when I really you. I got your back, too. Have an incredible birthday!  | Even though we argue with each other, yell at each other and irritate each other, I consider you my BFF through thick and thin. I love you, sis! You're the greatest! Happy birthday! | A better sister I could never find. Really. Happy birthday, sis! |
Top of Sister Birthday Wishes
Even more sister birthday wishes...
| | | |
| --- | --- | --- |
| | Sisters are supposed to be bossy, vain and that other word for witchy. But you're none of those things. You're just, well, amazing! Happy birthday, sis! | |
Sis, I thought I would never have to say, let alone put in writing for all to see, these words...You're amazing. Have a birthday as amazing as you!

P.S. If you ever show this message to anyone, I'll deny it!


Definition of a sister: A person who knows you inside and out and still thinks the world of you. Yep, that sounds like you. Thank goodness you're my sister. Happy birthday, sis!


I think somebody's ready to celebrate her birthday in a big way! I think that person is you, sis! Let's party like there's no tomorrow, since today is your special day. Happy birthday to the coolest sister alive!

| | | |
| --- | --- | --- |
| A sister like you is the reason my childhood was so full of happy memories and so much fun. Thank you for all these great memories. Thank you for all the fun moments. Happy birthday, sis! | Let's celebrate your special day by promising each other that we'll always look out for one another, no matter what. Happy birthday, sis! | It's so easy for me to wish you a lifetime of joy, wonder and prosperity. It's easy because I only want the best for you...on your birthday and every day! |
Message Guy Tip #9:


Wishes for a sister you love (but don't like)
What kind of sister birthday wishes
should you give a sister you love
but don't like? Yes, you still have to
wish "Happy Birthday" to her. Here's how...
Read more ►
---
---
Message Guy
Creator of this site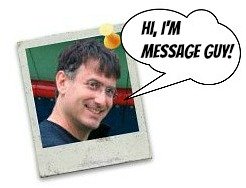 Meet the veteran writer behind every birthday message here
---
Free Extras!
For Greetingville Subscribers Only
Subscribe to my newsletter for free extras from
exclusive birthday videos to birthday discounts!

---
Check out these
popular pages
New!
Can't find what you need?
---
Like this page?


Like this site to help me get the message out