Son Birthday Wishes
---
Son birthday wishes, at their very best, can be as beautiful and unique as your son. With my original birthday messages for sons, you can find just the right (one-of-a-kind) verse for your child on his special day. 
Just pick the birthday greeting that helps you best express the love, pride and dreams you have for your beautiful boy. Simply let the words below take you where they will. Need some help along the way? Check out my Message Guy Tip below.
Message Guy Tip #46:
How to select son birthday wishes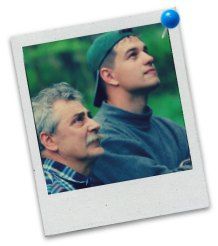 Sons are the perfect blend of wonder, warmth, joy and love. But figuring out what to write for them is hard. The young ones care more about their gifts. The older ones dislike "mushy" messages. You could write almost anything for adult sons.

The best route? A mix of cute and happy...with a touch of the sentimental (and a sprinkle of pride).
For a good idea of what your son may want to hear from you in a birthday message, check out the two articles below (both are short and give concrete advice):
The son birthday wishes on this page (and the next page) incorporate the messages from these article, but feel free to add your own.
Simply start with an option below that best captures your feelings...and go from there.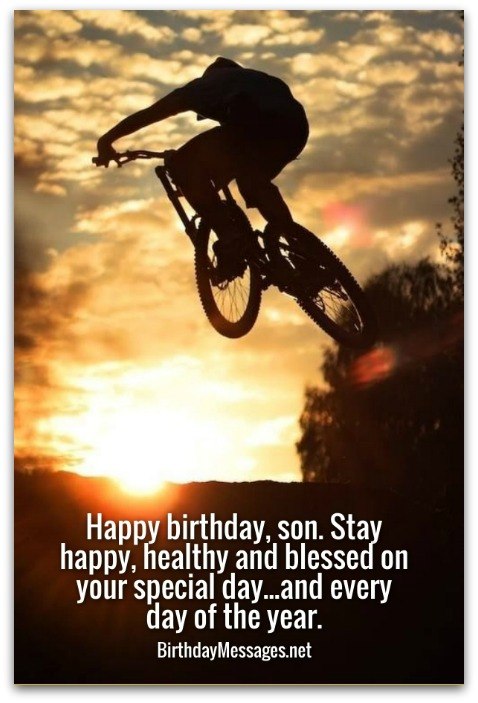 | | | |
| --- | --- | --- |
| Son, we think the world of you and love you very much. We hope you have the happiest birthday and an even happier, healthy future. | Son, no matter how old you get, you'll always be our little prince. Hope you have a truly wonderful birthday. | Thank you for letting us be the best parents we can be, just by being yourself — a wonderful, wonderful boy. |
| | | |
| --- | --- | --- |
| We're so fortunate to have a fantastic son like you. You've always been a beacon of light for us. Happy birthday, son! | Happy birthday, son. Stay happy, healthy and blessed on your special day...and every day of the year. | You're a one-in-a-billion miracle to us. You have blessed our lives with your funny, kind and caring ways. Happy birthday! |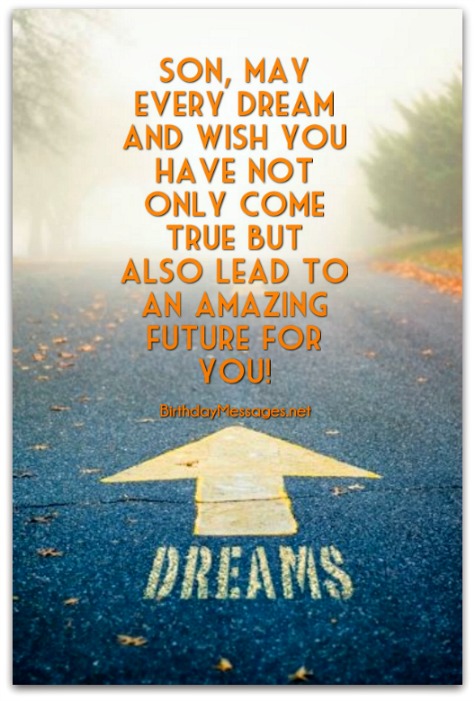 | | | |
| --- | --- | --- |
| Every day, we thank our lucky stars that you came into our world. You are the sweetest boy ever. Happy birthday, son! | Son, may every dream and wish you have not only come true but also lead to an amazing future for you! | Son, may you have an incredible birthday. Even if it's only half as wonderful as you, it will still be the biggest birthday celebration of the year. Happy birthday. |
| | | |
| --- | --- | --- |
| Son, you're our greatest blessing. May your birthday and all your tomorrows be blessed with everything good in life! | Loving you, son, is our greatest joy. You make it so easy. Happy birthday, dear boy!  | We've always been proud of you. Now more than ever, our hearts are bursting with pride, because you've grown into a remarkable person — so full of love, caring and joy. Happy birthday, dear, dear boy! |
| | | |
| --- | --- | --- |
| Son, you are a shining example of everything that's right in this world. May your future be as bright, starting with your special day. Happy birthday! | Words are simply not enough to express how amazing I feel to have you as my son. I love you. You make my life complete. Happy birthday, son! | Need help? We'll be there. Celebrating? We'll be there. Just want to talk? Count on us to be there. It's not because we have lots of time — we have lots for you. Happy birthday, son! |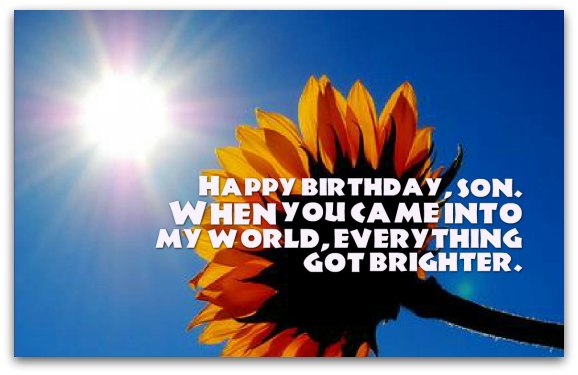 Message Guy Pick
The son birthday wish below strikes a certain chord...for both sons and parents.
Read more ►
| | | |
| --- | --- | --- |
| | Yesterday's echoes bring back sweet memories of you. Tomorrow holds the promise of sweeter moments. May today, your birthday, be sweetened with the joy and wonder you bring everyone. | |
Top of Son Birthday Wishes
| | | |
| --- | --- | --- |
| If I look at everything in my life, you're easily the best part of it. Through thick and thin, you've been an extraordinary son and a wonderful man. Happy birthday, son! | Every single day since you were born, you've added something amazing to my life. I can't imagine my life without you in it. Happy birthday, my beloved son!  | Wisdom is not a gift we can give you, son. It's something you must earn — and you've become so wise over the years. Happy birthday, our wise, kind man! |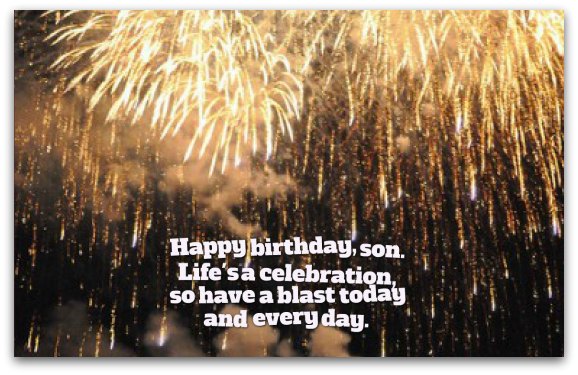 Continue with your search!
You'll find more son birthday wishes below...
| | | |
| --- | --- | --- |
| A big "happy birthday" to an amazing son and an even more amazing man. | We're so lucky to have such a great son like you. Happy birthday, kiddo! | You have been much more than a source of pride and joy for us — you've been a source of infinite inspiration. Happy birthday, son! |
| | | |
| --- | --- | --- |
| Happy birthday to the world's greatest, kindest and still-my-little-boy-at-heart son. | No matter how many of your birthdays come and go, you will always be my little slugger. Happy birthday!  | When we think of you, we can't help but feel immense pride, joy and, most of all, love. Happy birthday, dear boy! |
Message Guy Tip #12:


Son birthday wishes for sons with a low tolerance for sentimental messages

(including lots of examples) 
Sometimes, you just need short, not-as-sweet
son birthday wishes for sons who don't
like mushy birthday messages! That's
what we have right here... Read more ►
---
Message Guy
Creator of this site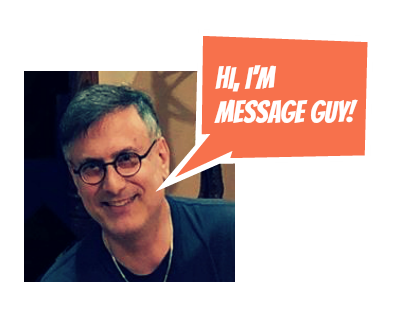 Kevin, the "Message Guy" who writes the birthday wishes, quotes, poems, toasts and speeches on BirthdayMessages.net, has been a content writer since 1993. He created this site in 2012 to share the power of words with you on one of the best days of the year — the birthday of a loved one.

Can't Find
What You Need?
By  Kevin (aka "Message Guy")
Copyright © 2013-2020
BirthdayMessages.net.
All rights reserved.
All trademarks and service marks
are the property of their
respective owners.
The copyrights of all birthday
messages on this website
belong to the individual authors.
Site 
Powered By
Solo Build It (SBI)
Build Your Own Website