50th Birthday Wishes
---
Home > Birthday Wishes > 50th Birthday Wishes

Quick Links
Your 50th birthday wishes should be as amazing as this milestone birthday.
50 is too big a birthday to play down with an ordinary card, eCard or text. Don't worry, I got you covered.

On this page, you have a wide choice of greetings for your loved ones — all awesome, all nifty-fifty, all original, all writer-approved and all mistake-free. 

In other words, right below are perfect birthday verses worthy of your favorite 50 year old! If you need some assistance with finding the ideal 50th birthday greetings, be sure to check out Message Guy Tip #37 right below — before you start your search. 
Message Guy Tip #37:


How to choose 50th birthday wishes
50 is one of the milestone birthdays we celebrate big. Figuring out what message to send can be difficult. Should it be something philosophical? Inspirational? Funny? It depends a little bit on what you want to say. Mostly, though, it depends on the personality of the birthday boy or girl.
Go the funny route with people who can laugh at themselves. Take the serious path with those who can't. Whatever you choose to do, have fun.
| | | |
| --- | --- | --- |
| Wishing you the very happiest of returns on your 50th birthday! | Happy birthday to someone who's niftier at 50 than any person has the right to be. | Happy birthday to someone who's more fabulous at 50 than ever. |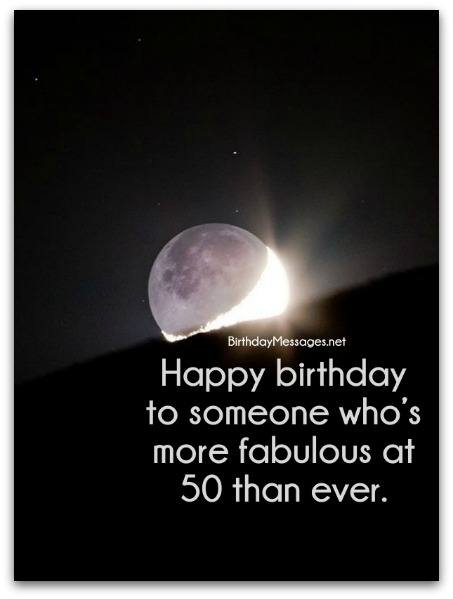 | | | |
| --- | --- | --- |
| Happy birthday to someone who's 50 in body and ageless in mind. | When you turn the absolutely fab 5-0, it's time to just go with the flow (if you still can). Happy birthday! | Happy birthday! May the next 50 years of your life be as fabulous as the first 50. |
| | | |
| --- | --- | --- |
| You're not only nifty at 50 — you're a spiffy, gritty, thrifty, lofty and, when no one's around, frisky 50 year old. Happy 50th birthday! | Happy 50th birthday just doesn't say enough. "Happy 50th-half century-my back aches-I'm just starting to enjoy life-you look so good-I wish I was you-birthday" is more like it.  | At 50, you can still do what any 20 year old can do:  fall in love, dance all night, play every sport, eat and drink like a king and that f-word we all know but hardly ever say in public (you know, fart). Happy 50th birthday! |
| | | |
| --- | --- | --- |
| At 50, you're not old. You're worn-out, impatient, jaded, set in your ways and weathered... but you're not old. Happy 50th birthday! | Time is even more of the essence when you turn 50. Make every minute count. Spend every waking moment chasing after your dreams—you know, the kind you have when you nap. | Everything good comes to those who turn 50. Good food. Good wine. Good friends. Good love. Happy 50th birthday! |
Message Guy Pick
This is one of my top picks because it takes advantage of something I love... Read more ►
| | | |
| --- | --- | --- |
| | Hey, you're 50, so it's time to start tooting your own horn! Just because you're a half century old doesn't mean you can't have a little sax in your life! Happy 50th birthday! | |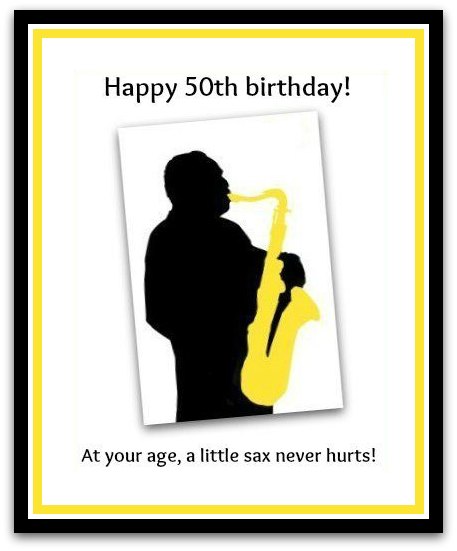 | | | |
| --- | --- | --- |
| When you blow out the 50 candles on your birthday cake, take a deep breath, stay calm and keep your toupee on. Happy 50th birthday! | Remember, you're a half century old today, not a century. You may sometimes feel like 100 but you're 50 and more fabulous than ever. Happy 50th birthday! | You may be 50 years of age but you're still younger at heart than many people younger in calendar years. May you stay forever young the next 50 years. Happy birthday! |
>
Top of 50th Birthday Wishes

Amazon Birthday Central
One stop for 50th birthday gifts, cards, party supplies & deals
I've put all the Amazon links you'll ever need in one place — right below — so you don't have to spend hours online searching for the perfect gifts, cards or party supplies. Choosing something great for a 50-year-old birthday boy or girl has never been so easy.
PLUS:
| | | |
| --- | --- | --- |
| You're finally 50, a half century old. Play it up. Bask in your awesomeness, your achievements, your beauty, your uniqueness. It's your moment in the sun. Happy 50th birthday! | It's easy to drink from the fountain of youth when you're young. It's hard when you're 50 but that doesn't mean you shouldn't take a sip every once and awhile. Drink up! Have an amazing 50th birthday! | Happy 50th birthday! A half century has come and gone…and you're still around! That's already quite a legacy. The next half century, may you be a legend in your own time — or at least in your own backyard. |
Message Guy Tip #7:


How to personalize the birthday wishes here 

for your husband or wife
Personalizing the 50th birthday wishes (right above) for your husband or wife is easier than you think! Want to know how?
Read more ►
---
---
---
Message Guy
Creator of this site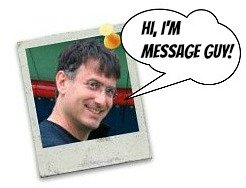 Meet the veteran writer
behind every message 
---
Click here to easily
create your own site
(and work for yourself)
---
Share a birthday message
Share a smile today
---
Check out these popular pages
---
Help me get the message out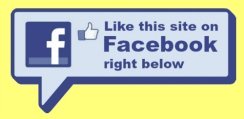 A big THANK YOU to all my Facebook fans!
Follow
BirthdayMessages.net


on Facebook
---

By Kevin - Message Guy 
Copyright © 2013-2016
BirthdayMessages.net.
All rights reserved.
All trademarks and service marks
are the property of their
respective owners.
The copyrights of all poems
on this website
belong to the individual authors.