Inspirational Birthday Wishes & Quotes
---
The right inspirational birthday wishes and birthday quotes can inspire loved ones to make positive life changes.
The best make the birthday boy or girl feel truly special, containing an uplifting, heartwarming birthday message with the promise of a brighter future.
With the examples of inspirational birthday greetings below, write just the right birthday message for your loved ones.



Inspirational Birthday Wishes
| | | |
| --- | --- | --- |
| I know you are young now but I can already tell that you will one day be a superstar at whatever you do. Happy birthday! | When I think of the world's most amazing teenager, I think of you. May every dream you have spread its wings and fly high! Happy birthday! | You're this age only once, so make the best of it. Live your life like nobody's watching. Start today! Happy birthday! |
| | | |
| --- | --- | --- |
| Today could be the start of something special! Enjoy every second of your birthday! Then, carry that joy in your pocket like spare change (so it will be there when you need it)! | May life take you on a journey you never imagined, bringing you to a destination that stirs your soul, gives you peace of mind and surrounds you with love! Happy birthday! | You're a total original! Never a follower. Always a leader. You are an amazing trailblazer! Don't you ever forget it! Happy birthday! |
| | | |
| --- | --- | --- |
| Happy birthday! Don't think about the road traveled. Look forward to the byways and highways ahead. The best part of your journey is yet to come. Enjoy the ride and, every once and awhile, stop to enjoy the view. | If you truly believe in yourself, everybody will believe in you too. I believe you have what it takes to succeed at anything. Happy birthday!  | Happy birthday! Let everybody else struggle with life's baby steps, You're a giant, so I know you have it in you to make great strides. |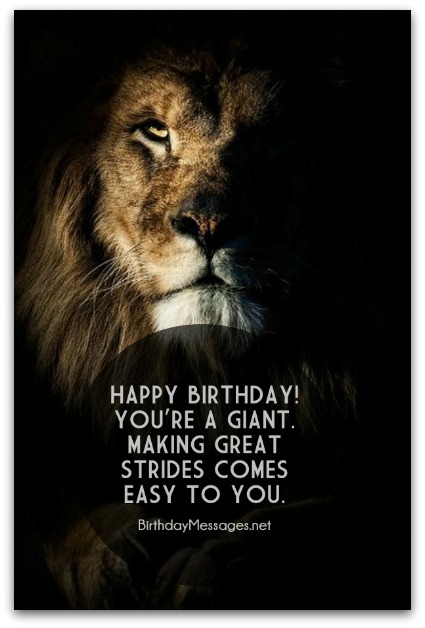 | | | |
| --- | --- | --- |
| When your mind, heart and eyes are wide open, your dreams will come true. I know you have enough of a beautiful mind, kind heart and sharp eye to find your way to your bliss. Happy birthday! | Some people have a special light in them that illuminates this world. When in doubt or despair, read this message and know that I think you're one of the special few who shines bright. Happy birthday! | Happy birthday! You have a brave heart. You have the courage to be who you are. Take flight! Birthdays are made for flights of fancy! |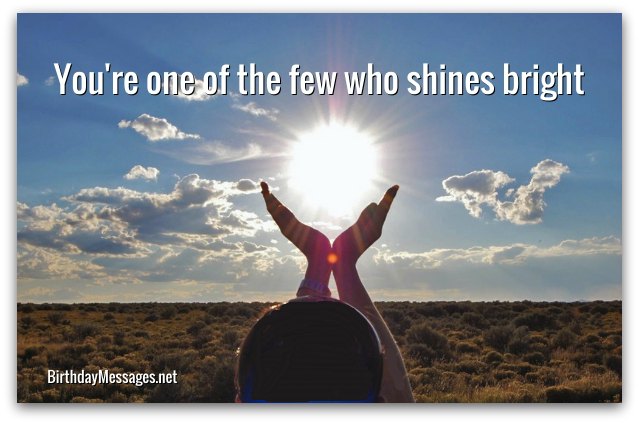 | | | |
| --- | --- | --- |
| Throw away the sails on your birthday and let the winds of change take you into the unknown. Life is more of an adventure when you venture out of your comfort zone. Happy birthday! | Stay brave, positive and upbeat every day — and let your dreams and wisdom be your guide! Happy birthday! | A wonderful life awaits you. A life full of joy, love and prosperity. You have so much potential and truly deserve life's best (even if you don't think so). Happy birthday! |
| | | |
| --- | --- | --- |
| On your birthday, may you have the wind in your sails to stand up to life's toughest storms and coast through every beautiful, sunny day. Happy birthday! | At your age, you begin to learn so much about true love and real joy. Rest assured you will have the time of your life discovering both of them. Happy birthday! | Hoping you grow up to be a wise person. You're already a fabulous person. Stay as amazing as you are and keep making the world a better place. Happy birthday! |
| | | |
| --- | --- | --- |
| May all your dreams take flight when you're ready to fly! This birthday could be the beginning of this journey! I hope so! | You've seen, heard and done so much for someone your age. Wishing you more of everything that fulfills you and gives you purpose. Carry on! Happy birthday! | Every passing year brings new experiences and renewed hope for tomorrow. May you have an eternity of both. Happy birthday!  |
| | | |
| --- | --- | --- |
| You have been an inspiring role model your entire life. Your legacy of inspiration will enrich our lives and those of every new generation in our family. Happy birthday! | You are truly unique and deserve the respect that comes with accomplishing so much with so little, except for your brains, brawn and bravery. Happy birthday, sweet prince! | You're not special — you're the most special person I know! You have achieved more in your short life than most people accomplish in a lifetime. Happy birthday! |
| | | |
| --- | --- | --- |
| When you come right down to it, there are really two ways to go through life. You can either laugh or cry. You've always laughed, making me laugh. That's what makes you special. Happy birthday! | You are an endless source of inspiration for the people in your life who know and love you. Happy birthday to the brightest light in all our lives! | Happy birthday! You are truly the light in my life. You make me shine my very brightest, even during my darkest times.  |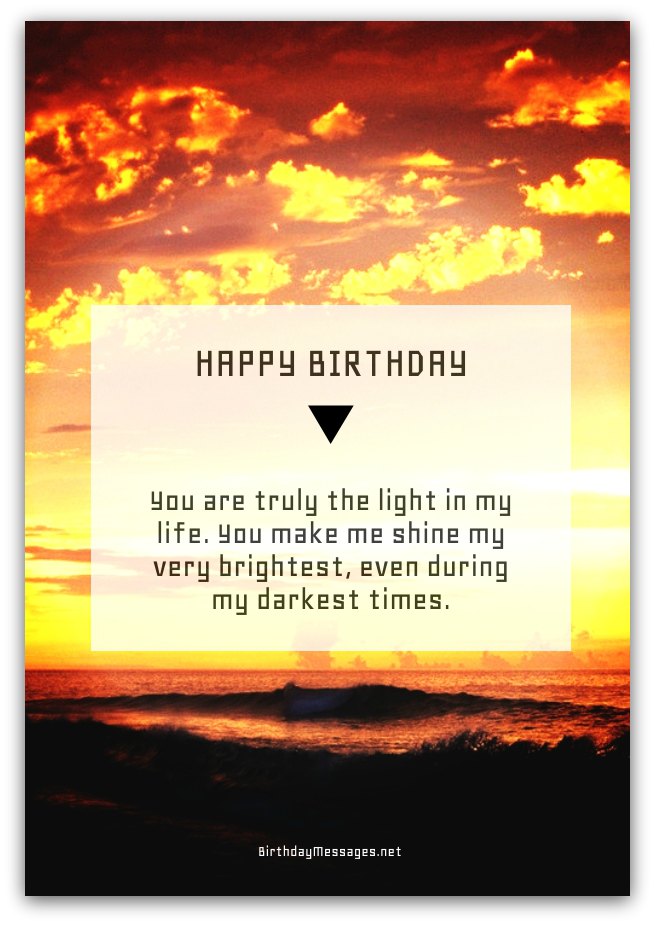 | | | |
| --- | --- | --- |
| Tomorrow can bring untold joy, love and peace of mind. Whatever your troubles, sleep on it! Happy birthday! Here's to tomorrow! | May every year of your life bring you new friends, greater wisdom, renewed hope and just enough light to stir your soul, tame your demons and fan the flames of love. You deserve it! Happy birthday! | You are a light in everybody's life. If I'm even half as inspirational as you at your age, I could very well be the next Oprah. Happy birthday! |
| | | |
| --- | --- | --- |
| You're an incredibly consistent role model and a relentlessly compassionate life coach. I can't thank you enough! Thank you! Thank you! Thank you! | You always encourage me. Whether it's a few simple words, a big bear hug or a hand on my shoulder, you've made me move mountains in my life. Happy birthday! | In life, you never know what the next day will bring. But you've always been there for me. I can count on you. Happy birthday!  |
| | | |
| --- | --- | --- |
| Whenever I've faced life's obstacles, you've seen me through them. Whenever I've been disappointed by the world's ugliness, you've encouraged me to see its beauty. Whenever I've had my back against the wall, you've had my back. Thank you and happy birthday! | When I fall, you pick me up. You make stand tall. If I've achieved anything in life and the corporate world, it's due to you and the examples you've set for me. You are my role model. Happy birthday! | You may think your age is a giant number, but you have it all wrong — you've always been a giant in the lives of your loved ones! May you have a birthday as awesome as you are! |
| | | |
| --- | --- | --- |
| I am glad that the world has been blessed by an amazing person like you for so many years! You make every day brighter with your love and warmth! Happy birthday. | Money can't buy you love. It also can't buy you the type of inspiration I get from someone as amazing as you. You are my mentor in life. I'm so grateful that I have you in my life. Happy birthday! | Keep your beautiful smile, your love of life and your relentless optimism. You light up every moment I'm by your side. Happy birthday! |
| | | |
| --- | --- | --- |
| If you are born with a talent, you were meant to use it in some way. This birthday, may you discover many more secret talents in yourself. Happy birthday! | Every birthday, decide to live wholeheartedly, as if it were your last birthday ever. Every birthday, learn more wholeheartedly, as if you never knew anything before. Happy birthday! | As you get older, have more dreams than memories, more opportunities than chances, more hard work than luck and more friends than acquaintances. May you have the very best in life. Happy birthday! |
| | | |
| --- | --- | --- |
| Happy birthday to someone who defines the word "bravery": even in your saddest moments, you rise up, brush off your heart and walk into the light, looking for your Holy Grail.  | Happy birthday to someone who utterly rejects the idea of getting older. You definitely look and act the part well! | You make everything better. You just have a knack of making me feel amazing. That's a remarkable gift. I hope I do the same for you. Happy birthday! |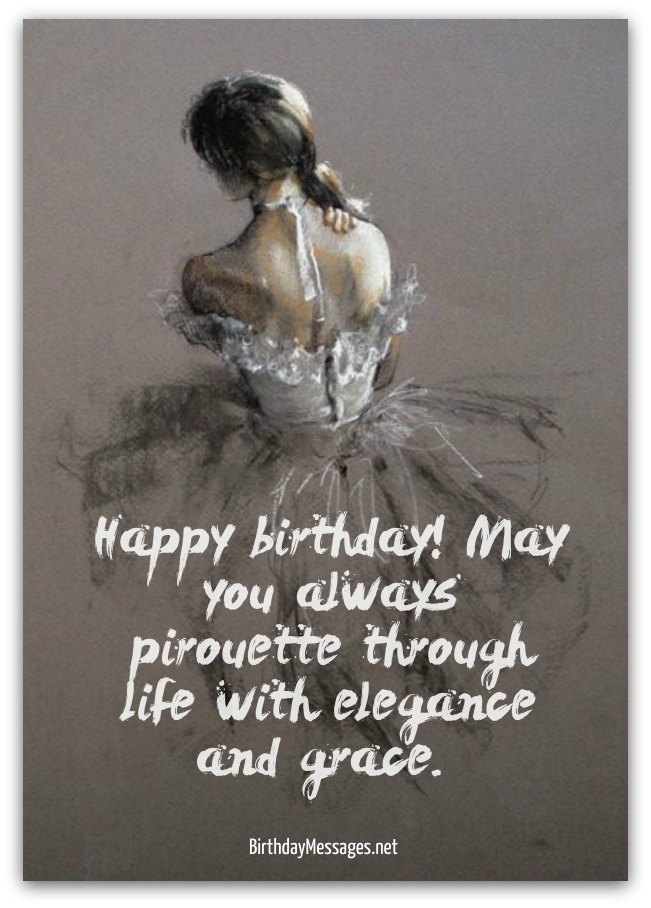 | | | |
| --- | --- | --- |
| Do you want to look back in life and think about what a great life you've had? Always look ahead to the next adventure! Happy birthday! | May each birthday you celebrate bestow upon you great things: like the confidence to chase after your dreams and the wisdom to chase after the right ones...starting with this birthday! | When you look back at your life, like what you see? Don't worry — you have many tomorrows to walk away from the past, reinvent yourself and start rebuilding for the future. I know you can. Happy birthday! |
| | | |
| --- | --- | --- |
| On your birthday, we're here to tell you that we will always back you in everything you do. Happy birthday! | You should have the wings of an angel. You've certainly earned them from all the lives you've touched and continue to touch in your special way. Hoping your birthday is truly your special day. | As you travel through life, may you always have love, joy and success...and may you never look back with anger or regret. Happy birthday! |
| | | |
| --- | --- | --- |
| Counting your blessings and loved ones is a joy that very few have on their birthdays. May you always have happiness in your life. Happy birthday! | On your birthday, I wish you a year full of success and joy. With faith, courage and dedication, no dream is too big. Happy birthday. | Your birthday today is special because it marks your amazing journey you since birth and the beginning of many more new adventures and discoveries. happy birthday.  |
| | | |
| --- | --- | --- |
| If you think you've lived life fully until now, you know nothing. The best years of your life are yet to come. Live it up! Happy birthday! | Have you made many wishes? May all your wishes come true on your birthday and take off ever after. Happy birthday! | Your birthday is the perfect opportunity to take a break, look at everything around you, feel alive with all your heart and promise yourself to do great things. Happy birthday! |
| | | |
| --- | --- | --- |
| Keep up your efforts, tune out the noise and you will certainly get what you desire, starting with a very happy-go-lucky birthday. | Today, your birthday, is only one of many, many major milestones you will celebrate in your life. Happy birthday. Let the next celebration begin! | Happiness belongs to dreamers like you who never consider the impossibilities of their dreams. Happy birthday. |
| | | |
| --- | --- | --- |
| You're a beautiful person in every sense of the word. I'm blessed to know you. Happy birthday. | Happy birthday! Don't think about your age. Think about the many milestones you've celebrated in your life…and how much more await you, beginning just around the corner.  | Happy birthday! May you always pirouette through life with elegance and grace. |
| | | |
| --- | --- | --- |
| Happy birthday to a real role model. Tremendous achievements demand tremendous dedication. We know you've got that stick-to-itiveness to move mountains, even the most tremendous! | I've inherited what's good in the world from you. Joy. Love. Kindness. Patience. You still have so much more to give. Happy birthday! | Happy birthday! This is the perfect time to thank you for your immense compassion, love, determination and faith. If I ever amount to anything one day, it's due to you! You're my hero. |
| | | |
| --- | --- | --- |
| The candles on your birthday cake will never be brighter than the beautiful, loving light you shine on the world. Happy birthday! | You've taught me many lessons, but the most important of all is the power of love. It truly conquers everything and deprives no one. Wishing you a birthday as full as my heart is for you. | Your future is so bright that it may be blinding you to all the amazing possibilities before your eyes! You birthday is as good a time as any to start wearing sunglasses. |
| | | |
| --- | --- | --- |
| Like a vintage sports car, you only get more valuable with time. This year, you're beyond priceless to me — you're irreplaceable and have never been more irresistible. Happy birthday! | Knowing you, your scrapbook of life must be overflowing with unforgettable and remarkable moments. May you add many more for years and years. Happy birthday! | You have a special way of brightening everybody's life with your "joie de vivre." Wishing you a birthday as blissful as your outlook on life! |
| | | |
| --- | --- | --- |
| You stand out in the crowd — and always will — for the simple reason that the radiant light you bring to our little world and the world around us can be seen for miles and miles. Happy birthday, beautiful soul! | Every candle on your cake is a glowing reminder of the light you bring into everyone's lives each year. May your birthday reflect the light you give off every day! | You're what my father used to call a "keeper" — a catch so amazing you would never even think to throw it back into water. I think I'll keep you. Happy birthday! |
---



Inspirational Birthday Quotes
We love inspirational birthday quotes so much that we even frame and give them as birthday gifts. 
Ever wonder why we have such a love affair with quotes? I have. Luckily, I don't have to figure out the science behind my love of inspirational birthday quotes. The team at creativelive.com has done it for me, explaining why we adore them. 
Read the article now. Then, feel free to use the inspirational birthday quotes below as your birthday messages or birthday gifts!



Top 10 Inspirational Birthday Quotes
The best inspirational birthday quotes give you the courage to start living life to the fullest, revealing the path to a far brighter future. That's what the inspirational birthday quotes here have done for me. That's what each one below can do for your loved ones celebrating a birthday.
---
How do you write inspirational birthday wishes?
For most people, the criteria for writing perfect inspirational birthday wishes is pretty one dimensional: write a birthday greeting that will inspire the birthday boy or girl. But there's more to crafting the best inspirational birthday messages.
Unfortunately, looking at thousands upon thousands of examples of inspirational birthday wishes on the web to write even one incredibly uplifting birthday message doesn't really help you too much. Online, there are just too many choices, making it harder to choose the perfect birthday greeting.

There are, however, three rules of thumb that make the whole selection process easier. 
Rule 1: Before you send the birthday girl or boy an inspiring birthday wish, determine the specific type of message you would like to convey. General messages can be inspiring but tend to have less impact than specific ones. And there are many ways to inspire someone. For a few suggestions, check out 18 Ways to Inspire Everyone Around You for great inspirational ideas that your loved ones will cherish.
Rule 2: As examples for your birthday greeting, choose inspirational birthday wishes that will be meaningful to the birthday boy or girl (not what you think is meaningful). The quickest way to turn off anyone is preaching what's important to you and only you. To see what I mean, think of all the times you've received an unwanted lecture from a friend or family member. 
Rule 3: Inspiration shouldn't be your only goal here. As samples, pick inspirational birthday wishes that will also make your loved ones feel truly special on their birthday. This is, after all, their big day (and everyone deserves to feel special on their big day). This calls for inspirational birthday wishes that are also heartwarming.
The bottom line? Sending inspirational birthday wishes that are meaningful, inspiring and heartwarming to the birthday boys and girls is the way to go.
---
Message Guy
Creator of this site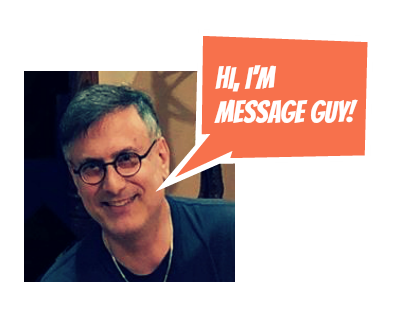 Kevin, the "Message Guy" who writes the birthday wishes, quotes, poems, toasts and speeches for this site, has been a professional writer, editor and translator for more than 25 years. He decided to create BirthdayMessages.net in 2012 to share his passion for famous quotes on the best day of the year — your birthday.

CLICK HERE TO LEARN MORE ABOUT KEVIN (AKA MESSAGE GUY) 
Can't Find
What You Need?
By Kevin (aka "Message Guy")
Copyright © 2013-2020
BirthdayMessages.net.
All rights reserved.
All trademarks and service marks
are the property of their
respective owners.
The copyrights of all birthday
messages on this website
belong to the individual authors.
Site 
Powered By
Solo Build It (SBI)