50th Birthday Wishes
---
If you want your 50th birthday wishes to stand out, there are essentially three paths you can take: you can be inspirational, you can be funny or you can be sentimental. 
Whatever path you choose, the bottom line is always the same: you need to make the birthday boy or girl feel truly special on their special day — whether it's your wife, husband, mother, father, grandmother, grandfather, friend or colleague. Otherwise, you're just going through the motions with your 50th birthday greetings (and that's just inconsiderate on someone's birthday). 

50th birthday messages should be as unique as all the special 50 year olds on your birthday list. How? If you click right here, I'll give you some tips. That's how!

| | | |
| --- | --- | --- |
| Whether you're 5 or 50, there's always something special to celebrate on your birthday. You. The day you were born, the world became a better place. Happy 50th birthday! | Turning 50 is no reason to "get your back up." You'd just be asking for aches and pains up and down your back! Happy 50th birthday! | When I turned 50, I started having those "senior moments" everyone talks about. What was I saying? Anyway, happy 50th birthday! |
| | | |
| --- | --- | --- |
| Your age is merely a number, so you're never too old to be young at heart and soul. Your 50th birthday is the perfect time to release your inner child. Happy 50th birthday. | Happy 50th birthday. The perfect way to celebrate your special day is to stop thinking about your age and start doing the stuff that memories are made of.  | If you had only one birthday wish (the "genie-in-the-bottle" kind), would you pick youth, stupidity and recklessness or mid-age, security and wisdom? Yeah, me too! Welcome to the Mid-Life Crisis club! Happy 50th birthday! |
| | | |
| --- | --- | --- |
| At 50, it's time to admit to your friends and family that you just can't do what you used to do — like exercise, dieting, chores, lifting, flossing — you know, all the stuff that requires regular physical activity and self-control. | At 50, you're halfway through your journey. It's time to sit on your laurels  — you can even lie down on your laurels…on a hammock. Enjoy turning a half-century, starting today. Happy 50th birthday. You deserve it. | Here's a toast to your 50 amazing years on earth. You have spread so much joy, wonder and love. May you live the next 50 years your special way. Happy 50th birthday! |
Message Guy Pick
When you turn 50, this birthday wish below is the type of wish you would like to receive. Why?
Read more ►
| | | |
| --- | --- | --- |
| | Yes, 50 is nifty…if you're rich, slim, beautiful and famous. Happy un-nifty 50th birthday! | |
Keep looking for the right one!


Look at more 50th birthday wishes here...
| | | |
| --- | --- | --- |
| On your 50th birthday, I wish three things for you: a waistline that impresses the ladies, adrenaline to keep up to them and a huge credit line if the first two wishes don't come true! Happy 50th birthday! | Don't you just hate it when people say "you're halfway to 100" whenever anyone celebrates their 50th birthday? In fact, you're more than halfway the second after you turn 50. Happy half-century and a bit birthday! | Happy 50th birthday to a wonderful specimen of a man. You look as handsome as you ever did. If I didn't like you so much, I'd really hate you for it.   |
Top of 50th Birthday Wishes
| | | |
| --- | --- | --- |
| When you turn 50, your life suddenly becomes a vicious cycle of aches and pains. There's only one thing you can do about it…drink scotch and watch TV. Happy 50th birthday! | If "instant karma's going to get you," all the love you've shared the first half century of your life will come back to you in spades the second half. Happy 50th birthday! | Happy half century seems so drastic, but I guess it's better than "Happy 438,000-Hour Birthday!" Let's just stick with "Happy 50th birthday!" |
---
<<Previous     1    2    3    4     Next>>
Message Guy
Creator of this site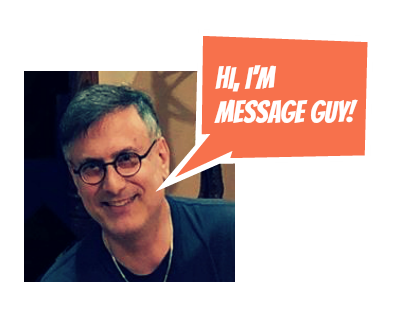 Kevin, the "Message Guy" who writes the birthday wishes, quotes, poems, toasts and speeches on BirthdayMessages.net, has been a content writer since 1993. He created this site in 2012 to share the power of words with you on one of the best days of the year — the birthday of a loved one.

Can't Find
What You Need?
By Kevin (aka "Message Guy")
Copyright © 2013-2020
BirthdayMessages.net.
All rights reserved.
All trademarks and service marks
are the property of their
respective owners.
The copyrights of all birthday
messages on this website
belong to the individual authors.
Site 
Powered By
Solo Build It (SBI)
Build Your Own Website