Inspirational Birthday Quotes
---
Inspirational birthday quotes, coupled with personal birthday messages (written for you, so it's one less thing to do), can make a real difference to your loved ones.
Alone, famous inspirational quotes are amazing but, for the birthday boy or girl, it's even more amazing to add birthday greetings with a personal touch before and after them.
We have both quotes and messages right here, so pick what will make someone special have a truly uplifting birthday...right now!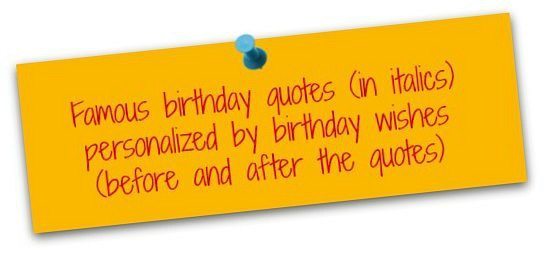 This is possible...

"A comfortable old age is the reward of a well-spent youth. Instead of its bringing sad and melancholy prospects of decay, it would give us hopes of eternal youth in a better world."


~ Maurice Chevalier


Reward yourself with hope...on your special day and all your tomorrows. You have earned it!


It's true, you're only as old as you feel!

"You can't help getting older, but you don't have to get old."


~ George Burns


Never get old. happy birthday!


Age only counts if you count it.

"And in the end, it's not the years in your life that count. It's the life in your years."


~ Abraham Lincoln


And you still have lots and lots of life in you. Happy birthday!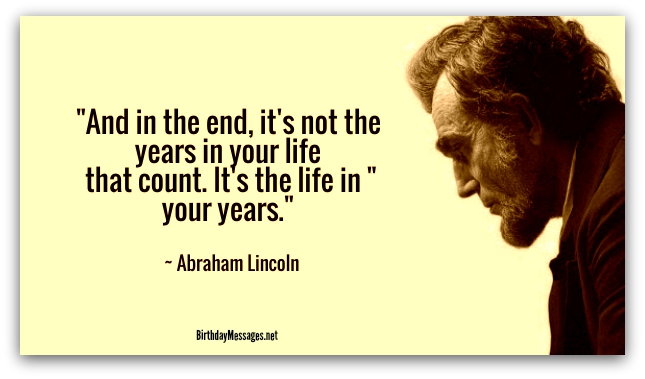 Wear your age as a badge of honor.

"We have to be able to grow up. Our wrinkles are our medals of the passage of life. They are what we have been through and who we want to be."


~ Lauren Hutton


It's wonderful when you're comfortable in your own skin, even it's wrinkled. Happy birthday! 

It would be great if we weren't so hung up on age!

"In childhood, we yearn to be grown-ups. In old age, we yearn to be kids. It just seems that all would be wonderful if we didn't have to celebrate our birthdays in chronological order."


~ Robert Brault


This way, we would just count the ways our life is amazing...like yours! Happy birthday!


If you feel that you can't go on…

"Because time itself is like a spiral, something special happens on your birthday each year: The same energy that God invested in you at birth is present once again."


~ Menachem Mendel Schneerson


Rejoice in the energy...It will be there! Happy birthday!


It's time to embrace your age. 

"What's the alternative to getting older? You die. I can't change the day I was born. But I can take care of my skin, my body, my mind, and try to live my life and be happy."


~ Olivia Munn


You can also thoroughly enjoy your special day! Happy birthday, baby!

Top of Inspirational Birthday Quotes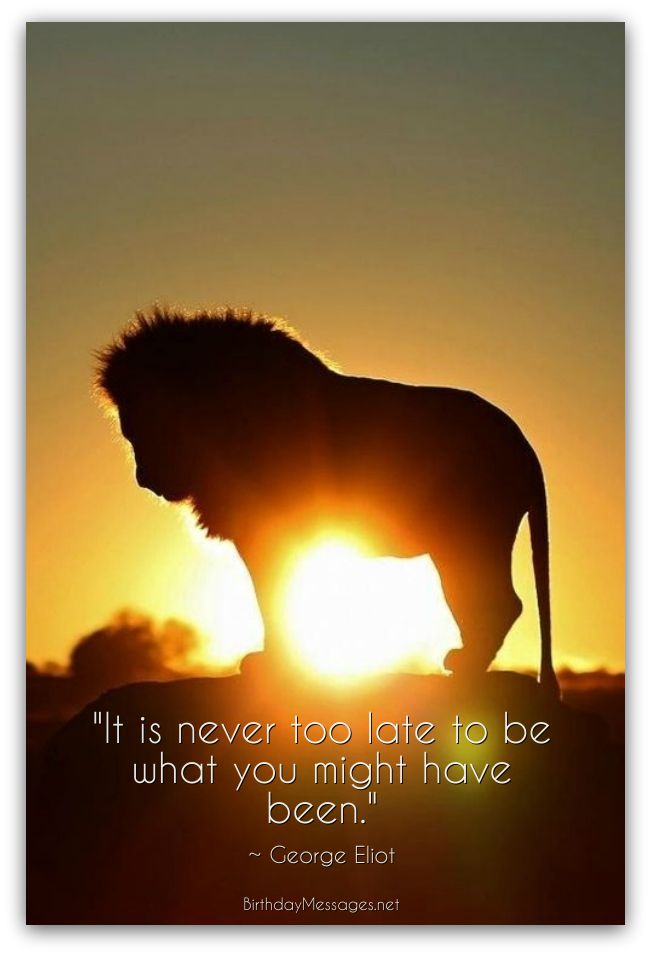 I couldn't say it better myself...

"Have regular hours for work and play; make each day both useful and pleasant, and prove that you understand the worth of time by employing it well. Then youth will be delightful, old age will bring few regrets, and life will become a beautiful success."


~ Louisa May Alcott


And have a happy, happy birthday!


Everything looks brilliant from here!

"The golden age is before us, not behind us."


~ William Shakespeare


Everything ahead glitters like gold. Happy birthday!


There is so much to look forward to!

"For age is opportunity no less than youth itself, though in another dress, And as the evening twilight fades away, the sky is filled with stars, invisible by day."


~ Henry Wadsworth Longfellow


True, hiding within your birthday is the secret to life:  tomorrow! Have a wonderful special day!

When it comes to contentment, experience can be your guide.

"In youth we learn; in age we understand."


~ Marie von Ebner-Eschenbach


Time has a way of teaching us painful, yet necessary happiness lessons. Happy birthday! 


Never stop dreaming.

"It is never too late to be what you might have been."


~ George Eliot


It ain't over until it's over. Keep plugging away! Happy birthday!


You can change yourself like a suit.

"At the age of six I wanted to be a cook. At seven I wanted to be Napoleon. And my ambition has been growing steadily ever since."


~ Salvador Dali


Keep reinventing yourself, until you find just the right fit. It's the key to happiness. Have an amazing birthday!

Message Guy Tip #15:


How to pick inspirational birthday quotes 
If you can't decide on any inspirational
birthday quotes, you need to keep something
very important in mind. Read more ►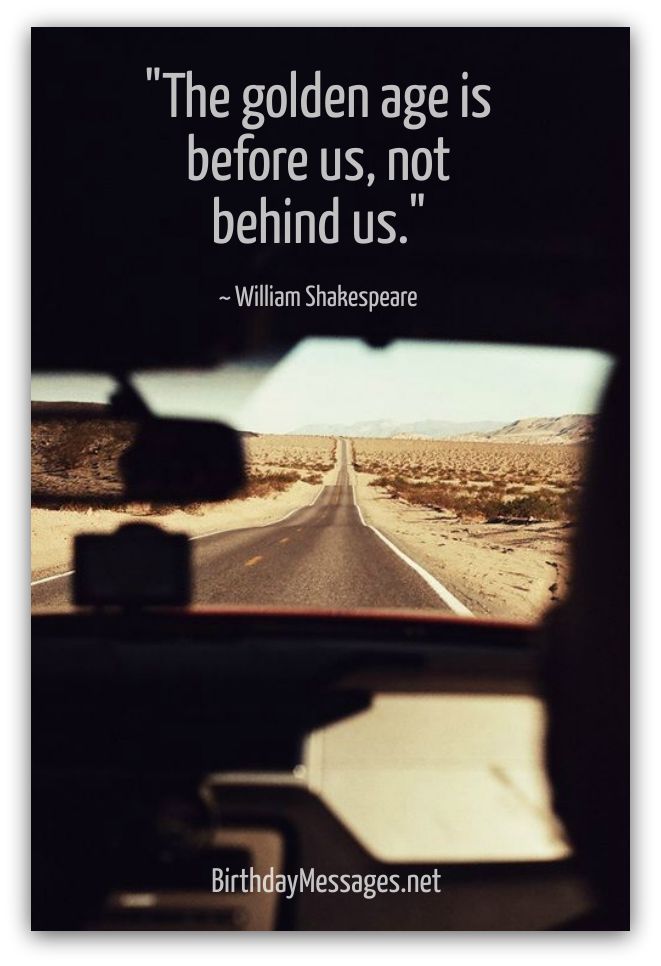 Embrace your inner child. That child is you.

"We are always the same age inside."


~ Gertrude Stein


You show let your inner child out more often. It makes you so young at heart. Let's start with your special day!


You have to keep walking to keep walking.

"The wisdom of age: don't stop walking."


~ Mason Cooley


Don't stop moving forward. happy birthday!


Follow your own bliss.

"I would always encourage people of any age not to be so quick to follow other people's truths but to search and follow your own moral code and live by your own integrity, and mostly just be brave."


~ Jewel


Your own path will lead you to happiness. Let's start today!

---
<<Previous    1    2    3    Next>>
Message Guy
Creator of this site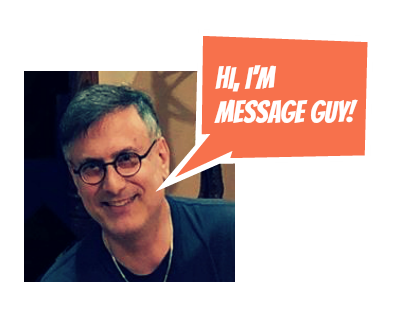 Kevin, the "Message Guy" who writes the birthday wishes, quotes, poems, toasts and speeches for this site, has been a professional writer, editor and translator for more than 25 years. He decided to create BirthdayMessages.net in 2012 to share his passion for famous quotes on the best day of the year — your birthday.

CLICK HERE TO LEARN MORE ABOUT KEVIN (AKA MESSAGE GUY) 
Can't Find
What You Need?
By Kevin (aka "Message Guy")
Copyright © 2013-2020
BirthdayMessages.net.
All rights reserved.
All trademarks and service marks
are the property of their
respective owners.
The copyrights of all birthday
messages on this website
belong to the individual authors.
Site 
Powered By
Solo Build It (SBI)