Inspirational Birthday Quotes
---
Inspirational birthday quotes can actually change lives. You've probably sent and received one yourself at some point in your life, so you know how powerful an inspirational quote can be.
Sandwiched and personalized by unique birthday wishes for your family and friends (and done for you here), you can actually stir the soul of someone special with one of the inspirational quotes below.
You might say that a truly inspirational quotation is an inspiring gift of love to give your loved ones. 
Message Guy Tip #26:
How to choose inspirational birthday quotes
A birthday is a perfect time to inspire someone with great pearls of wisdom. Sending a quote that's meaningful to you and inspiring to the birthday boy or girl is the way to go. Whatever you do, pick one that's memorable — a birthday is, after all, a special day in somebody's life.

Nothing is quite like encouragement from a loved one. Why? Because it means so much more from family and friends.
Read more ►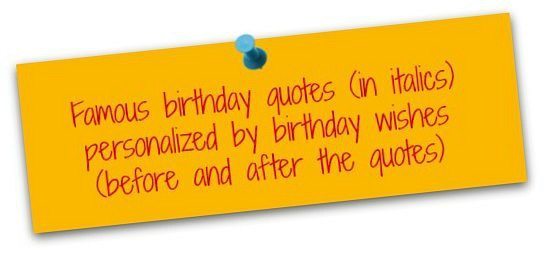 This is so true...

"You are never too old to set another goal or to dream a new dream."


~ Les Brown


This just proves you can teach an old dog new dreams. happy birthday to my favorite dreamer.


No matter how old you get, remember this...

"It is during our darkest moments that we must focus to see the light."


~ Aristotle Onassis


If you squint just enough, you can see heaven. Happy birthday!


40 is a wonderful time to start living...

"If life really begins on your 40th birthday, it's because that's when women finally get it...the guts to take back their lives."


~ Laura Randolph


It's time to reach down deep and grab happiness by the horns. Happy birthday!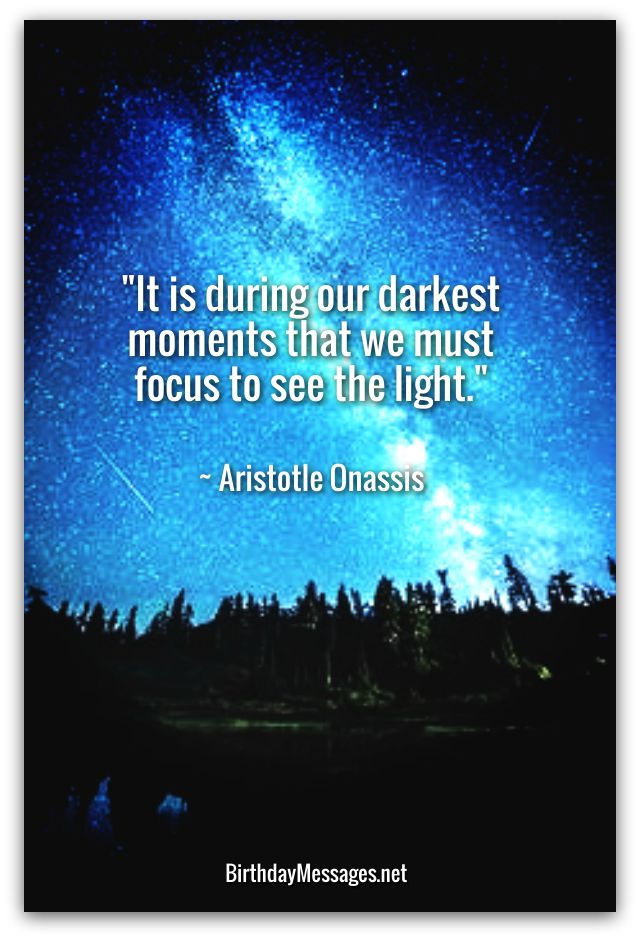 Subscribe and get a new video to share every week
| | | |
| --- | --- | --- |
| Inspire Your Loved Ones | | Top 10 Inspirational Quotes  |
You don't cease to exist after 30.

"All that I know I learned after I was thirty."


~ Georges Clemenceau


Now that you're 30, life experience will take you places you never imagined. Happy 30th birthday!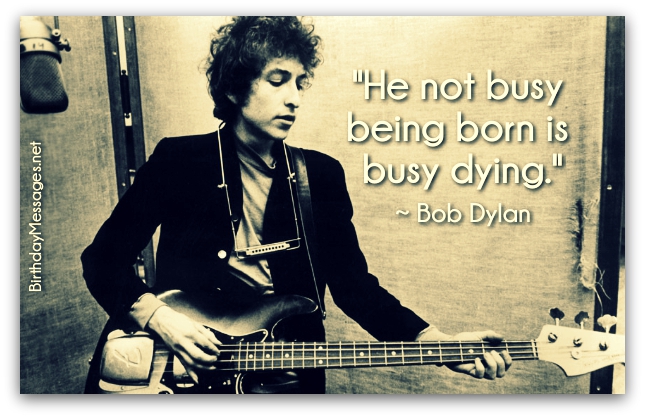 Age has nothing to do with what you do with your life...

"Age is opportunity no less than youth itself."


~ Henry Wadsworth Longfellow


Opportunity can come anytime, so keep your eyes open (don't nap all the time). Happy birthday!


You're the greatest gift in my life.

"The greatest gift that you can give to others is the gift of unconditional love and acceptance."


 ~ Brian Tracy


Your gift is that you never skimp on your love or acceptance. Happy birthday!


This is what Dylan means by "get a life."

"He not busy being born is busy dying."


~ Bob Dylan


Enjoy every moment of your birthday and life!

Message Guy Pick
The inspirational birthday quote below is one of my top picks because it has a special quality.
Read more ►
How true!


"Someone's sitting in the shade today because someone planted a tree a long time ago."


~ Warren Buffett


When you need more joy in your life, you will have it because you planted the seed today. Happy birthday! 

Top of Inspirational Birthday Quotes
The time is now.

"Live not one's life as though one had a thousand years, but live each day as the last."


 ~ Marcus Aurelius


Live in the here and now, starting on your special day. Happy birthday!


Happiness is also in the eyes of the beholder.

"Youth is happy because it has the ability to see beauty. Anyone who keeps the ability to see beauty never grows old."


~ Franz Kafka


Life is beautiful, no matter how old you are. Happy birthday!


Live for today...

"Live as if you were to die tomorrow, learn as if you were to live forever."


~ Mahatma Gandhi


Learn something new every day. On your special day, learn to celebrate your life.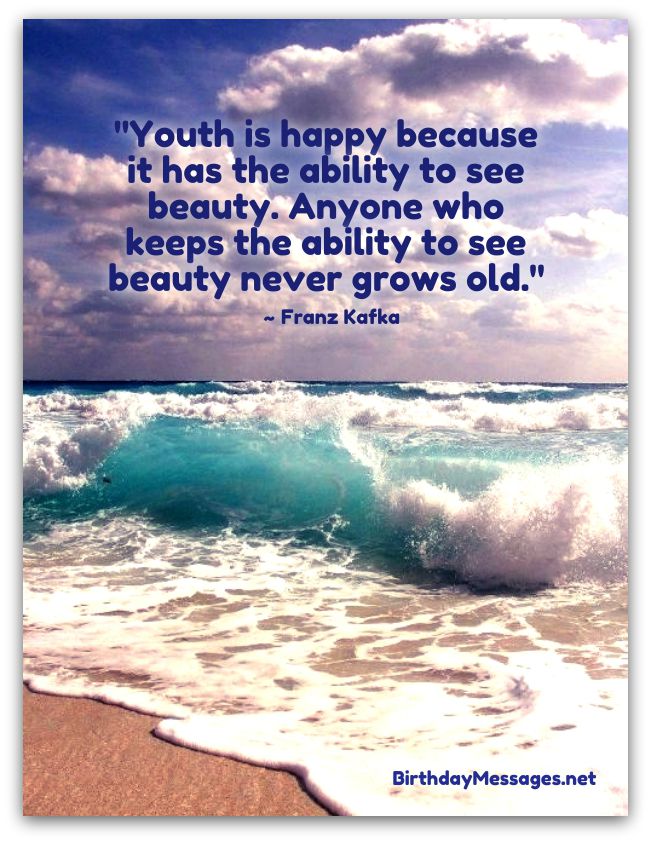 This girl has the right attitude.

"The way I see it, you should live every day like it's your birthday."


~ Paris Hilton


Celebrate your life...today and tomorrow and every day afterward! 


I just love that you're always excited about life.

"If you can give your child only one gift, let it be enthusiasm."


 ~ Bruce Barton


That's my gift to you. I love you. Happy birthday! Happy life!


Dream away...

"If you have built castles in the air, your work need not be lost; that is where they should be. Now put foundations under them."


~ Henry David Thoreau


No dream is too big! Happy birthday!

What goes around comes around...

"The more you praise and celebrate your life, the more there is in life to celebrate."


~ Oprah Winfrey


Instant good karma's going to get you. Happy birthday!


Start fresh...

"Every year on your birthday, you get a chance to start new."


~ Sammy Hagar


Clean the slate, starting now. Your bright future awaits. Happy birthday!


Trust yourself...

"It was on my fifth birthday that Papa put his hand on my shoulder and said, Remember, my son, if you ever need a helping hand, you'll find one at the end of your arm."


~ Sam Levenson


You can move mountains with those strong arms of yours. Start movin'. Happy birthday!

---
Message Guy
Creator of this site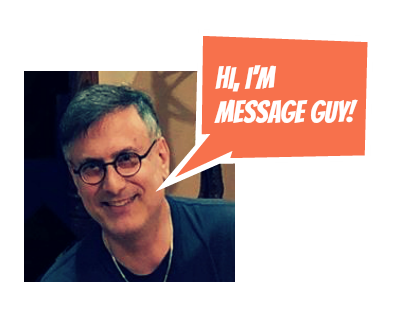 Kevin, the "Message Guy" who writes the birthday wishes, quotes, poems, toasts and speeches for this site, has been a professional writer, editor and translator for more than 25 years. He decided to create BirthdayMessages.net in 2012 to share his passion for birthday and "unbirthday" quotes on the best day of the year — your birthday.

CLICK HERE TO LEARN MORE ABOUT KEVIN (AKA MESSAGE GUY) 
Can't Find
What You Need?
By Kevin (aka "Message Guy")
Copyright © 2013-2019
BirthdayMessages.net.
All rights reserved.
All trademarks and service marks
are the property of their
respective owners.
The copyrights of all birthday
messages on this website
belong to the individual authors.
Site 
Powered By
Solo Build It (SBI)